---
By Rob Lucey
"There are very few lifetime sports – golf, maybe tennis, and sailing," asserts Captain Mike Janota, director of the Galveston Community Sailing Center. "This is a multi-generational sport. We have a family with a grandfather, father and infant son all on a boat."
That vessel is one of dozens available for use at Sea Star Base Galveston and the Community Sailing Center is just one of several major initiatives operating out of the new multi-million dollar, 60,000-square-foot facility that has emerged upon the shores of Offatts Bayou at 7509 Broadway Blvd.
With its modern five-story metal facade, swooping awning over the driveway and prominent rainwater collection tanks, it has become an instant landmark for motorists. But the facility is also poised to become a new focal point for boating activity in Galveston and beyond.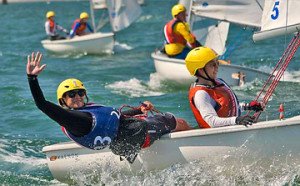 While the sign on the building says Sea Star Base Galveston, the Boy Scouts are just one of several patrons using the facility and the impressive fleet of vessels tied to the floating docks behind it. There are also high school sailing teams, an Adaptive Sailing Program for disabled veterans and other people with disabilities, US Sailing courses for the general public, team-building programs, and BaySmart – an education initiative teaching STEM (science, technology, engineering and math) skills through boat-based lessons. Plus, the facilities are available for hosting meetings and special events.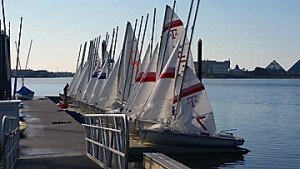 It all began in 2002 when the son of Charles and Rosemary Doolin joined a Sea Scout ship (the nautical equivalent of a Boy Scout troop) near their Dallas home. The Doolins soon became immersed in all things maritime, with Charles Doolin earning a U.S. Coast Guard master's license. Capt. Doolin (heir to the founder of the Frito Company) began acquiring boats for use by the Sea Scouts, including an 82-foot former Coast Guard cutter, the Point Glass in Galveston.
The Doolins next purchased 10 acres of land on the Bayou where they could build a dock for the boats, and in 2010 the scout program launched with participants pitching tents and sleeping on cots in a house. "We had to take a boat across the bayou to pick up meals at Moody Gardens," recalled Eric Steele, BSA Program Development and Properties Director. "We drove everyone to Galveston Yacht Basin for showers and took them to the Texas A&M Galveston campus for diving lessons in the pool."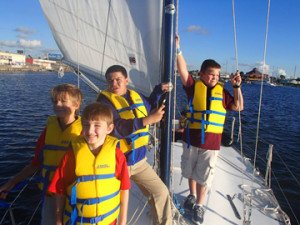 The Doolins' vision for the site expanded over time, along with their boat collection. The result is a sustainably built, award-winning edifice (the Houston Business Journal recognized the base with its 2015 Landmark Award and the building is up for LEED certification through the U.S. Green Building Council). "Now we have everything right here," Steele said.
'Everything' includes a resort style pool, numerous dorm-style rooms, plenty of showers, classroom areas, outdoor pavilion, amphitheater, palapa, beach volleyball court, green roof, restored wetland areas, administrative offices, and a dining hall accommodating up to 260. There are even handicap accessible shuttles to pick up visitors at the airport thanks to a grant from the Moody Foundation.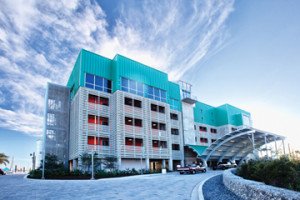 When scouts and other patrons are ready to take to the water, there are now plenty of options including fleets of Sonar 23s, 13-foot Flying Juniors, Laser Picos, and a pair of 30-foot Pearson Flyers for match racing. Also, on the docks are a Hunter Passage 42, a Swede 41, a Colgate 26, a Compac 21, a Freedom 40, and three schooners, including Tom Foolery, a classic 1880's style vessel.
Beyond the sailing fleet, there are an assortment of kayaks for paddling excursions, a couple of rigid inflatable motor boats for instructors and race officials to use as chase boats, and one massive 111-foot research vessel. The "BaySmart Express" is a former crew and supply vessel. After a recent refit, the $8 million boat now serves as a floating three-level classroom able to take students out on multi-day excursions into the Gulf.
The BaySmart initiative will include STEM to Stern field trips taking up to 84 elementary through high school students out on the ship for four-hour learning excursions. There is also a Nova program to encourage scouts to explore STEM-related careers and REACH, a US Sailing certified STEM program.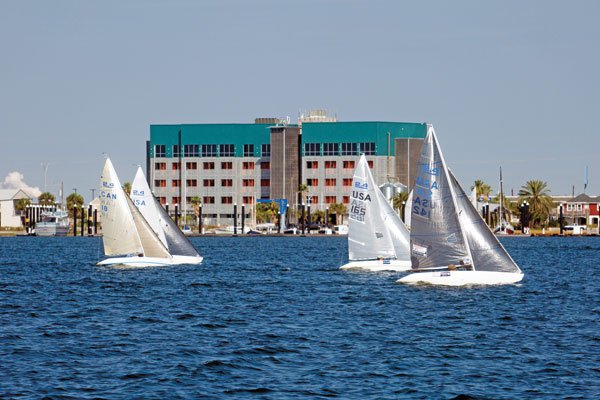 While the BaySmart programs are primarily aimed at regional students, the Sea Scout program has already lured participants from as far away as Alaska with more than 45 crews scheduled to participate in week-long camps this summer.
Capt. Janota's Community Sailing program is also off to a strong start. Anybody, regardless of experience, can purchase individual or family memberships with discounts available for service hours, which might include cleaning boats, keeping records at regattas, serving as a lifeguard at the pool, or building new floating docks.
Once members are certified with classes and/or experience, they can take boats out onto the bayou during the week, join in organized Wednesday night races, sail out onto the Bay on Saturdays, and enjoy trips on the schooners on Sundays. Members can also use facilities including the pool.
Non-members are also invited to participate in the races for a $50 fee.
Janota says the base is perfect for hosting major regional and national sailing events. "Our weather's good to sail 12 months out of the year," he said. "And the cool thing about our building is that it's a one-stop shop. People can sleep here and eat here. We have activities for them to do during their downtime. And we can pick them up at the airport in our bus."
The base has already hosted several big events including the 2014 U.S. Disabled Sailing Championship the first month it opened. Joining in that race was a crew of disabled veterans who had just finished a program at the center. "After that week, these guys were so good they were invited to compete in the national championship," Janota said. "Some of these guys had two purple hearts. They didn't win, but they did a heck of a job."
During the adaptive sailing sessions, participants are teamed up with students from the UTMB physical therapy program and learn how to sail using hoists to get on and off specially rigged boats. "We like to think it's going to become the finest adaptive sailing program in the country," Janota boasts.
He's also looking forward to growing the high school and after-school programs, although he isn't aiming to train hardcore racers. "I used to run a high-intensity program, but what I discovered was you got an elite one percent who excel and the others drop out after a while," he noted. "I looked at programs that were growing, and they offered what's called adventure sailing. This is a different generation. I just want these kids messing around in boats. If they want to race fine. If they want to play in a boat or hang out at the pool, fine." The programs are all designed to give everyone, regardless of experience, a chance to get out on the water.