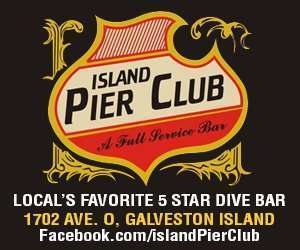 Upcoming shows :
Friday, December 9th – "Live at Old Quarter Acoustic Café" CD Release Party with Greg Ustinoff, Old Quarter Acoustic Café, 413 20th St., Galveston
Saturday, December 17th – Marine Corps Toys for Tots drive, Old Quarter Acoustic Café, 413 20th St., Galveston
We have been following Kevin Anthony for years and when we saw that he was about to release a new album, "Live at The Old Quarter Acoustic Café" we wanted to sit down and talk with him about this brave endeavour.
Island Guide: Is there a story behind the name of your band? It is rather unique to have your home town's name in the band.
Kevin: I was trying to find a way to incorporate a little 'hometown pride' in the name. When I first came back to Galveston, I was mostly performing solo, by myself, as Kevin Anthony. When I was able to get a band together, I wanted to try to differentiate from those types of singer/songwriter shows to having a full band.
Island Guide: You do a lot of acoustic gigs as well as you have a band. How challenging. Who is in the band and what do they play or do?
Kevin: The band is made up of a core group of players depending on who is available. Most are also in other bands. I've worked with Alan Baezner (guitar), Dan Sorreto (bass), Dwight Wolf (guitar), Jim Hall (steel guitar), Christopher Smith Gonzalez (bass), Mike Burke (bass), Michael Stuart Allision (drums), Richard Roach (guitar), and Joel Mora (drums). Currently, the band for live gigs and recording is Dwight Wolf, Jim Hall, Joel Mora, and Christopher Smith Gonzalez.
Island Guide: How long have you been doing a band?
Kevin: In this configuration of who is available when we have a full band gig, we've been performing for about 2 ½ years.
Island Guide: How did you get started in music? And who were your influences, when, where, ages, etc…
Kevin: Like everyone it seems, I started young and began playing in different bands. For the band, we all have a wide range of influences ranging from old school country, punk, blues, Cajun, Tejano, soul, and rock. That's why I call our style of music the "Gulf Coast" sound. It is because it's a unique combination of all of those things.
Island Guide: Do you play all originals and cover tunes?
Kevin: We mostly try to stay with originals but we do covers of songs in our style. I like to cover artists like Lefty Frizell, George Jones, Merle Haggard, and Bob Wills. I try to put a little edge on them and make them sound like us.
Island Guide: Concerning your new CD, "Live at The Old Quarter Acoustic Café," a "live" CD is rather brave these days. What was the inspiration?
Kevin: Chris and I heard that Wrecks and Janet Bell, long-time owners of Old Acoustic Cafe, were thinking about retiring soon so we thought we'd like to have an album recorded there with that namesake. We had heard the live album that Harbors Over Highways recorded there and decided that we'd like to do the same. Of course, Townes Van Zandt also has his album titled "Live at the Old Quarter Acoustic Café" so we thought we'd join the ranks.
Island Guide: Wrecks and Janet have been a key player in the music scene in Galveston for years. How was that experience recording at the Old Quarter live? It had to be incredible.
Kevin: It could almost be described as "history in the making." The process for recording was easy since the Old Quarter is pretty laid back. We had the help of lots of people to get things set up and organized. We were able to record 12 tracks live and then mix them later at my own studio to produce the final CD.  We also recorded Tex Renner & Blunderbuss that night as part of the evening.
Island Guide: Any other CD's or albums or EP's out? If so, where can people get your music?
Kevin: I have other albums such "45 Southbound," "North Star & Old Time Cajun Music" available on iTunes, Amazon, Google, CDBaby, and Bandcamp. All of those are available for download or in CD format. Right now, we are in the process of recording a studio album with Joel Savoy in Eunice, Louisiana. We look to have that completed by spring 2017.
Island Guide: Who writes your songs? What are the main themes or topics for most of your songs?
Kevin: I've been doing most of the writing, but in the past year Chris and I have been working on songwriting together. Typical topics are heartaches, outlaws, hard times, good times to describing the beauty of our great state of Texas.
Island Guide: What genre of music do you consider your work to be?
Kevin: I'd first consider it to be "Gulf Coast," which to me is a blend of all of the things that Texas has to offer. For marketing purposes, I'd say it's a blend of Texas Country & Americana but I feel the sound that we have created is very unique. [My music] is the sound of "driving with the windows down on a country road with the radio playing your favorite song, learning how to dance with your grandparents while the fiddle plays – it's a little Texas, a little Louisiana- all in all of the right places."
Island Guide: What was your inspiration for your unique sound?
Kevin: We have many different cultures and influences in this coastal area and they combine to create something unique that you can only find in south Texas. The fiddle is an important fixture for both Texas and Cajun music, so I wanted to build my sound around that.
Island Guide: Describe a live show for someone who hasn't had the honor of seeing you guys.
Kevin: Our show is a family-oriented event, and we encourage use of the dance floor. We have all age ranges at our shows and really like to get the audience involved.  We do our traditional "Team Drink" between songs where we give a toast to "good times, happiness and family." Sometimes, my son Wyatt who is 5 years old, will join me on the fiddle.  It's a good time Saturday night Gulf Coast Style!
Island Guide: What is your favorite song to perform and why?
Kevin: That is a tough one. My favorite song to perform would be "My Wife's Favorite Song" because it kind of captures what I intended when I wrote it.  It's about taking a minute to look around, and know that everything is okay so it's okay to breathe and live in the moment. And mostly I like it because it is actually my wife's favorite song.
Island Guide: Was there a point in your life where you decided that playing music was going to be your career? Tell me the story of how that decision came about.
Kevin: I've always been involved in music since I was young with the goal in mind of doing it professionally, but achieving that is quite a challenge going the band route. I left Texas in 1993 and moved to NYC with a friend of mine. We got involved in creating music for television and internet media. When I wasn't working on TV scores, I was studying roots music from Texas & southwest Louisiana. I decided that when I got back to Texas I'd go in that musical direction full time.
Island Guide: What has been the biggest challenge, both as a single artist and as a band, to overcome?
Kevin: I'd say probably getting your music heard. With the internet nowadays, it's a double-edge sword. You can both get your music out easier and share it instantly – which in itself is great. On the other side, the big problem with that is that there is so much music "out there" that as a consumer, you can be become overwhelmed with choices. Trying to find a unique way to get your music to people is a big challenge.
Island Guide: What advice would you offer people who are just starting out, either individually or as a band? Everyone has a "day one."
Kevin: Always remember that it is a business and you should approach opportunities and relationships professionally and with that in mind.
Island Guide: What is the ultimate direction for you as a singer or as a band for the future?
Kevin: I'd like to keep recording as much as possible and to continue to develop my sound and songwriting.  I've also been learning to play the drums so I might like to play the drums in someone else's band if time permits. Also, I might try to do a twin fiddle project with my son Wyatt when he's able.
Island Guide: What does Galveston and your Galveston fans mean to you?
Kevin: Galveston is home. I'm here to stay again. I'm as local as local gets. And you just gotta love the Galveston fans; they know how to have a good time!
Island Guide: Where else do you play? Areas, tour any?
Kevin: We do shows in Houston at The Continental and The D&W Lounge. In Austin, we play at Shiner's Saloon, and in Lafayette we are regulars at The Feed & Seed. In December, we'll be at the Tomball German Christmas Market. Around Galveston, we perform at Mardi Gras, Galveston Island Brewing, Yaga's Wild Game Cook Off, Galveston's Own Farmer's Market, Brazoria Crawfish Festival, and Pook's Crawfish Hole in Sante Fe.
Island Guide: Anywhere that you simply love or that stands out that you have played?
Kevin: I'd say it would have to be the Old Quarter Acoustic Café. I really enjoy playing music there with my friends. It's a unique place to stretch out and play your craft as a musician.
Island Guide: Any big announcements for 2017 like tours, new music, etc?
Kevin: We're working on a studio album with Grammy winner Joel Savoy in Eunice, Louisiana that should be wrapped up by February. We've been traveling back and forth doing sessions with him.  We've also been working with him remotely though my studio by recording parts here in Galveston and then sending them to him to incorporate.  No title as of yet, but it's coming along nicely and we'll start to plan the next CD release party and dates to support it soon.
Island Guide: We ask these 5 questions to everyone. If you could pick one band to see live, living or dead, who would it be?
Kevin: I'd like to see Hank Williams Sr. That would be awesome and a dream come true.
Island Guide: What was the first album you remember purchasing?
Kevin: The Beatles "Sgt. Pepper's Lonely Hearts Club Band." I bought it at Texas Drug Store on 69th & Stewart Road right here in Galveston.
Island Guide: What piece of music equipment can you simply not live without?
Kevin: Easy one, my fiddle.
Island Guide: If I was to turn on your playlist, what song will it show you have played the most?
Kevin: Otis Redding, "These Arms of Mine." I love that sound!
Island Guide: What do you do on a day off?
Kevin: I usually just work on stuff around the house, work on my truck or jeep, go to the park with the kids, jump on the trampoline, that kind of stuff. I'm easy. I like to just relax and piddle around.
Island Guide: Anything else you would like people to know about your music?
Kevin: I'd like people to know that they are a great bunch of talented musicians that I also call my friends. I'm privileged to be able to work with them.
Island Guide: Anyone you want to thank or acknowledge?
Kevin: I'd like to thank all my family, especially my mom and dad for creating a space for me to pursue music. I'd like to thank my wife and kids for their encouragement, support & inspiration.
Island Guide: Any last words?
Kevin: Support live music! If you like something you hear, help the artist out by buying their music, coming to their shows and being an active part of the local music scene.
To find out more about Kevin Anthony & G-Town: