Vince Neil of Motley Crue, Bret Michaels, and Count's 77 Headlining the 2018 Lone Star Rally music line-up!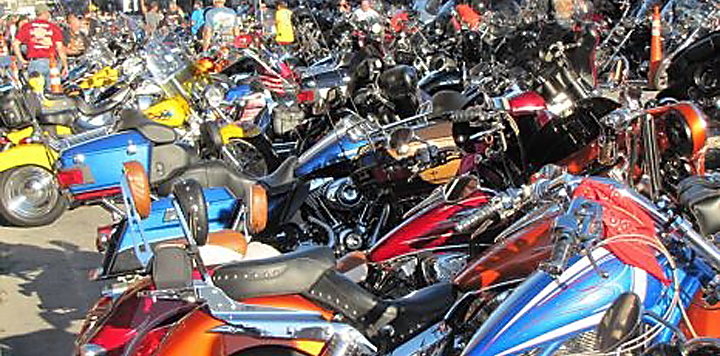 Like a freight train about to roll through a quiet country town, the roar of Galveston's annual Lone Star Motorcycle Rally is drawing closer. Fevered anticipation of tailpipe thunder has Island residents and retailers bracing for the 4-day event that will draw an anticipated 450,000 visitors.
The sheer volume of motorcycles from all over the country on display and cruising through every street and alley of G-Town is more than a sight to see.
The Grand Canyon of motorcycle events, Lone Star the largest 4-day rally in the U.S. and requires more than one angle to photograph and more than one day to uncover all its hidden treasures.
Custom bike, car and truck contests, vendors selling everything from leather goods, jewelry, bike parts, and accessories, to BBQ and foods of all kinds line streets adjacent to The Strand from 20th to 24th St. as well as along the Seawall (21st to 25th St.), and the Harborside and Pier 21 areas.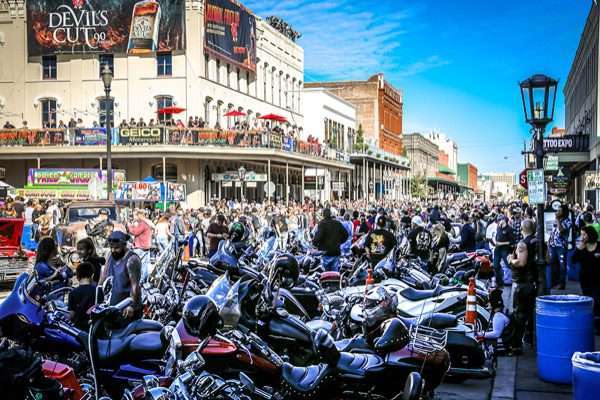 The infamous Miss Lone Star Rally Pageant will entertain Lone Star attendees along with over 30 live concerts, including national headliners Vince Neil of Motley Crüe performing all the Mötley Crüe hits, Thursday, November 1st at 8pm at Beach Central Park (21st and Seawall).
Singer-songwriter and music icon Bret Michaels, formerly of Poison, will perform on Friday, November 2nd at 8pm Beach Central Park.
Count's 77 (Danny Koker of "Counting Cars" TV fame and front man for this 70's influenced band) will perform Sunday, November 4th at 3pm at the Saengerfest Park (20th and The Strand), Budweiser Stage.
Crowd favorite 80's tribute band Hairball, ACDC tribute Highway To Hell, as well as national and local talent like Bobby Friss and the Zach Tate Band will be on stage too.
The Music
Thursday, November 1st
Beach Central Stage
8pm: Vince Neil, The Voice of Motley Crue
Saengerfest Downtown Stage
4pm: Zach Tate
5pm: ZZ-3
6pm: Miss Intent
Friday, November 2nd
Beach Central Stage
7:30pm: Miss Intent
8pm: Bret Michaels
Saengerfest Downtown Stage
4pm: Zach Tate
5pm: ZZ-3
6pm: Bobby Friss
8pm: Highway To Hell
10pm: Hairball
Saturday, November 3rd
Saengerfest Downtown Stage
4pm: Zach Tate
5pm: ZZ-3
6pm: Bobby Friss
8pm: Highway To Hell
10pm: Hairball
Sunday, November 4th
Saengerfest Downtown Stage
3pm: Count 77's
4:45pm: Miss Intent
Long-time official Lone Star Rally emcee and national land-speed motorcycle record holder, Jay Allen, will be on hand to introduce the bands and said he looks forward to connecting with his riding family from Texas.
"Being a host for a world-class rally like Lone Star is a true honor," Allen said.
Many local bars, restaurants, and clubs work hand-in-hand with the Lone Star Rally offering specials and live local entertainment that makes for a weekend that encapsulates the motorcycle lifestyle at it's finest.
A growing reputation as one of the premier events to attend among bikers nationwide, Lone Star Rally has steadily gained in popularity since its inception in 2001.
"The rally offers a broad range of entertainment opportunities for all ages and it's totally free. From custom bike builds and paint demonstrations to classic car and rat rod shows; shopping amid hundreds of vendors; plus more than 30 bands playing on two stages… it's four non-stop days of fun, all showcased within the stunning backdrop of historic Galveston," said Sharon Damante, media liaison for the Lone Star Rally.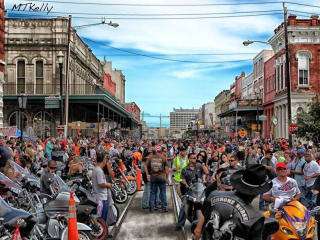 Local Houston radio personality, Outlaw Dave will host his 15th annual Ranch Ride, a benefit ride for the Stevens and Pruitt Ranch for Children and Animals.
It begins at Stubb's Harley Davidson on Saturday morning, November 3rd and ends at the Strand. "It was instilled in me when I started in radio by my mentor, Jim Pruitt, that we have an obligation to do something for our community.
People in Southeast Texas love to have a good time and it's a beautiful thing to see people opening up their hearts and wallets to help," Dave said. The Ranch Ride raises more than $20,000 annually and frequently involves celebrity riders making appearances at Lone Star Rally.
Not-just-for-motorcycles anymore the Lone Star Rally is also host to several car and truck shows including the 6th Annual Drive In Car Show that features pre-1972 hot rods and muscle cars. Saturday and Sunday from 10am – 3pm at the Pier 21 Harbor House Hotel.
For more information on contests, events, entertainment, vendor applications and more visit LoneStarRally.com.
VIP Stuff
The Lone Star Rally has just announced the addition of The Trumpet Room & Balcony as a 3rd VIP-Exclusive location! Located at the corner of 23rd and the Strand, the Trumpet Room offers a spacious balcony with fantastic views over the epicenter of action on the Strand plus, side views of Saengerfest Stage. We'll have a dedicated bar available, additional full service bathrooms and air conditioning at this awesome new venue.
Single Day and All-Weekend VIP Packages are now on sale, offering exclusive balcony access with the coolest views along the Strand! Plus real restrooms, air conditioning, complimentary happy hour munchies nightly (4-7 pm,) bagels and bloody marys on Fri & Sat (11am-2 pm,) private bars and more!
Platinum – $99 for all-weekend access

Exclusive access to all 3 VIP venues and amenities above PLUS a commemorative Lone Star Rally VIP T-Shirt and 3 free drink tickets (1 each at Roof Garden, Devil's Cut and Trumpet Room bars Downtown!)
Gold – $75 for all-weekend access
Gold VIPs will enjoy exclusive access to the Roof Garden and Devil's Cut balconies plus, the happy hour and bagel & bloody marys events.
Single Day Pass – $50 Thurs, Fri or Sat
Day trippers to the LSR can purchase single day passes and enjoy exclusive access to the Roof Garden & Devil's Cut balconies plus, the happy hour and bagel & bloody marys for the day of their purchase.
Roof Garden (at 2214 Strand) VIP Pass Holder Exclusives:
VIP Nightly Happy Hours with complimentary munchies; available from 4-7 pm Thurs, Fri & Sat nights
Bagels & Bloody Mary Refreshers (complimentary bagels and an extensive bloody mary fixings bar;) available Fri & Sat from 11 am – 2 pm