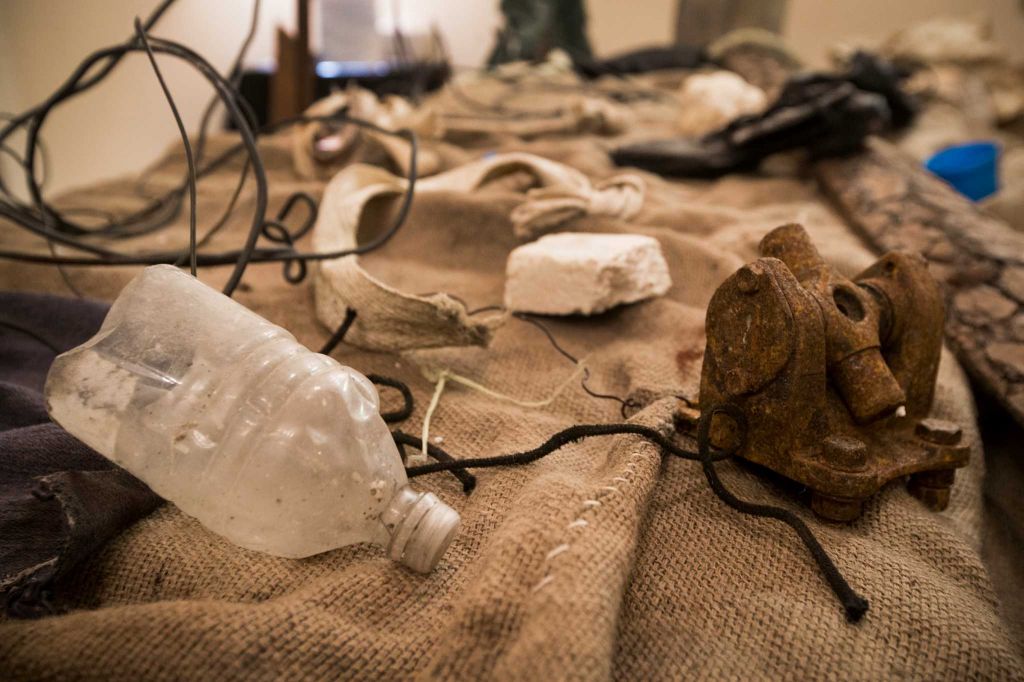 Written by Sharis Roe DeJaynes
Photos by Sharis Roe DeJaynes and Shay Dunnohew
Freedom sought, freedom found? It is clear freedom was sought, but it is unclear if freedom was found, and if there were survivors on a raft found originating from Cuba on June 25th, 2015, nine days after tropical storm Bill blew through the Gulf. Maureen "Mo" Huddleston, and her sister Shay Dunnohew, took a walk on the beach on June 28th, 2015. What they found changed their lives forever. A raft sailed by Cuban Refugees had landed on American soil. From there, the "Freedom Found" exhibit was born.
"Freedom Found's" timeline is this:
June 25th, 2015, the raft was first sighted by Suzanne Williams on Sargent Beach, about 24 miles from Bay City in Matagorda County.
On June 28th, 2015, Huddleston and Dunnohew themselves, discovered the raft while walking the beach.
July 4th, 2015, the sisters went down again and planted an American flag next to it, celebrating it, and claiming it for their own. They placed contact information for anyone to reach out to them for more information, and any prior photos of the raft. They have received a very welcomed flow of information since.
July 17th, 2015, Larry Keast, a benefactor from Unity Church, where Huddleston is a member, helped Huddleston with a truck and crew to disassemble, and transport the raft back to Houston.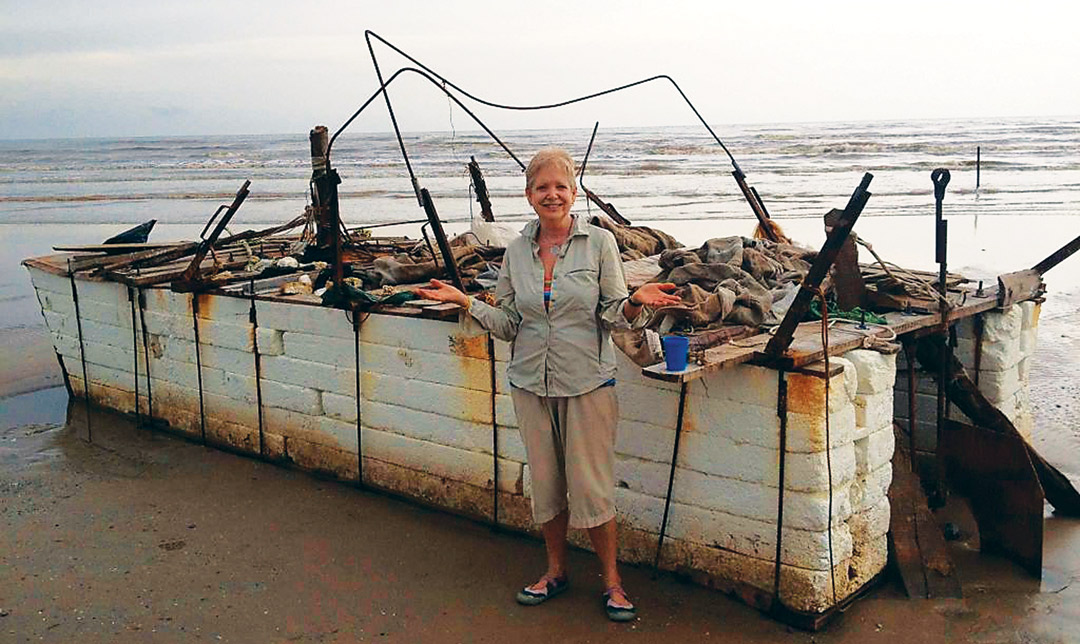 For weeks the raft sat perched on the beach, and certainly pilfered by other passersby, but Huddleston felt a deep stirring in her heart to salvage what was left for historical and exhibition purposes. "Freedom Found" was previously displayed at Gallery Spectra at Memorial City Hall. Her intention for exhibiting it is not of anything political or satirical. Her intent is education. History happens, this raft was built and sailed by those seeking freedom in America, and it was found here in Texas. Period.
Huddleston has done extensive research so far, and research from the wood used and findings aboard the raft suggests the raft originated from Isla de la Juventud (formerly known as Isla de Pinos – Isle of Pines), a large island off the southern coast of Cuba. She continues to get more information flowing in.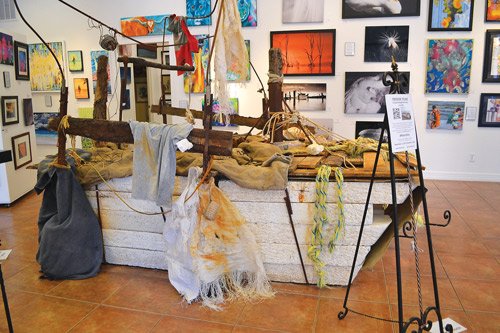 Moved by the "Freedom Found" exhibit in Houston recently, Houston artist Armando Chacon, born in Manzanillo, Cuba in 1953, left this message in Huddleston's guestbook on July 13th, 2015: "Wow! Left 48 years ago, did not leave on a raft. What a powerful presentation. Tears are there, but I'm holding back. What a tragedy we had to endure as a people. I hope this opens people's minds about what Communism is about. So many families broken apart, so many lives lost. Bless you for bringing this part of so many Cuban's journey to light."
Huddleston continues her hallowed research for answers, and is both impressed by, and thankful for, the outpouring of Cubans she has met, not only helping her to uncover yet more facts, but by supporting what she's trying to do. Again, for Huddleston, it's about education…nothing more, nothing less.
Visit the "Freedom Found" exhibition at Affaire d'Art Gallery and view this extraordinary piece of recent history. It will move you. You can also view a slideshow of touching images and more information. "Freedom Found" is on exhibit at the gallery through October 19th.
About Huddleston:
Originally from Ohio, Huddleston has lived in Houston, Texas since 1997. She is an artist and retired nurse. 'Found Art' is a re-creation of discarded objects that are transformed into something totally unique, and its beauty is in the eyes of the beholder. "One of my lifelong passions has been to re-purpose found objects. Another passion has been Photography. I started out loading and processing my own black and white film in the early 70's, and transitioned into underwater photography when I started scuba diving in the early 80's. My company called 'Underexposure' sold my prints internationally. I lost interest when digital photography became the norm. Living on a boat in the Bahamas for a year, and later living 10 years on Guanaja, a small island off the north coast of Honduras, reawakened my love of the sea. Beach-combing became part of my life during that period, and has remained a passion of mine ever since."
Her art does not begin in the studio, but with the endless adventure of collecting life's flotsam. Walking along a beach, she finds shells, pieces of driftwood, plastic trash and treasures, ceramic and metal pieces, fishing lures, ropes, nets, rocks, bottles, bones, beach glass, and even bed springs. She does not purchase any objects for her art; she simply integrates what she finds. "I strive to tell a story, evoke a feeling, and foster a heartfelt connection to all of life's infinite forms," says Huddleston.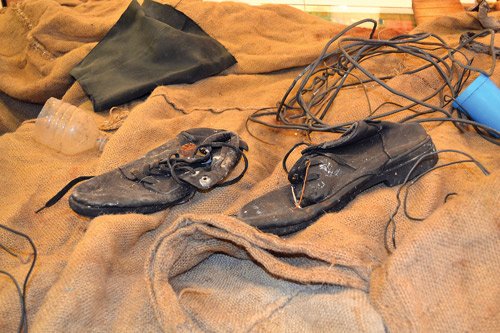 Huddleston is looking for a permanent home for the "Freedom Found" exhibition. For further information about the exhibition or her art, reach out to her directly by e-mailing, mohuddleston@gmail.com.
About Affaire d'Art:
Affaire d'Art is a fine art gallery representing local, national, and international artists. The gallery showcases a diverse selection of original works in fine art mediums including painting, drawing, photography, 2D mixed media, and sculpture. The gallery also showcases a collection of jewelry, both for men and women.
Affaire d'Art is located at 2227 Postoffice Street, on the corner of 23rd and Postoffice streets in Galveston, (409)789-0079. Visit www.affairedart.com and www.facebook.com/affairedart.