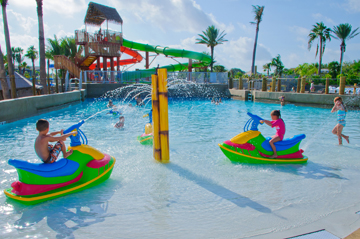 School is winding down and the summer fun is heating up at Moody Gardens.
Moody Gardens is located at 1 Hope Blvd. in Galveston. For more info or tickets go to moodygardens.com. Palm Beach reopens on weekends beginning May 18th, and is open daily for the summer season beginning on June 1st. 
Join in the fun with live entertainment on Friday and Saturday nights from 6-10pm. Get up and dance, relax in your lounge chair and enjoy the music featuring your favorite R&B, Top 40, Country and other genres.
The evening wraps up with a fireworks finale at 9:30pm. It's perfect to kick off your weekend island-style! Scheduled bands are:
June 7th: A Sure Thing (Variety Dance)

June 8th: Chromatics (80's)

June 14th: Hattrick (Variety)

June 15th: The Line Up (Variety)

June 21st: Rapture (Variety Dance)

June 22nd: The Max (Variety)

June 28th: David Joel Band (Country)

June 29th: Shotgun Road (Country Rock)

July 5th: Chinatown (Variety)

July 6th: Big E and the Lowdown (Rock)

July 12th: The Slags (Variety Dance/Rock)

July 13th: The L.A.B. (Variety/Rock)

July 19th: Velvet Punch (Rock/80s)

July 20th: The Max (Variety)

July 26th: Breakfast at Tiffany's (Dance)

July 27th: Vertigo (80's Variety Rock)

August 2nd: Hattrick (Variety)

August 3rd: Chinatown (Variety)

August 9th: Diamond Jack (Classic Rock)

August 10th: The Line Up (Variety)