Old Quarter Acoustic Cafe is a music venue that supports live, original music and is located at 413 20th St., in Downtown Galveston. For tickets and more info, go to oldquarteracousticcafe.com or find them on Facebook. Events this month are:
Every Wednesday: Open mic with Neil Down & Fiscal Cliff

Every Thursday: Open mic with Kitty Litter




Upcoming Shows

August 15th (8:30pm): Hayes Carll (Rescheduled from July 18th)

August 17th (8:30pm): Brandon Rhyder

August 18th (8:30pm): Shake Russell with Britney Doyal

August 25th (8:30pm): Shelia Marshall

August 31st (8pm): Caleb Boles with Zach Aaron Song Swap

September 1st (8:30pm): Bob Livingston with Marina Rocks

September 7th (8:30pm): Kevin Galloway with Doug Strahan

September 8th (8:30pm): The Brush Poppers

September 14th (8:30pm): Rich O'toole

September 15th (8:30pm): Bob Simpson with Ali Holder, Nicolette Good, Gabe Wooten

September 19th (8:30pm): Bri Bagwell

September 20th (8:30pm): Trout Fishing in America

September 21st (8:30pm): James Steinel Record Release with Simon Flory

September 22nd (8:30pm): Brad Boyer

September 26th (8pm): Travis Meadows

September 29th (8:30pm): Freddie Steady KRC presents Tuscan: A Western Folk Rock Horse Opera in Verse and Song Live
August 18th (8:30pm)
Shake Russell in C0ncert
Shake Russell returns to Old Quarter and guarantees a great time.
For more than three decades, Texas singer-songwriter Shake Russell has been entertaining audiences throughout the region with his unique, Americana style of folk-rock. A prolific songwriter, Shake has written or co-written hundreds of melodies.
Through the years, Shake's songs and albums have frequented the Billboard charts, with many, including "Deep in the West," "You've Got a Lover," "Put Yourself in My Shoes," "One More Payment," and "Our Kind of Love" being recorded by such distinguished artists as Waylon Jennings, Jessi Colter, Ricky Skaggs, Clint Black, and Carolyn Dawn Johnson. Ricky Skagg's hit recording of "You've Got a Lover" has appeared on three of Ricky's albums.
In 1983, Shake was commissioned by the Texas State University in San Marcos to write a song,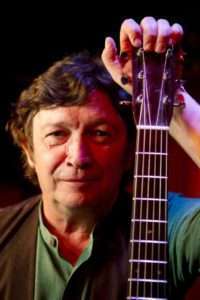 "River of Innocence" for a documentary filmed and produced by the university. In 1986, Shake was asked by longtime friend Bruce Bryant, creative producer at Houston television station KTRK, to compose a theme song commemorating the Texas sesquicentennial. He obliged and wrote the regional favorite, "Traveling Texas."
Shake is a two-time recipient of the BMI "Million Air" award for Clint Black's recordings of "Put Yourself in My Shoes" and "One More Payment," both of which he co-wrote with Clint, and a four-time recipient of the BMI Writer's Award.
The Texas Music Association named Shake the "2004 Texas Music Awards Entertainer of the Year" and nominated his new song, "Cowboy Coffee," for the "2007 Texas Music Awards Best New Song."
Weaving sophisticated harmonies through his songs and drawing from various genres, Shake created a style of folk-rock that is uniquely his own. His repertoire consists of a blend of love songs, ballads, and waltzes, skillfully balanced with lively rockabilly tunes and soulful rhythm and blues pieces.
His lyrics are imbued with beautiful imagery, catchy phrases, and inventive similes and metaphors. But it is the rich, melodious voice of Shake Russell that breathes life and spirit into the lyrics.
As a left-handed player, Shake taught himself to play upside down in the same way as the legendary folk artist Elizabeth Cotton. Later in his career, Shake would have an opportunity to meet this amazing lady at a performance in Chicago.
Before settling in Texas in the mid-70s, Shake's musical career took him from his hometown of Independence, Missouri, to Kansas City, Houston, Austin, Los Angeles, San Francisco, New York City, Chicago, Nashville, and the legendary Coconut Grove, a renowned mecca for artists that is often described as the Greenwich Village of the southeast.
Other notables who significantly influenced Shake's development as a singer-songwriter were Bob Dylan, Lennon and McCartney, Robbie Robertson, James Taylor, Cat Stevens, Leonard Cohen, and John Vandiver.
Shake's latest CD, "Love is Why," is a delightful array of original compositions that beautifully showcase the extraordinary talents of this singer-songwriter. To fully appreciate and comprehend the magnitude of Shake's contributions to music, one need only listen to his life's work.
From his 1976 album, "Songs on the Radio," to the 2006 CD, "Love is Why," Shake's music is a testament to the reasons why he is so widely celebrated as a Texas music legend.
Shake is currently touring with fellow veterans of the Texas music scene, Doug Floyd on mandolin and Mike Roberts on acoustic bass. The trio's contemporary acoustic arrangements, coupled with melodic three-part harmonies, create a unique, modern sound for those classic Shake Russell songs.
Tickets are $25 and available at prekindle.com