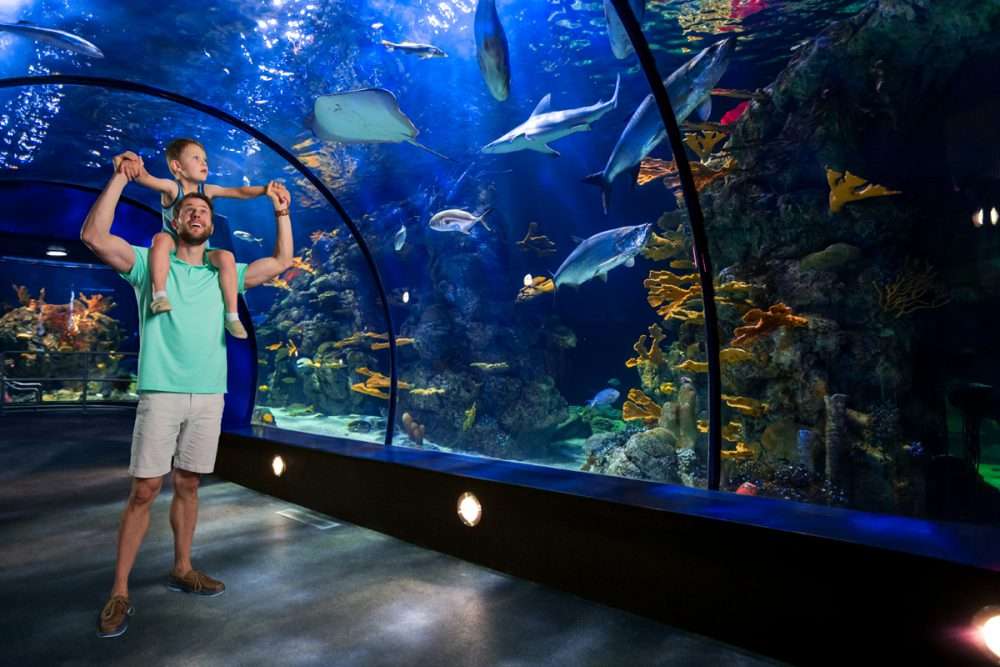 Moody Gardens is located at 1 Hope Blvd. in Galveston. For more info or tickets go to moodygardens.com. Palm Beach reopens on weekends beginning May 18th, and is open daily for the summer season beginning on June 1st.
Moody Gardens has quite a lot lined up for World Oceans Day, celebrated from June 7th- 9th. Educational booths with related activities will be set up from Sport Divers Houston, Texas Scuba Adventures, NOAA National Marine Fisheries, NOAA Flower Garden Banks National Marine Sanctuary, and Turtle Island Restoration Network.
June 7th-9th: World Oceans Day
World Oceans Day 2019 at Moody Gardens is gearing up exciting, family-fun activities. Interested in exploring the underwater world? Immerse yourself in activities about marine sanctuaries, fish in the ocean, and plastics in the ocean.
June 7th at 6:30pm, a screening will be shown for "A Plastic Ocean" and a Panel Discussion will be afterwards. There will be a reception at 8pm. Meet the panelists and enjoy raffle prizes. Light refreshments will be served with a cash bar.
The big event will be on Saturday June 8th, World Oceans Day. These World Ocean Day events will take place under the "big white tent" 10am-4pm.
Start your day at 8:30am with Penguin Yoga. Enjoy a yoga session with instructor Margaret Johnson, then get your picture taken with a penguin. Participants will be asked to pledge one action they can take to help with ocean conservation. Proceeds will benefit the Southern African Foundation for the Conservation of Coastal Birds, which works for penguin conservation. This class is $35.
A free screening will be at 10am for "A Plastic Ocean, and at 4pm "The Smog Sea" will be shown.
Booths will be available 10am-4pm and have activities sponsored by Flower Garden Banks National Marine Sanctuary, Turtle Island Restoration Network, NOAA National Marine Fisheries, and other education and conservation sponsors.
You can also try SCUBA diving in the Go Dive Now pool in the fun and easy environment provided by the Go Dive Now Pool experience. Bring your swimsuit – they'll provide the rest. The 30-foot, 15,000-gallon Go Dive Now pool and exhibit are complete with all the latest scuba gear including regulators, tanks, wetsuits, masks, fins, and more. The pool will be staffed by professional instructors and dive leaders from local professional dive centers. For information go to moodygardens.com/attractions/. Dive pool hours are June 7th-9th, 10am-4pm.
Other activities include:
Ocean trivia will be presented before going on an underwater journey on the SpongeBob SubPants Adventure located inside the Discovery Pyramid.

Colonel Paddlewheel Boat will offer a Conservation Cruise on the Colonel Paddlewheel Boat at 2pm. We can learn about our own bodies of water along Galveston Bay with a Moody Gardens biologist as your guide.

4D Special FX Theater will offer guests a chance to venture into shark territory and explore their survival instincts with the 4D film "Shark: A 4D Experience" playing daily in the 4D Special FX Theater.

Inside the Rainforest and Aquarium Pyramids, guests can partake in self-guided scavenger hunts and learn fun facts as they walk through the exhibits.

Guests can celebrate World Ocean's Day at Palm Beach with beach-inspired music throughout the day. The theme carries into the evening as the band Midlife Crisis offers beach music at Bands on the Sand 6-10pm. Fireworks will follow.

There will be more ocean conservation activities inside the Visitor's Center and appearances by Moody Gardens mascots Finn the Shark, King Tux the Penguin, and Ollie the Otter.
If you can't make Saturday, not to worry. There will be activities going on Sunday as well to celebrate and enjoy our world's oceans 11am-4pm. A free screening will be at 10am for "A Plastic Ocean" and at 4pm, "The Smog Sea" will be shown. All of the booths will be open on Sunday.
Bands on The Sand & Fireworks Every Weekend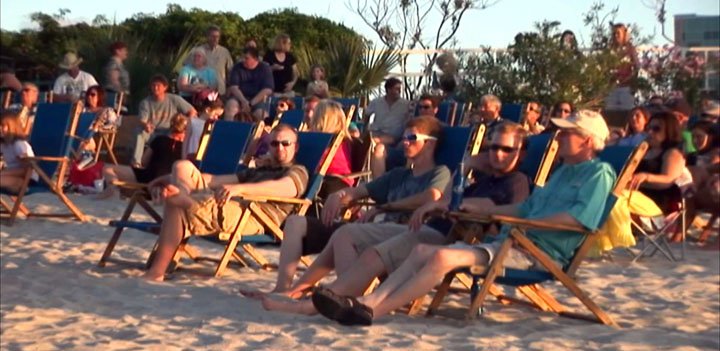 Join in the fun with live entertainment on Friday and Saturday nights from 6-10pm. Get up and dance or relax in your lounge chair and enjoy the music featuring bands performing your favorite R&B, Top 40, 
Country and other genres. The evening wraps up with a fireworks finale at 9:30pm. It's perfect to kick off your weekend island-style! Scheduled bands are:
June 7th: A Sure Thing (Variety Dance)

June 8th: Chromatics (80's)

June 14th: Hattrick (Variety)

June 15th: The Line Up (Variety)

June 21st: Rapture (Variety Dance)

June 22nd: The Max (Variety)

June 28th: David Joel Band (Country)

June 29th: Shotgun Road (Country Rock)

July 5th: Chinatown (Variety)

July 6th: Big E and the Lowdown (Rock)

July 12th: The Slags (Variety Dance/Rock)

July 13th: The L.A.B. (Variety/Rock)

July 19th: Velvet Punch (Rock/80s)

July 20th: The Max (Variety)

July 26th: Breakfast at Tiffany's (Dance)

July 27th: Vertigo (80's Variety Rock)

August 2nd: Hattrick (Variety)

August 3rd: Chinatown (Variety)

August 9th: Diamond Jack (Classic Rock)

August 10th: The Line Up (Variety)
Events
Daily (2pm): Colonel Paddlewheel Boat – Live the high-life on an hour-long cruise aboard a replica of an 1800s paddlewheel boat. Dinner and private cruises are available for groups of 65 or more. Cruise times subject to change due to weather conditions. Please call (409)683-4200 to check schedule status.
Dinner Cruises Aboard Colonel Paddlewheel Boat – Enjoy beautiful views of Offatts Bayou, plus a dinner buffet, dancing and a cash bar. Boarding begins at 7pm and cruise departs at 8pm. Cost is $65 per person and $55 for kids ages 4-12. Reservations are required by Wednesday prior to the scheduled cruise date at (409)683-4419. Go to moodygardens.com for scheduled dinner cruises.
Every Monday (10am-10pm): Military Monday – Active Military members can visit Moody Gardens with half-off of the Value Pass every Monday. Tickets are just $30 (regular price $69.95).
Senior Tuesdays (10am-10pm): Senior Tuesday – Seniors 65 years old and above get half off a Value Pass to experience all of the great attractions like the Rainforest and Aquarium Pyramid.
Every Wednesday (10am-10pm): Mommy (or Daddy) Wednesday at Moody Gardens – Come and enjoy #MommyWednesday, where Moms or Dads can bring their toddlers 4-5 years old and enjoy all the exhibits for half-off per person. Explore the depth of the Aquarium Pyramid, see if you can find both sloths in the Rainforest Pyramid, and enjoy a 3D and 4D movie.
Daily (1pm and 3pm): Penguin Encounter – The Moody Gardens Public Penguin Encounter is a 45-minute program designed to allow guests to get up close to one of the penguins from the Aquarium Pyramid South Atlantic Exhibit. Led by a Moody Gardens biologist, the experience starts at the front of the exhibit and takes guests behind the scenes to the penguin food preparation kitchen; and to the back of the chilly penguin exhibit while discussing penguin biology, conservation, training, enrichment, and care. Tickets are Monday-Friday $55 per person, and Saturday-Sunday $75 per person. Participants must also purchase admission to the Aquarium Pyramid. Chi
ldren 12 and under must be accompanied by an adult. June 1st-August 11th, tours will be daily at 1pm and 3pm. To schedule an appointment, please call (409)683-4102.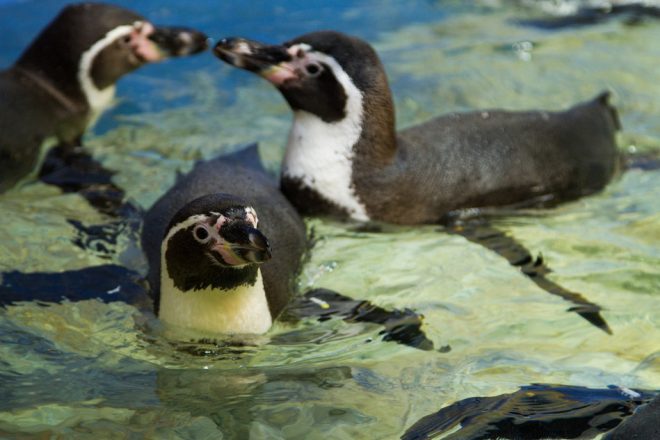 The Seal and Penguin Experience Package – Experience what it's like to be a keeper at the South Atlantic and North Pacific exhibits for a day. Participants will experience what it is like to take care of the penguins and seals that call Moody Gardens their home in this 4-hour behind the scenes adventure. The morning will be spent assisting the biologists cleaning the penguin 
exhibit, preparing their diet, watching training sessions, and meeting a seal, feeding the penguins, and creating a piece of penguin art for you to remember your experience with. Please contact (409)683-4102 or e-mail dolsen@moodygardens.org for more info. Cost is $250 per person.
Daily (1:30pm): Great River Otter Experience – Join an otter biologist as they take you behind the scenes of the otter exhibit for the rare opportunity to meet our Giant River Otters. Learn about otter biology, conservation and how these amazing animals are cared for in their private interior exhibit area. After this 45 minute encounter behind the scenes, you can then join the biologist on the training platform during the 2:30pm "You Otter Know" public presentation. For more information, contact otters@moodygarden
s.org. Tickets are $75 per person. To schedule an appointment please email pkolvig@moodygardens.org. Tickets are Monday-Friday $375 per group, Saturday-Sunday $425 per group.
Daily Through August 18th (9am-6pm): Palm Beach Opens Weekends – Grab your sunglasses and sink your toes in the white sand. Galveston's favorite summer hangout, Palm Beach, is now better than ever. You and your family will love relaxing on the lazy river, the 18-foot tower slides, and wave pool. Tickets are $23.95 for adults, $18.95 for children 4-12, and seniors, and free for children under 3.