"Dream Big" and Meet New Forest Friends
New adventures await guests at Moody Gardens this fall. Moody Gardens is proud to announce the opening of its newest 3D film as well as the addition of four new forest friends in Rainforest Pyramid.
"Dream Big: Engineering Our World"
Giant screen movie-goers will soar above the world's tallest bridge and travel at speeds approaching 700 miles per hour when MacGillivray Freeman's new 3D film, "Dream Big: Engineering Our World," arrives at the MG 3D Theater on September 2nd. Narrated by Academy Award® winner Jeff Bridges, "Dream Big" celebrates human ingenuity and innovation while offering a new perspective on what it means to be an engineer.
From the Great Wall of China and the world's tallest buildings to underwater robots, solar cars, and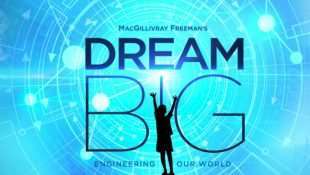 smart, sustainable cities, "Dream Big" showcases engineering marvels big and small. With its inspiring human stories – including a young woman engineer building bridges in underdeveloped countries and an underprivileged high school robotics team that succeeds against all odds – "Dream Big" reveals the compassion and creativity that drive engineers to create better lives for people and a more sustainable future for us all.
But screening the film at the MG 3D Theater is just the beginning. Moody Gardens will be hosting "Dream Big Saturdays" throughout the month of September to showcase several different branches of engineering as well as how those branches coincide and work together to create equipment and apply solutions for the world's infrastructure. Presentations and activities will cover topics ranging from bridge construction and robotics to advances in infrastructure following the Great Galveston Hurricane of 1900 and the creation of the Galveston Seawall.
The first "Dream Big Saturday" will have activities from 11am-3pm on September 2nd in the Moody Gardens Visitors' Center featuring Bricks 4 Kidz and Houston Mechatronics.
For more info go to moodygardens.org/dreambig3d or call (800)582-4673.
New Forest Friends
The stork was busy last month, delivering a Blue Duiker calf and, just a week later, a Prehensile-Tailed porcupette.
The female Blue Duiker, named Soksi, was born July 22nd. "Soksi" is Swahili for socks, which is fitting since her front feet are white, giving the appearance that she's wearing a pair of socks. Blue Duikers (Philantomba monticola) are one of the smallest antelope. They are native to central, eastern, and southern Africa.
Just a week later, on July 31st, Moody Gardens welcomed a Prehensile-Tailed Porcupine baby. The baby was born with soft hair that will harden into quills with age. Once the quills come in, biologist will send one off to learn the gender of the porcupette. Prehensile-Tailed Porcupines (Coendou prehensilis) are native to Central and South America. These are herbivorous animals that forage on leaves, fruits, shoots, and flowers and weigh between 4 and 11 pounds.
And, there are even more new friends to meet.
This month, Giant River Otters Dru and Ella welcomed Maximo and Manuel to the exhibit, doubling the number of otters guests can spot inside the Rainforest.
Brothers Maximo and Manuel, both two years old, came to Moody Gardens from the Los Angeles Zoo, where they were born. Dru and Ella, sisters who are both eight, came to Moody Gardens in 2010 from the Philadelphia Zoo.
Giant River Otters (Pteronura brasiliensis), which are endangered and native to Brazil, are the world's largest, at approximately six feet long.
All of these animals can be viewed in the Rainforest Pyramid. The 10-story Rainforest Pyramid houses plants, fish, birds, and mammals from the rainforests around the world. As a part of a greater effort, the Rainforest Pyramid highlights the importance of conservation and education.
Moody Gardens is a public, non-profit, educational destination utilizing nature in the advancement of rehabilitation, conservation, recreation, and research. For more info on these and other activities and events at Moody Gardens go to moodygardens.com.