Galveston's Premier Fall Festival – 40th Annual Island Oktoberfest – Set For October 21st-22nd

Galveston's premier fall festival – the 40th Annual Island Oktoberfest – returns to historic downtown Galveston, October 21-22.
This year's 40th annual festival is sure to be bigger and better than ever!  Island Oktoberfest will open with the tapping of the keg at 5pm on Friday afternoon and continue until 10pm.
The hours on Saturday, October 22, are 11am-10pm.
On Sunday, October 23, everyone is encouraged to attend the Polka worship service at 10am to conclude the 40th Island Oktoberfest.
German Polka music will be provided for the service by the famed TubaMeisters.
This fun, family weekend will feature continuous live entertainment on two stages- headlined by Galveston's top two entertainment groups: Midlife Crisis on Friday evening and The Line-Up on Saturday evening!

In addition, festival-goers can look forward to an expanded menu of authentic German food and libations, Cake Wheel, shopping for fine arts, crafts and gifts in the historic 1860 Lyceum; more fun contests, beer and wine events, and fun, family children's activities – plus much more. Island Oktoberfest will be held on the grounds of and streets adjacent to First Lutheran Church, 24th and Winnie – in historic downtown Galveston. Admission is free.  German costumes encouraged. Again, this year… festival goers can look forward to more of everything … that is German!
Island Oktoberfest, hosted by First Lutheran Church and co-sponsored by Del Papa Distributing Company, will open Friday evening with themed-Bier Garten venues – featuring a variety of both German and domestic brews and a variety of German-style wines. In addition to great music and dancing, there will be superb food including smoked sausage, bratwurst, and "Wurstabendessen"- a sausage dinner comprised of German-style and Polish-style Wurst with all the traditional German side dishes. This special German Dinner will be available both Friday evening and on Saturday. For a sweet finale, homemade Helmut's strudel (freshly baked on site), will be offered in addition to a variety of tempting home-made desserts – specially prepared by congregation members from recipes handed down from generation to generation, and additional popular festival treats!
The historic and beautifully renovated circa 1860 Lyceum will again be open Friday evening and from 10am on Saturday with vendors showcasing exceptional hand-crafted arts, crafts, and gift items for those festival goers eager to get a head start on holiday shopping.  Because Island Oktoberfest continues to be one of the vendors' most enjoyable and popular venues, regular attendees can look forward to shopping at their long-time favorite booths – each featuring holiday and other special gift items.
Proceeds from Island Oktoberfest will benefit First Lutheran's community outreach programs – including FeedGalveston and Fanfare! Lutheran Music Academy.  For more information, visit www.galvestonoktoberfest.com; call 409. 762.8477, x-4; or follow the event on Facebook at Island Oktoberfest.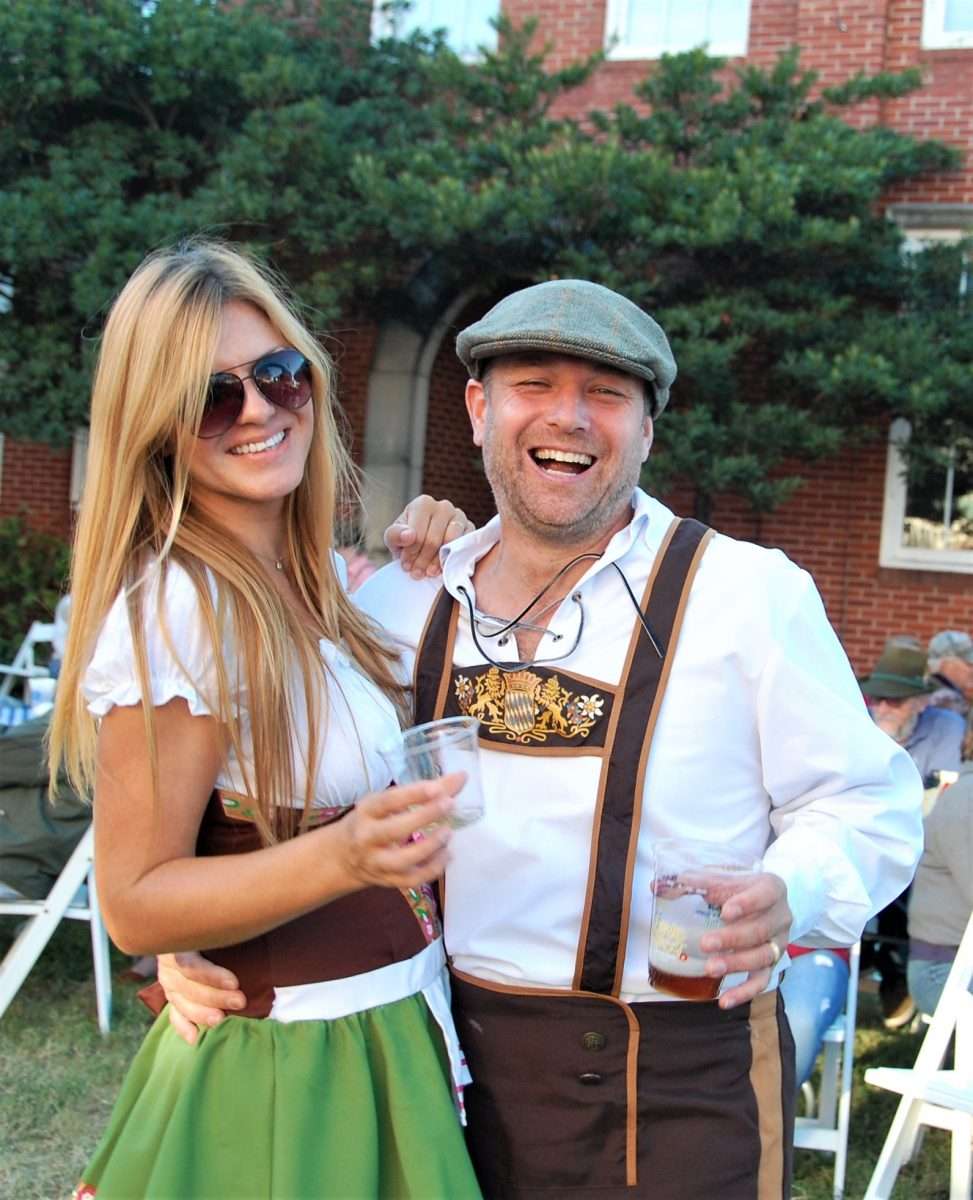 7 Festival Experiences not to Miss
1. DRESS IN TRADITIONAL GERMAN ATTIRE
Come dressed to impress, as it's not only entertaining for all but there are prizes to be won, too. The festival's photographers will be looking out for German costumes in the crowd, and on Saturday, there'll be a German Costume Contest (free to enter). Lucky winners will receive a $50 gift card in four categories: Best Adult Gentleman, Best Adult Lady, Best Child Boy, and Best Child Girl.
2. WITNESS THE CEREMONIAL TAPPING OF THE KEG
On Friday at 5:00 pm, the tapping of the keg takes place, officially opening Oktoberfest. Not only is the keg full of imported German beer, but the beer gets passed out for free. If wine is more your fancy, this is your kind of Oktoberfest, as there will also be a "Popping of the Cork."
3. SAVOR A MULTI-COURSE GERMAN DINNER
Besides festival treats like freshly popped popcorn and warm pretzels, a delicious meal will be waiting for you. Sausage lovers will be in heaven with smoked bratwurst and knockwurst and the hearty wurst abendessen, a typical German sausage dinner paired with traditional side dishes. End the meal on a sweet note with a freshly baked Helga's strudel, along with other homemade desserts.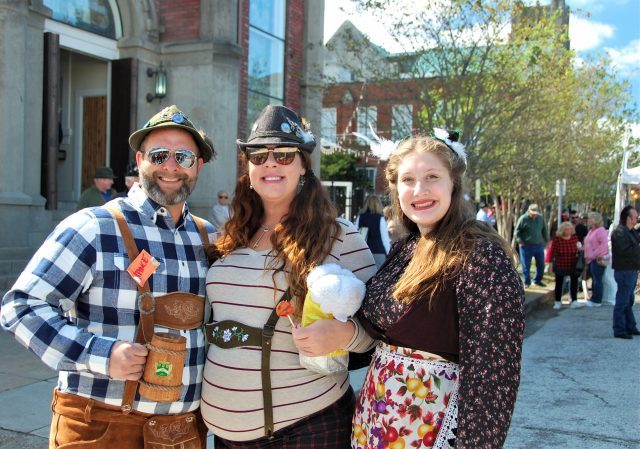 4. ENJOY TRADITIONAL DANCE AND MUSIC
In between all the eating and shopping, kick off your heels to live music on the festival's two main stages. Back again this year to delight the crowd are The TubaMeisters, the tuba/euphonium quartet. You'll be delighted to know that they play more than just traditional oompah band music.
5. SHOP FOR AUTHENTIC ARTS, CRAFTS, & GIFTS
The 1850 Lyceum, the Victorian-style mid-19th century chapel, is also the venue for getting your shopping fix at Oktoberfest. Get to know various vendors and their lovely handcrafted items, and maybe even get a jumpstart on Christmas shopping with unique gifs. Drop by from 5:00 to 9:00 pm on Friday and from 11:00 am to 7:00 pm on Saturday.
6. PARTICIPATE IN THE CAKE WHEEL AND OTHER GAMES
Try your luck on the Cake Wheel and you may walk away from Oktoberfest with a ton of cake! Pick the right number on the spinning wheel and a cake of your choice is yours to take home. All cakes are handmade by the congregation of First Lutheran Church. Show your endurance and strength in the Bavarian sport of Masskrugstemmen, in which contestants hold a 1-liter stein of beer in front of them at shoulder level for as long as possible. The rules are strict: no beer spilling, no elbow bending, and arms must be kept parallel to the ground. Come try to beat the world record set in Germany — 20 minutes and 13 seconds!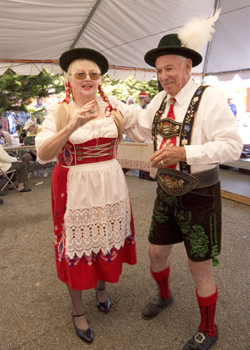 7. COMPETE IN THE ANNUAL CHICKEN DANCE CONTEST
On Saturday, get ready for some laughs with the annual Chicken Dance contest. Pairs create their own dance moves, and the more creative the better. Contestants must be on the dance floor and ready to groove before the music starts. Volunteers from the crowd and event staff will choose semi-finalists. Winners will be judged based on the length/volume of applause delivered by the audience. For more information visit Galveston's official Oktoberfest website.