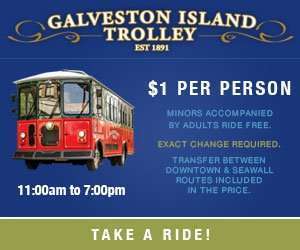 By Lauren Ware
Sandwiches are loved by people of all kinds throughout the world. They are simple to make, leave no dirty dishes in the kitchen, and they're just delicious! Recently, I have stumbled upon a nifty little sandwich shop by the name of Old Moon Deli & Pie. They're located on 408 23rd street, sandwiched between Visker & Scrivener's Quill Shop and an antique sign shop. Though I have just discovered this place, they have been open since May 13th, serving only the freshest of sandwiches and pies. They use meats and cheeses with no artificial flavors, colors, nitrates, fillers, by-products, or msg.
Little tables with chairs are set up outside and upon entering, you can naturally feel a sense of the island and what it means to this little sandwich shop. My favorite thing is the beautiful painting of Galveston Island with swirls of shades of blue and gold. The space inside is just right with upstairs seating for those more secluded individuals.
I'm a fairly simple person, so the sandwich I always get is the Turkey Club packed with spring mix, turkey, bacon, Monterey Jack cheese, and fig spread. I have never in my life been a fan of anything fig, but I truly believe it would not be the sandwich it is without that fig spread. Samitha Hess with From the Heart Gallery recommends the Beet sandwich, even though they are not a fan of beets, she insists upon it, saying no one would know they're beets unless told so. It's just that good.
I've asked which sandwiches and pies are most ordered. Owners Margaret Lejeune and Patrick Wheeler agree that the most ordered pies are the Dark Chocolate Raspberry and Coconut Cream. When it comes to sandwiches, they say, "it seems to depend on the day of the week. But people usually go for The Rueben or Island Time." They also have The Cuban sandwich, Chef Mary's pimento Cheese Melt, and a vegetarian option called the Dianna Ray. If you're in the mood for just some pie, they have other selections such as Key Lime, Chocolate Creme, Peanut Butter Chocolate, and Strawberry Creme.
Whether it's hot or cold out, stop by and order a freshly made sandwich and a soda pop and enjoy the community. They are open Monday-Friday 11am-3pm, and Saturday and Sunday 11am-4pm. For more information and a look at other sandwich options, visit their facebook page at facebook.com/oldmoondeli.