By Kimber Fountain
In a small town just down the coast, close enough to Galveston that it shares the same murky waters darkened by the silt of the Mississippi, Pat Moberley Moore's childhood adventures brought her under the auspices of the local dump, which generously yielded to her pieces of metal and scrap. Spurred by an innate intrigue for three-dimensional creations, she would assemble the discarded remnants into works of art. Over the years, Pat's evolution as an artist has taken her far beyond the tinkering of a child, into feminine forms of effortless beauty and captivating essence, but remarkably they still succeed in inspiring the ease and simplicity of childlike wonder.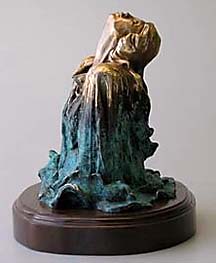 An idealistic and tenacious sojourner through the proverbial twists, turns, ups, and downs of an artistic career, Pat's initial collegiate studies centered on Metalwork & Jewelry, which she studied under world-renown Houston jeweler Val Link. Her focus shifted to clay when she decided to join her husband in his travels for work. Pat explains that making jewelry is not really suited for travel, "Jewelry requires a lot of tools and lots of little pieces, but I always wanted to have something to work on while we were on the road, and clay travels much more easily."
Pat and her husband traveled all over the United States, and once while in Florida she met a local painter, right about the time she was beginning to explore feminine themes in her work. "We just really hit it off," Pat remembers, "we were really on the same wavelength." The personal and artistic thread that pulled them together also led them to decide to work up their own show. Joined by a third friend who was a musician and interested in writing music to accompany their visual works, the three assembled an engaging exhibit of all of their artistry that combined painting, sculpture, poetry, and music. "We each worked separately, we were in different states, but we would communicate regularly and exchange ideas," Pat says. Eventually the show went on the road and toured all over Texas and Florida.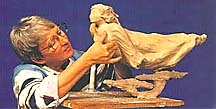 Ten years later the ladies' artistic relationship continues, but Pat points to those first few years of working together as the major catalyst for her current productions. Overtly and unapologetically feminine in both form and expression, the overall timbre of Pat Moberley Moore's current collection elicits a quiet confidence. Her pieces, both individually and collectively, seem to contain a sustaining sense of renewal and hope, and they capture that same raw, awe-filled emotion found in the very moment the butterfly emerges from the cocoon.
Departing from the formulaic formalities of processes learned in school that typically require a linear approach, Pat remarks that her sculptures emerge intuitively. "I work on the face first, and the face just comes alive. Then I work from there." She sculpts her forms in clay, and although some of them remain in that medium, she has many of them cast in bronze. "I know how to do bronze casting, but it takes a lot of time and a lot of equipment, and I would rather spend my time creating," so she entrusts her creations to Art Foundry Corpino in Houston, where she oversees and assists the process. Often she participates in the application of patinas to the bronze, which are chemicals used to produce certain reactions that "color" the metal.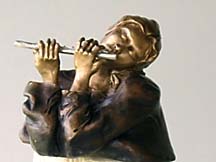 Slated for release this month is Pat's first printed work, a book entitled "Word Sculpture" that was inspired by the poetic expressions used in her creative process. "Sometimes the poem would come first, sometimes the sculpture would come first and then the poem would follow," she says, "but many of my pieces do have poetry that accompanies them, which I include when they are purchased." "Word Sculpture" is an easily accessible showcase of much of her collection, and a presentation of images of the sculptures together with their corresponding poems. It is currently available at Amazon.com, and soon copies will be set for purchase amid her displays at The Water's Edge Gallery in Galveston, Thornwood Gallery in Houston, and Gallery on the Square in Wimberley.
Pat Moberley Moore has earned both BS and BFA degrees, she is a member of several premiere national art organizations, her work has won countless awards, and it is displayed across Texas. Technicalities aside, however, the vast appreciation for her sculpture is not only produced by the materials or technique alone. Although both are masterfully executed, they are merely the mediums for the unmistakably positive energy with which she creates. Pat has said that "her vision is not political, nor do I care to look at the darker side of ourselves or our world. I endeavor to speak to the inner life and to the beauty of the earth and her charges." This is a bold and progressive concept, considering the modern societal tendencies to seek out the negative aspects of everything, and the ill-conceived but widely received notion that powerful art is only born of misery and degradation.
Further exemplifying her creative process is the freedom she gives to the pieces once they are completed. "Many artists do not want to sell their work, they want to keep it, but I turn them loose. They have their own life, I don't cling to them," which is most likely the explanation behind the unhindered autonomy that seems to emanate from every sculpture. Pat's feminine forms are not mere shadows of an artist's hand, but rather the luminaries and keepers of their own personal message.
For more info go online at www.patmoberleymoore.com.
Her current Galveston exhibit is located at The Water's Edge Gallery, 1302 21st Street, (409)762-1925, www.galvestonwatersedge.com.