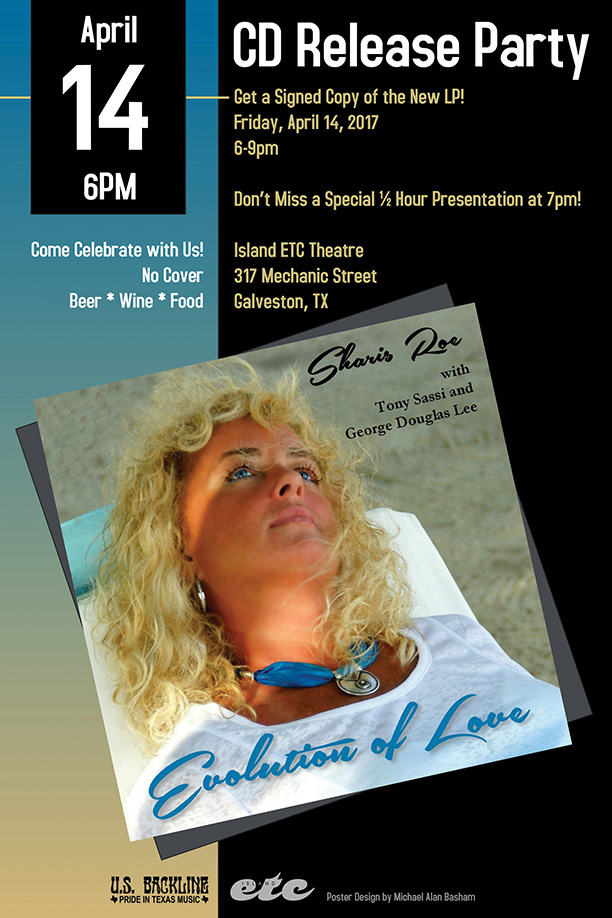 Get signed copies of the book "Connections," at the CD (+Book) Release Party on April 14th at Island ETC. Come celebrate with us!
If you can't come to the party, you can order a signed copy at sharisroe.com anytime. 
With five worldwide singles already to her credit, Galveston resident and singer/songwriter Sharis Roe has released her first full-length album, "Evolution of Love," a collaboration of Roe and the talents of local musicians Tony Sassi and George Douglas Lee.
The sultry, give-you-chills voice of Sharis Roe, backed by Sassi's formal music education and Lee's 40+ years of recording experience, traverses across a myriad of styles that both display Roe's vocal dexterity and keep the listener fully engaged.
We had the opportunity to sit down with Sharis and talk about this latest endeavor and what it means to her.
Island Guide: Is there a story behind the name of your CD, "Evolution of Love?"
Sharis: Certainly! The "Evolution of Love" album tells that story, in fact.
Island Guide: What was your inspiration for the CD?
Sharis: It was inspired by a "roller coaster ride" of personal life events. I channeled the emotion of my own personal evolution into a tale of one woman's reclamation of self. The 24-month project began with the story idea and a title/track list, which then blossomed organically into lyrics, composition, engineering, and mastering.
Island Guide: How did the actual creation of the CD come about?
Sharis: Three creative heads are definitely better than one. I am thrilled about the work Tony Sassi, George Douglas Lee, and myself have done together. The trio is capable not only musically but also technically, each with a studio of our own, and the majority of the album was compiled virtually and remotely. With each having the means to produce an amazing product autonomously, we worked separately but together to create the album of 12 original songs that transition seamlessly over an array of musical genres.
Island Guide: We've seen album covers for your parents and other family members. Tell us your history for falling in love with music.
Sharis: I was born into an artistic family, and I am no stranger to music or the stage. With renown Gospel recording artist Ted Roe for a father, and a mother who directs plays and musicals, I began singing, acting, playing the piano, and painting at a very young age. At the age of fifteen, I began writing poetry. I broke from music for a while to raise a family and develop a career in Information Technology, during which I also focused on my painting and wrote my first book, which was released in 2013.
Island Guide: So, you have a long history of creativity. How was "Evolution of Love" born?
Sharis: It was a true love affair. The following year after my book, I released my first single and then decided to take my poetry to another level with my first full-length album, "Evolution of Love." The creative process from poetry to songwriting came almost supernaturally. I started with the story first, the poem second, then adding in the necessary song structure and rhyme. And so it happened, for ten tracks on the album. The other two tracks are George Douglas Lee originals, which I licensed from him, and spun new versions of.
Island Guide: Who participated in the creation of the CD and how?
Sharis: Production, lead vocals, graphic design, and engineering was by myself. Compositions are by Tony Sassi for nine tracks and George Lee for three tracks. The lyrics are by myself, Sharis Roe (ten tracks) and George Lee (two tracks). Backup vocals are by myself, Tony Sassi, and George Lee. Other featured guest musicians are Michael Alan Basham, Nova Adame, and Janie Adame. "Evolution of Love" was mastered by Product London in the United Kingdom.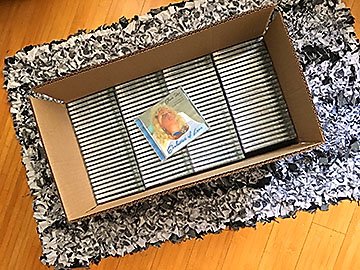 Island Guide: How would you describe the sound on this CD? Describe the style of music and your sound for someone who has never heard it.
From the official press release: "The eclectic song combination emits the influences of reggae, hard rock, and even 80's pop as it tells the largely fictional tale of a girl who finds a new love, loses it, then picks herself up and realizes that she already has everything she needs. The various styles were chosen to best represent the lyrics and emotions of each song, and together they journey through the many facets of love and relationships."
Sharis: Personally, I feel that everyone can relate to at least one song on the album, and for this album, it was important to cross genres to tell the full story appropriately. It plays like a book reads, the story from start to finish.
Island Guide: Which is your favorite song? We know it's like picking your favorite child, but give it a try.
Sharis: Right, that's a tough one! No song is favored over the other really, again mostly due to the cross-genre appeal. From the perspective of the crowd reviews we've already received, combined with my own view overall, I'd say "Ignition" and "No One Knows" are the top two. "Spend Tomorrows With Me II" has a special place in my heart, as that is a remake of my first single two and a half years later.
Island Guide: You have a busy full-time job as well as a family. How did you balance all of that along with creating the CD.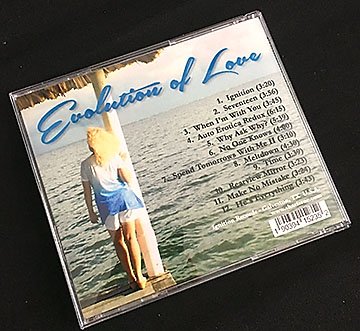 Sharis: Good question! Your guess is as good as mine! Some days I don't know how I do all that I do, it's like I'm on auto-pilot most the time. Being a project manager for a software company by day and an artist by night isn't easy, but being said project manager certainly goes to my organization and time management abilities. Admittedly, it is not a perfect balance all the time, but thankfully my family and friends have patience when they know "Sharis is just busy getting stuff done at the moment." They support my efforts. As well, I've learned that sleep is number one for my productivity, so I sleep quite a bit.
Island Guide: Obviously, you strive to constantly express yourself creatively. Was there a point in your life where you recognized that internal "need" to create was calling you more and more? Tell us the story of how that came about.
Sharis: Yes, there was a turning point. It was immediately after our daughters left the nest and went off to college. Something had to fill that void apparently, and the art and words just came flowing back again, unannounced and in full force. I don't see an end in sight.
Island Guide: What advice would you offer people who are just starting out, either individually, as a band, or an artist…to find the time to create?
Sharis: Decide unequivocally that your music or other art is important to you, that you deserve to take the time to create it, and then make the time to create it – no excuses. The latter will happen naturally once the first two are conquered.

Island Guide: In addition to recording music, you are also an accomplished fine artist. Tell us about that.
Sharis: My fresh, colorful, and contemporary paintings are born from my passionate approach to life and I have found an international audience. I have been a juror; my work has been exhibited in several juried shows across Texas and has been featured in several publications both online and print, such as "Teen Vogue" magazine. Though my painting has slowed over the last two years while working on this album, I continue to produce and sell my works mostly online via zatista.com. Zatista is a juried art website, and I'm proud to be an artist of theirs since 2009.
Island Guide: When is the official release of your new EP?
Sharis: It is available via all digital channels as of March 1st, 2017.
The official CD release and signing party locally is scheduled for April 14th, 6-9pm at Island East-End Theatre Company, located at 2317 Mechanic St. in Downtown Galveston. It is open to the public; everyone is welcome to help us celebrate, and there is no charge to attend.
Island Guide: Besides at the release party, can someone purchase the EP anywhere else?
Sharis: Yes! The entire album or specific songs can be downloaded digitally via iTunes, Google Play, Amazon, CD Baby, and other popular digital sites and apps. Just search for 'Sharis Roe' on any of those channels. A physical signed copy can also be ordered via my website, sharisroe.com, at any time. I encourage everyone to come to the release party, to meet the team and get all of our signatures on a physical copy. Many don't know that our margins on physical CDs are far greater than on digital downloads or streaming sites. Most will be appalled at the grim $.001 we get for one streaming play (that's not a typo!) So, the best support people can show us is to own a signed copy. We've included 20 pages of liner notes and all song lyrics in the CD packaging as well, for added benefit.
Island Guide: We ask these 5 questions to everyone. If you could pick one band to see live, living or dead, who would it be?
Sharis: Pat Benatar and Neil Giraldo. I simply love their story, not only individually but as a husband and wife team too. I recently commissioned a painting by local artist Robert McBride, of Benatar and Giraldo for my studio, for continued inspiration.
Island Guide: What was the first album you remember purchasing?
Sharis: The Carpenters "Close to You" on cassette tape. Karen Carpenter has always inspired me given her clean, clear voice and lower vocal range too. That's why I chose to cover and release the "Merry Christmas, Darling" single this past Christmas.
Island Guide: What piece of music equipment can you simply not live without?
Sharis: As for hardware: my computer and mics. Depending on the style of the song, I'll record with one of the three mics and sometimes two on the same song. As for software: Adobe Audition and Premiere Pro rocks my world.

Island Guide: If I was to turn on your playlist, what song will it show you have played the most?
Sharis: Usually it's something classic rock or jazz, but right now it's a new original song and recording by George Douglas Lee called "Puppeteer" where I'm singing lead and background vocals. You'll hear more about that endeavor soon.
Island Guide: What do you do on a day off?
Sharis: What don't I do? Something to do with music for sure (in and around other mundane things like grocery shopping, dry cleaning, and other errands) be that working on songs, marketing songs, practicing, researching, learning new tools and equipment, etc. Sometimes my husband even gets to see me. He'll agree, I'm sure.
Island Guide: Anything else you would like people to know?
Sharis: I don't claim to be "the best" at anything. I'm simply Sharis enjoying and creating this thing called life with a passion. Life isn't what happens to us, it's what we make it! Move it, shake it!
Island Guide: Anyone you want to thank or acknowledge?
Sharis: Yes, many people – including y'all, my Island Guide family. My mentors and co-creators Tony Sassi and George Douglas Lee, my parents Ted and Carolyn, my husband Kent, Michael Alan Basham, Jeb Adame and his three daughters, my Facebook fans, my Reverbnation fans, and everyone else who has supported this effort, even indirectly. It takes an army. Thank you all, from the bottom of my heart.
Sharis is also the proud mother of two grown stepdaughters and currently resides in Galveston with her husband Kent DeJaynes. Although the studio has been the only stage so far for "Evolution of Love," Sharis looks forward to performing live over the upcoming years while she takes a break from large recording projects and continues to challenge herself musically and artistically.
Her second book releases this year as well, on April 1st, 2017. Signed copies of "Connection – Poetry, Passion, and Love," illustrated by her daughter Ashley DeJaynes, can also be purchased at the CD release party.
For more info or to contact Sharis Roe go to SharisRoe.com or Facebook.com/SharisRoe.