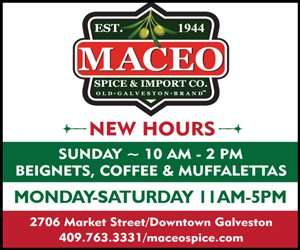 Stuttgarden's new coffee house opens at 7:30am Monday-Friday and 8am Saturday and Sunday, and offers hand-crafted espresso drinks until the restaurant closes each day. Stuttgarden Coffee Haus has a full menu of coffee and espresso drinks, made with the island's best, locally-roasted Fika Java brand coffee beans.  The coffee house is located inside Stuttgarden Tavern in Downtown Galveston at 111 23rd Street.
Fika Java roasts coffee beans in medium, dark, and espresso varieties, and the new Stuttgarden coffee bar menu exclusively features Fika Java's specialty drinks. These include hand-crafted artisan lattes with sugar-alternative sweeteners, natural flavors, and many options of milks and milk alternatives. Favorites among Fika's customers have included the peanut butter and vanilla bean lattes. Fika's Regular and Nitro Cold Brew coffee are also on the menu.
A variety of muffins, breakfast sandwiches, and breakfast tacos will also be served each day until 2:00 pm.
The coffee beans from Fika are roasted with meticulous care, to create the perfect roast and bring out the full flavors of the beans. This attention to detail sets Fika apart, with a noticeable difference found in the bold yet smooth flavor in each cup. The goal is to veer away from the culture of other mainstream coffee shops, to offer a distinct difference in quality… and fresh is always BEST!
Coffee and community go hand in hand, and Stuttgarden's goal in opening the coffee haus is to provide a convenient location for locals and tourists alike to come together to eat, drink, and enjoy our beautiful island. Fika Java takes the name Fika to heart, as the word Fika means: "to take a break from the day and enjoy a good cup of coffee, a conversation." The goal of Stuttgarden and Fika combining their efforts is to create a hub where the Galveston community can come together for a unique, local coffee and dining experience.   
About Mitchell Historic Properties, Inc.
Mitchell Historic Properties oversees the Galveston properties owned by the Cynthia and George Mitchell family, including three hotels, The Hotel Galvez & Spa, The Tremont House, and Harbor House Hotel & Marina, as well as commercial and residential properties located downtown and at Pier 21® along Galveston's historic harbor.  The Mitchell's ongoing preservation of Galveston's Historic Downtown helped spark the resurrection of The Strand National Historic Landmark District and Pier 21® as a tourist destination. "The Mitchell family shares a deep appreciation for Galveston's heritage," said Grant Mitchell, President of MHP, "and we remain inspired by the vision of my parents. The buildings they saved speak to us as much as they did to them. My family is firmly dedicated to preserving my parents' legacy." For leasing information, visit www.MitchellHistoricProperties.com or call (409)761-4110.