Written and Photographed by Sharis Roe DeJaynes
On any given Tuesday, between the hours of 10am and 1pm, you'll hear beautiful baritone vocals, guitar, and harmonica emanating from Oasis Juice Bar & Market on 25th St. His name is Tex Renner, aka John Stanley Renner. Intrigued, I stopped in for a listen, and Tex was kind enough to sit down with me after his set and tell his story.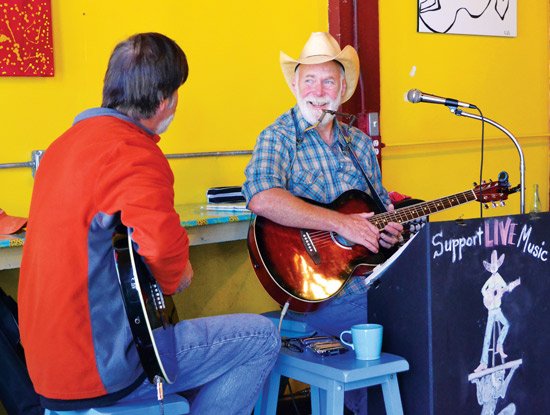 Island Guide: How did your name "Tex" come about?
Tex: It happened a few years ago when I got on Facebook. I didn't realize how many John Renners there were in the world. So, to be unique and stand out a bit, I decided "Tex" was fitting. That has since become my stage name, and bonus, it has helped me get gigs!
Island Guide: Take us back in time and tell us about you.
Tex: I was born and raised in Houston. Went to Spring Branch High School and graduated in 1972. From there, I joined the Navy. I wanted to be a paint chipper, deck hand, and see the world. I took the test and they assigned me to a desk, rather. I was first stationed in San Joaquin Valley, California. It was horribly humid, even worse than Houston, and I hated it. Me and the Navy didn't get along too well. I left the Navy early, though with honorable discharge and benefits.
After the Navy, I came back and went to Sam Houston State University as an agriculture major so I could learn to cultivate land and raise crops. Well, that didn't fit either. So, I messed around for a while and surveyed a bit. I loved surveying, but then surveying is all about trigonometry. Yikes! The math scared me, so I moved on. Eventually I found a job at General Electric and stuck there for 32 years, working in a factory in Houston. I was a member of the International Brotherhood of Electrical Workers, even though I was an assembly foreman. The factory shut down, and I was given the option to take retirement at 55 years old. I took it.
Around that time, I lost my first wife Kathryn, to lung cancer. She was BOI, a native Galvestonian and we have one son together. His name is Ike (yes, like the first male-named hurricane to hit Texas), and he lives in Houston. Ike works with his nephew Patrick drafting. Ike was in the Army and served in Korea and in Iraq. Ike has one son, my grandbaby.

Island Guide: How did you meet your current and lovely wife, Gayla?
Tex: I met Gayla at a bar in Houston in fact. She was happily partying with some friends, and I just had to meet her. I asked for, and to my surprise, she gave me her actual phone number! Her friends said, "Don't worry, he won't call you," but I did! We were married in Vegas, along with our sons and Elvis, on October 11th, 2010. We've lived in Galveston since 2011 part-time and permanently/full-time since 2014. I have a stepson and two more grandbabies as well.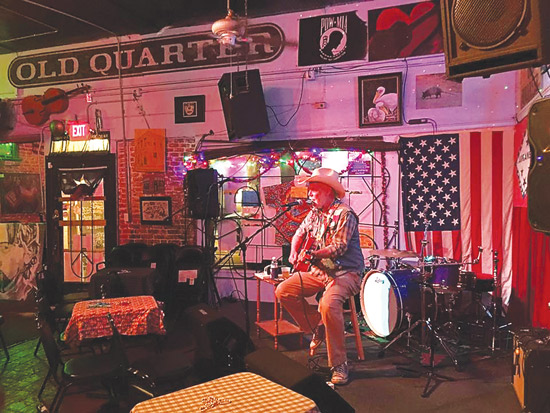 Island Guide: Do you have brothers and sisters?
Tex: I have two brothers, no sisters. My older brother David was an art teacher. My younger brother Keith, a draftsman, retired from Shell. All three of us are retired now. On Thursdays, all three of us boys take our Dad out to lunch. He's 92 and wears his WWII Veteran cap out to the restaurant each time. I am the only sibling who lives in Galveston; the rest still live in Houston.
Island Guide: When did your music come about?
Tex: I started playing guitar when I was around 13, mainly to meet girls. I found out I couldn't play football. Though I was big enough, I didn't like running into people, and you know that's kind of a prerequisite. I have always sung along with my parents and at events, so adding the guitar was the next natural step. I would sing the Davy Crockett theme song at a very young age. My Momma noted in my baby book that I'd sing it as Davy "Pocket." My parents were in musicals at church. My father was the alternate choir director and sang in special events, too. As Methodists, I remember my father practicing hymns like "How Great Thou Art," "Old Rugged Cross," and "In the Garden." He had a very pretty voice. My mom was in the church choir.
Island Guide: Have you played in bands too, or just as your solo acoustic act?
Tex: I have played in about 10 bands over the years. In the late 80's, I met my friend Paul, a Beaumont Highway picker. Paul told me to audition for an Opry show in Columbus and I did. I didn't know I liked country music at the time, but ended up knowing most the songs already so that was good. I did songs by Johnny Bush and Ray Price among others. I had a wonderful time up there and learned a lot about musicianship and stage presence doing that.
I have played in electric bands too but mostly harmonica for those. My solo act consists of acoustic guitar and harmonica. I love intimate settings. I play and sing covers my own way and write my own songs.

Island Guide: How would you describe your music?
Tex: Genre wise, I'd say 'Texana,' Americana, Folk, and Country – solo singer/songwriter style.
I play and sing my own songs, and I prefer to surprise my audience by singing obscure songs from other artists and making them my own…even Michael Jackson songs. New ones and old school ones. I don't do covers, per se. I do other people's songs. If you want to hear it like they did it, go buy their record. I employ my 'artistic license,' for sure.
Island Guide: Have you done any recordings we can listen to?
Tex: I had the opportunity to play on my cousin Steve Goad's CD. Mostly, I record myself, and some of my songs can be found on YouTube (search for Tex Renner.) I have written around 30 songs, and I'm looking forward to some studio time soon to properly record some of my originals.
Island Guide: What else would you like people to know about you and your music?
Tex: That I'm going to keep trying, and get more of my own music out there. I'm always writing new songs. I'm not always finishing them, but I'm always writing. Eventually they get finished. I love my family, my wife, my grandbabies, this island, and playing music. Also, I'm thankful to have found Old Quarter Acoustic Cafe, where I met Orren Lee Brooks and later Janet and Rex Bell. Lee really encouraged me a lot.
Island Guide: Where and when can we find you playing?
Tex: I frequent Open Mic Nights at Old Quarter Acoustic Café, Wednesday and Thursday nights at 7pm. I lead an acoustic jam on the first Tuesday evening of every month at 7pm at From the HeART Gallery (511 23rd St.). I play every Tuesday at Oasis Juice Bar & Market (409 25th St.), 10am-1pm. You can also see me play at MOD Coffeehouse from time to time. Join me anytime, anywhere. I love to meet people.
Make it a point to connect with Tex and go see him play. You'll be refreshed by his warm southern charm, southern humor, and southern style music. Tex is Texas personified.
You can find Tex at facebook.com/john.s.renner.
For bookings call (281)386-8256.