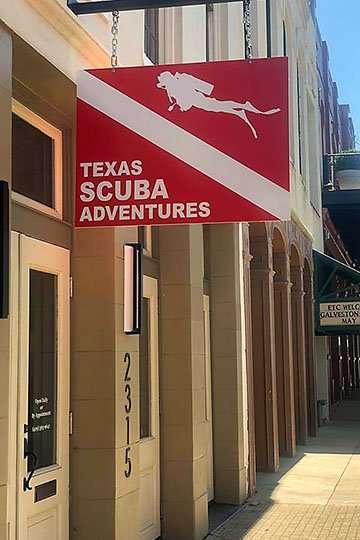 Texas Scuba Adventures is new in town and opened Wednesday, April 17th, 2019 in their new location in Downtown Galveston. Located at 2315 Mechanic Street in Suite 120, Texas Scuba Adventures is in a prime location across from The Tremont House.
Texas Scuba Adventures is a small dive shop focusing on long term relationships with their customers. Their primary focus will be training, sales, and rental of Scuba, snorkeling, spear fishing, and water sports equipment. They train all levels of Scuba from basic diving through instructor, as well as multiple specialties through the National Association of Underwater Instructors (NAUI). Texas Scuba Adventures has partnered with a charter boat to offer guided Flower Garden Banks National Sanctuary diving trips and oil platform diving trips in conjunction with fishing and spearfishing ventures.
With 10 years in business, Texas Scuba Adventures is ecstatic to make Galveston Island their home as the only Scuba shop on the Island. They offer over forty years of combined dive experience, and are eager to share their knowledge with others. When asked why they chose Galveston Island, the owners of Texas Scuba Adventures replied: "For us, the history and beauty of downtown Galveston is equivalent to what we see and how we feel underwater. To be a part of both worlds truly represents Galveston as a whole and we could not be more proud to become a downtown Mitchell merchant. The downtown location will give Island residents and visitors the opportunity to see all that the Island has to offer, both historically and naturally."
Before opening their shop in Galveston, they offered dive certifications and educational programs. As part of their educational efforts, Texas Scuba Adventures contracted their services to Space Center Houston for a dive/space science program. Students who attend the Space U spend a day with the Texas Scuba Adventures dive team to train like an astronaut. These students learn basic scuba skills, which then enables them to complete several scientific tasks underwater, simulating microgravity.
For more information, go to texasscubaadventures.com, facebook.com/texasscubaadventures1/ or call (409)363-9641.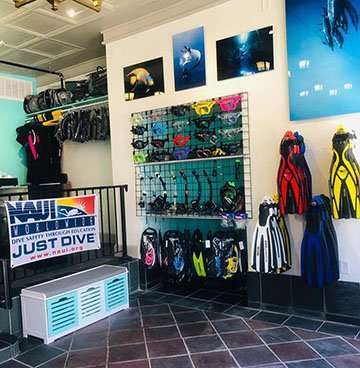 About Mitchell Historic Properties, Inc.
Mitchell Historic Properties oversees the Galveston properties owned by the Cynthia and George Mitchell family, including three hotels, The Hotel Galvez & Spa, The Tremont House, and Harbor House Hotel & Marina, as well as, commercial and residential properties located downtown and at Pier 21® along Galveston's historic harbor.  The Mitchell's ongoing preservation of Galveston's Historic Downtown helped spark the resurrection of The Strand National Historic Landmark District and Pier 21® as a tourist destination. "The Mitchell family shares a deep appreciation for Galveston's heritage," said Grant Mitchell, President of MHP, "and we remain inspired by the vision of my parents. The buildings they saved speak to us as much as they did to them. My family is firmly dedicated to preserving my parents' legacy." For leasing information, visit MitchellHistoricProperties.com or call (409)761-4102.