By Terry Card, Photos by Christa Schreckengost
The wind raged and the black water sucked at his legs. Struggling behind him, eyes bulging through bullets of spray churned by the hurricane winds were his wife and two children, whom he was pulling desperately towards what, he didn't know – as they clung to a square timber that once belonged to a house. Splintered debris surged past, driven by the ten foot waves looming high above them. He felt his strength fading in the freezing Gulf water – but he had to go on – he had to.
For a split second, he thought he could see something ahead, outlined in the driving rain. It was no longer there, but he turned toward it anyway, following his instinct for survival. There again, he could see it more clearly now – a great house still standing where all others had been destroyed on what had been a normal September day in 1900, until this deadly hurricane had struck.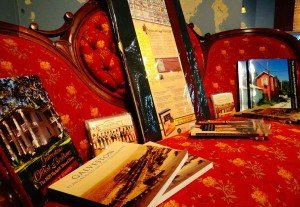 As they reached the spacious entryway steps, hands reached out to help them. Saviors he didn't know, he just knew his family was now safely inside the protective load bearing bricks and exterior stone of the 23 inch thick walls of this strong and sturdy house. After recuperating, gratefully wrapped in warm blankets, he and his family looked around in awe at the size and grandeur of what he now knew was the house built and owned by Col. Walter and Josephine Gresham. It was Josephine Gresham and her staff forming a human chain out into the swirling water who reached out to save him and his family. Soon, many more were sheltered in the Great House, hundreds of survivors of what came to been known as 'The Greatest Storm', lodged helter-skelter throughout the 52 rooms spread over 20,000 square feet of this Victorian mansion.
Gresham House, later to become known as The Bishop's Palace, was designed by Galveston's premier Architect, Nicholas J. Clayton for Col. Gresham who wanted the most elegant house in the State, and he got it. In that era, Clayton not only was the architect, but also acted as the general contractor and general supervisor. In the case of the Gresham House, he was so involved in the project he even helped Colonel and Mrs. Gresham with the furnishings.
Col. Gresham was born in Virginia in 1841 and graduated from the University of Virginia in 1863. He entered as a private with Lee's Rangers in the Confederate army, fighting in many battles during the war. The Colonel was admitted to the bar in 1867, and commenced his practice in Galveston. He later served as District Attorney for Galveston Judicial District in 1872, then from 1886 to 1891 as a member of the Texas Legislature. In 1893, he was elected to the Fifty-third Congress of the US.
Along with Col. Moody and others, he was one of the original founders of the Gulf, Colorado and Santa Fe Railway who invested $750,000 to bring a direct line to Galveston, by-passing Houston. With Col. Moody he was an original member of The Deepwater Committee and guided the final negotiations with State and Federal officials to secure funding for deepening Galveston's harbor to enable it to accept the new larger deeper cargo ships, thus ensuring Galveston's survival.
Located at Broadway and 14th Street in the East End Historical District, Gresham House is listed as one of the 100 most significant buildings and one of the fourteen most representative Victorian structures in the United States. Built on a parcel of land that Clayton deemed too small for such an imposing structure, Gresham house was constructed over a six year period from 1887 to 1893. Col. Gresham preferred the Broadway location rather than land he owned nearer the beach, because he felt it was safer – prophetic, as it turned out.
The Gresham family moved into the house in 1890, a full three years before final completion. It took six years to finish completely, at a cost of about $250,000. Col. Gresham was actively involved in the details of construction, consulting closely with Clayton. Clayton was a mathematical wizard who was very precise and meticulous. As a result, he expected near perfection from his contractors. The imposing stone work on Gresham house was cut on site by John O'Brien, Clayton's favorite stone-mason, who also sculpted the ornate stone facings. The luxurious interior decoration and painting was done by Clayton's father-in-law, Col. Daniel Ducie, a Confederate veteran. It didn't matter to any of them that Clayton had served in the Union navy during the Civil War.
Nicholas Joseph Clayton's design of the stone mansion included four four-story towers topped with tiled cones, several balconies featuring delicate black grillwork, solid oak doors, the finest of sculptures, singular fireplaces from around the world, including one lined with pure silver, and stained-glass windows of the finest detail.
In 1923, the Roman Catholic Diocese of Galveston purchased it for $37,000 to serve as the home for Bishop Christopher E. Byrne, Bishop of Sacred Heart Church across the street from Gresham House. During his tenure, a chapel was added in Josephine's bedroom, the eldest daughter of the Greshams. The incredible stained glass figures of the four apostles, St. Peter and St. Paul in the chapel were painstakingly painted in Germany using a single bristle brush to create the finest detail. When asked about his new residence, Bishop Byrne said "I never thought a farm boy from Missouri, would find a castle in the sky in far away Galveston." And from that day on, it came to be known as The Bishop's Palace.
In 2013 Bishop's Palace was purchased by the Galveston Historical Foundation for $3 Million.
Bishop's Palace
Located at Broadway and 14th St. in the East End Historical District
For ticket and tour information, call (409) 762-2475
Admission: Adults: $10 ($2 is donated to Save America's Treasures to restore the roof), Students (6 – 18): $7, Children 5 & under: Free
Adult pre-arranged group tours (20 or more): $7 per person
Tours: Guided tours daily at 12:30pm and 3:30pm
Self-guided Audio Tours are daily at 11am to 5pm
Bishop's Palace is open daily 11am to 6pm.