40 Bands, 50 Shows,
4 Days & 1 Island Come Together:
Third Coast Music Festival
The Third Coast Music Festival takes center stage the last weekend in April with 35 bands and 50 shows held on historic Galveston Island. This new island festival features bands of numerous genres including blues, country, Cajun, soul, folk, Latin, and more. This is a unique opportunity to hear great live music in unique venues throughout Galveston.
This isn't a festival in a field, it's a unique experience for guests to hear some of the nation's best live music performing across the island including Rodney Crowell, Geno Delafose & French Rockin' Boogie, Mike and the Moonpies, Two Tons of Steel, Peterson Brothers Band, and many more.
A highlight will be Sunday, April 29th (6:30pm), Texas music legend Rodney Crowell will perform at the The Grand 1894 Opera House. Born and raised in Houston, Crowell is one of the most influential singer-songwriters of his generation. His music has garnered numerous awards from the Americana Music Association, Academy of Country Music and Country Music Association, in addition to winning two Grammys. Joe Robinson, whose accolades include winning "Australia's Got Talent" and being voted Best New Talent by "Guitar Player" magazine readers, will open. Ticketing options for this special show are available at thirdcoastmusicfestival.com/tickets. Tickets for this performance start at $30.
Other bands to perform are: Brandon McDermott, Brandon Williams, Chansons Et Soulards, Charlie and The Regrets, Denice Franke, The Derailers, Drew Kennedy, El Lago, El Tule, Fanfare! Music Academy, Fingerpistol, Folk Family Revival, Geno Delafose, Grady Spencer and The Work, Harvest Thieves, Jack Ingram, Jamie Wyatt, Jaimee Harris, Jamie Lin Wilson, Joe Robinson, John Evans, Kevin Anthony & G-Town, Keyun & The Zydeco Masters, Kody West, Libby Koch, Little Outfit, Los Dientes, Los Mighty Hooks, Matt Harlan, Matt Tolentino Band featuring Dandy Wellington, Mike and The Moonpies, Mike Stinson, The Nightowls, Patrice Pike & Wayne Sutton, The Peterson Brothers, The Powell Brothers, Robert Kuhn, Rodney Crowell, Shelia Marshall, Tessy Lou and The Shotgun Stars, Tomar and The FCs, Two Tons of Steel, and Wood & Wire.
Venues are: The Grand 1894 Opera House (2020 Postoffice), Hotel Galvez & Spa (2024 Seawall), Galveston Island Beach Revue (2102 Seawall), The Proletariat Gallery & Public House (2221 Market), Yaga's Cafe (2314 Strand), Bubba's on The Strand (2404 Strand), Old Quarter Acoustic Cafe (413 20th St.), Stuttgarden Tavern (2110 Strand), and The 1859 St. Joseph's Church (2202 Avenue K).
General admission wristbands ($40), allow access to all official festival performances. VIP wristbands ($125), allow access to all official festival performances, exclusive VIP only events, merchandise and more. VIP wristbands are limited and once they're gone, they're gone. If capacity permits, there will be tickets sold at the door of each venue which is good for that one night at that venue only. An attendee wanting to go to another venue or on another night can pay at the door each time.
10th annual Galveston Island Beach Revue
Also, this is the new home to the 10th annual Galveston Island Beach Revue. At the Beach Revue, Galveston's vintage past meets present-day fun featuring vintage-inspired fun, headlined by the Bathing Beauties contest. Make your plans now for April 28th for great music and the world famous Bathing Beauties contest.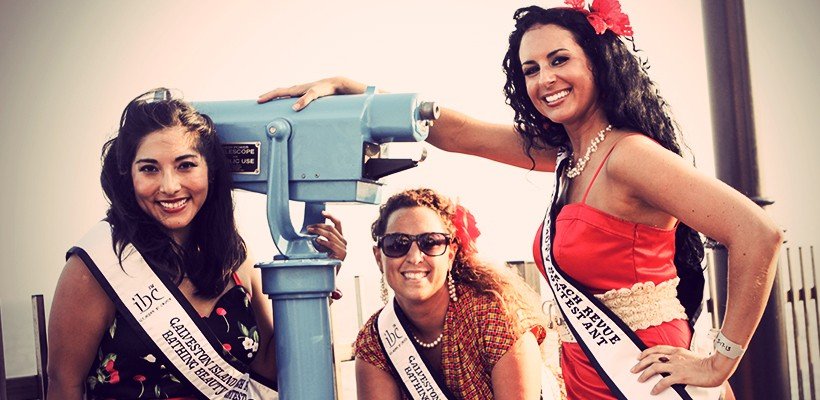 This year's Beach Revue will feature three musical acts in conjunction with the festival and admission is free for all activities at Beach Central. The Revue features events Friday and Saturday culminating in the Bathing Beauties Contest. The contest itself has become a must-see event as locals and tourists of all ages swarm the beach and seawall for a glimpse at the vintage swimsuits, parasols, and of course the "world famous" Bathing Beauties themselves.
For those considering joining the ranks of the world famous Bathing Beauties, open applications for the contest are now being accepted. Download the application at galvestonbeachrevue.com. A total of 30 contestants will be selected for this year's contest. Cut-off date to register is Friday, April 20th.
The Galveston Island Beach Revue is held at Beach Central, 2102 Seawall Blvd. Visit galvestonbeachrevue.com to keep up to date with the festival.