By Terry Card
If you ask most people what their future plans are – no matter whether they are in business working for someone else or for themselves, or whether they are musicians, artists or in sports – they have great plans for the future – often very different from what they are doing.
Not so for the members of the jazz group Trio du Jour. They love what they do and have no plans to change as far into the future as they can see. The Trio du Jour is actually a duo. Each month the principals of the group, Leah Stonum on piano and bassist Mel Drybread, add a member to the group for that month only. That way says Mel, the music stays fresh. And since they have about eight musicians in the cycle who play many different instruments including, trumpet, trombone, saxophone, percussion instruments and guitar, variety becomes a mainstay of their music.
Trio du Jour was formed in New Orleans – hence the French name meaning Trio of the Day, which is very appropriate for a group that varies its members in the manner they do.
The trio plays music that their audience will recognize – music that they can sing along to, or dance to or just kick back and listen to, in the comfortable chairs of the Toujouse Bar in the Tremont Hotel on Mechanic Street near 24th. Every Friday and Saturday night 6-10pm, The Tremont Hotel, a Wyndham Grand Hotel, hosts a free jazz night.
Both Leah and Mel come from musical families and their individual talent became evident at an early age – in Leah's case, at a very early age. Her father was an optometrist in Tallassee (near Montgomery) Alabama who sang in a choir as did her sister. But Leah who started piano very early, after going to see The Sound of Music, sat down at the keyboard and played the entire score at the age of five. Music became her life after that. She was a Music Major at Auburn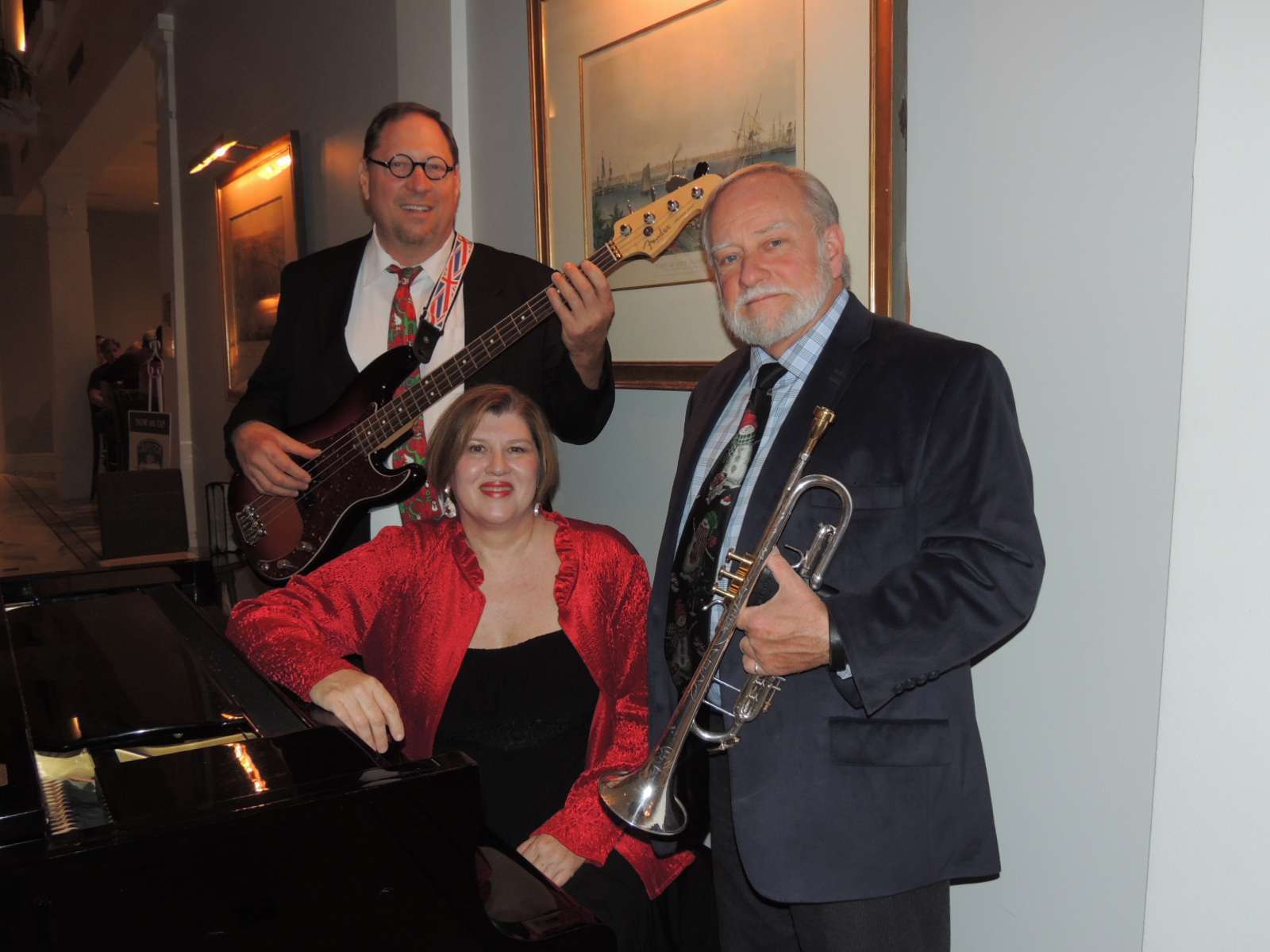 University but switched to marketing. While attending college, she played in a big band on weekends. After college, she began playing in restaurants in Baton Rouge and from there moved to New Orleans and played at several clubs on Bourbon Street, before performing regularly at Pat O'Brien's in the French Quarter, where she teamed up with Jason Marsalis and then toured internationally. She played in Stockholm and Gothenburg in Sweden, performed for seven years on the Royal Caribbean ships, as well as on the American Queen River Boat on the Mississippi. She said that when you travel and work internationally, overseas cultures can seem odd to us. For instance, one night she was playing in a hotel in Stockholm where no tipping was allowed. To overcome that, the hotel took the tips out of drinks the patrons bought for her. This guy who was buying drinks droned on about how he was a Russian spy, finally ending by using the old line that if you tell, you die. She could not get out of there fast enough.
Mel was an accomplished bassist by the time he was twenty years old. When he was 18 he joined the Air Force, and for something to do, he bought a bass guitar and practiced relentlessly for a year. He also majored in music at college. After getting out, he played in jazz clubs in Kansas City and was so highly regarded that he was recruited by Joe Williams, the featured singer with the Count Basie Band. He also played with Robert Goulet and even spent some time with the Tonight Show Band. When he was on the road with Joe Williams, they rode in his 1964 Cadillac hearse. Most of the time there was no problem, but one club owner asked that they park the hearse out back. It made the customers nervous. Joe and Mel thought that was hilarious.
Mel's father was a Professor of Music in Kansas City where Mel was born and his musical talent was inherited by his son who rapidly became an accomplished bassist playing both jazz and classical music. With Joe Williams and on his own, he played music for a living for thirteen years before meeting Leah in 2012, when they were both playing on the American Queen. Mel was a bandleader in a different room from Leah and when he finished, he would come in and listen to her play piano.
In 2014, they formed a partnership as a duo while still on the riverboat and then decided to move to Houston, where they played in various clubs and special events.
When she was not on the American Queen, Leah played piano as a single performer, subbing for the permanent pianist at the Tremont Hotel in Galveston from 2009 to 2014. After George Mitchell died, the General Manager asked her if she could form a group to play at the hotel. She told him she had just formed a duo. The general manager wanted a trio to play jazz, so she called Mel and they engaged a saxophone player to form a trio.  Thus, in November of 2014 the Trio du Jour became the Friday and Saturday night jazz group for The Tremont.
Their customer base at the Tremont is about 50% locals and 50% tourists. While it is not necessary to rotate a third person for the tourists, it is essential for their local following because it keeps the sound fresh. In addition, the third member added to the duo each month is usually not engaged elsewhere, which allows them to hire highly talented musicians at a reasonable price.
When not playing at the Tremont, they play during the week in Houston at many different venues including nursing homes, restaurants, bars, and at weddings and house parties.
They have written their own music, but prefer to play jazz that their audience will recognize and enjoy. The Tri du Jour plays music that has feeling and rhythm and is not just a bunch of notes with no melody.
In December, they will also be playing at the San Luis Hotel Tuesday, Wednesday, and Thursday evenings, giving anyone who wants to listen to first-rate jazz, more opportunity to do so.
They are friendly and outgoing and interact with their audience, taking requests and providing them with a fun evening of great music. Don't be surprised if the music makes you want to get up and dance.
To book them for a party or event, call Leah at (504)616-3824.