By Michael Alan Basham, Photographed by Sharis DeJaynes
I recently got the opportunity to interview two truly amazing Galveston Island Bands that are both well on their way to the major leagues, and they are quite ready for "The Big Show" as we used to say. I got to listen to a full body of work, and view them live, and view some pretty amazing video production of one of the bands.
To Whom It May
First up to bat is "To Whom It May." Comprised of members: Jonathan Jourdan on guitar and lead vocals, Robb Marshall on bass, and "Dexas" Villarreal on percussion/drums.
These guys are way intense, and they don't necessarily make it look easy. They are really working their butts off.
The guitarist and lead vocalist, Jonathan Jourdan, truly excels, and the bottom coming out of the Bass-ment, played by "five stranger," Robb Marshall is rock solid and really bold. These guys are fast, like magician fast.
Jourdan has incredible range, and styles every syllable with intense purpose and focus, not merely singing, but communicating a broad range of emotions depending on the subject matter and the cadence; he rips some words like he is really angry at them and you know where he stands in that particular mood and moment.
"Dexas" Villarreal, the drummer for the band, lays it down with the intensity of a construction worker with a jackhammer! When he strikes, it's like a death blow, an almost violent assault on the skins and it resonates thru the air as well as the "PA" system, yet he can bring it down to the most delicate roll with the slightest effort on the next tap. He is all over the place in a sort of precision chaos, but the report of the percussion saturates and suits their heavy sound.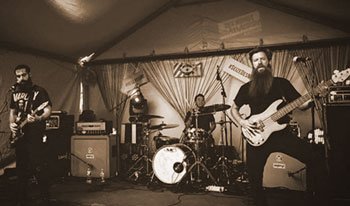 To Whom It May really sort of comes off with a "take no prisoners" kind of stage presence and on one of their premier songs "Ghost," you can really feel the angst as they sweat over the details. Their overall confident attitude works well for them because they are fine, and I think they know it.
The bassist flies with the speed of a lead guitarist and you can see the effort on his face when he spreads that hand and fingers to cover precision riffs and chords, and there is often a texture as if he was playing more than just one instrument.
The guitar covers the gambit as well, and again there is precision. The band has two other singles poised to play on their sampler, "Bypass," and "Sick Day" at www.ToWhomItMay.net.
This music is ultra-complex, and they will take you on a wild roller coaster ride before the performance is over. And when the cat on the "stranger" (yes that's a guitar) wants to make it howl or scream, you can hear the genius in daring distortion and deafening decibels as the notes squeal and squall beautifully on those stretched too tight guitar strings.
The word for this band, at least in my 'rawk' vocabulary is "tight." These guys are flawless and "tight." We all know how a lot of our favorite bands over the years never again rise above the greatness of their debut album and tour. Then there are bands like Rush and Zeppelin, and others who on every next song raised the bar for the industry.
To Whom It May, may just be one of those bands. They certainly appear to be.
"Dexas" further commented, "We'll be in the studio, finishing our debut album during May. And we'll be planning a tour in support of it and announcing dates for late summer. Where ever they appear, Go! You will be very impressed.
For further information on To Whom It May, and see these links for their great music go to www.ToWhomItMay.net or www.facebook.com/ToWhomItMayBand.
Harbor Over Highways
The next band is Harbor Over Highways. This band of "brothas" also hails from Galveston Island, all BOIs with one transplant from San Antonio.
With roots in Heavy Metal, these old school buddies have matured into their new sound. "We're not just a band, we're a brotherhood," said John "Mudd" Kovacevich, acoustic guitar/vocals.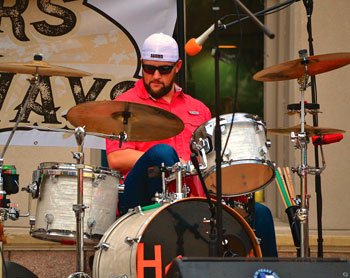 I caught up with the band at their April 9th concert at Säengerfest Park, in downtown Galveston.
"We all met back when we were 15, and now the average age is 32. We love to play music together!"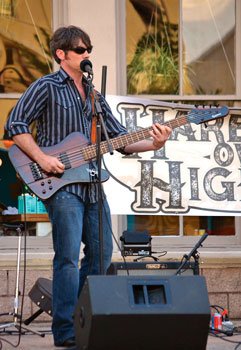 Close your eyes at any point in the show and you know you are listening to quality. I hate to compare bands to others bands because a really good band is going to have its own distinct sound, but just for grins, and for a way to size these guys up, you can think of them like this: if you take The Zach Brown Band or Kenny Chesney, then add a rather subtle Jamaican sound, and an occasional Reggae twist of lime, you will get a sort of "Buffet goes Marley" sound, which needless to say is very unique. It's a good relaxing sound too. It kind of makes you want to be in one of those Corona commercials with nothing but 'Sand, Sea and Sun,' and an Icey bucket full while you contemplate complex question like precisely how many seconds does it takes the sun to rise and then set, and why you still live in Cleveland, Ohio instead of Belize?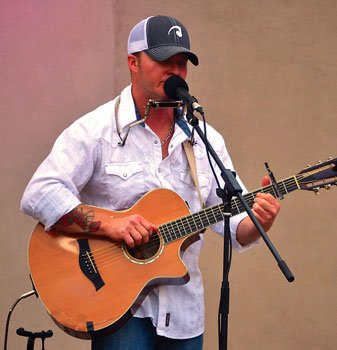 Band spokesman "Mudd" said, "Harbors Over Highways is a group of five musicians who've planted their roots in Galveston. Each have enjoyed the company of one another in various configurations but 'HoH,' (as they are often referred to as), has been a culmination of paying dues in dingy bars and Texas ice houses – not that that's a bad thing." Shades of Americana and Alternative Country blossoms as Kevin Anderson, John 'Mudd' Kovacevich, Broc Adams, Clark Duhon, Hunter St. Marie, and Larry Perez all take the stage. Original songwriting capped with solid three and four part harmonies seem to bring together audiences who sometimes span generations.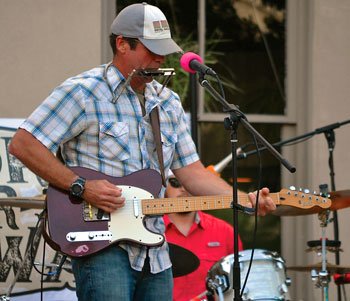 All of these boys know their instruments, and it sure seems like they are all multi-taskers because one minute one guy is singing, the next playing harmonica, then on the very next song another guy does it. Then there's that moment when everyone is playing and no one's lips are moving but there's still the great voice booming, and when you're just about to scream "Lip Synch-ers," you see Broc Adams, concealed behind the cymbals and the tom-toms and moving his mouth and singing away. And speaking of, that boy can sing!
But all of them, in fact, make the rounds, and the harmonies are just perfectamundo. Clark Duhon who plays the bass, also sings bass vocals, and it's almost unreal that both of those perfect bass sounds are being generated from the same pair of shoes.
Larry Perez who was playing lead guitar that night sets in for regular lead guitarist Hunter St. Marie, and all I can say to Hunter is, "I think this guy Larry wants your job, man." Larry was awesome too, and that's another thing – these guys have fun, and are funny and mischievous. I'm sure they're working hard but they sure don't look like it. I'm not even sure they sweat, but fortunately, it was a gorgeous night weather wise and the audience at Säengerfest Park was very large and appreciative.
See the following links for samples of their incredible island styled country blues rock reggae sound at www.harborsoverhighways.com, or you can e-mail them at harborsoverhighways@gmail.com. For further information on Harbors over Highways, call (409)996-7721, (409)771-2278.
To see where they are playing, go to our Gig Guide at GalvestonIslandGuide.com/gig-guide.
Behind the Scene
Back behind it all was Jeb Adame and Roshawn Greene, and U.S. Backline, who I wrote about in the April edition of Island Guide Magazine. Jeb and company are The Galveston Park Board of Trustee's go to guy for entertainment production on all events, and it takes no time to figure out why. "Prepared, Professional and Precise," Jeb Adame is just a "magic man" doing his magic show…in the background.
Contact Jeb Adame with U.S. Backline at (512)371-1897, Jeb@usbackline.com, or at usbackline.com if you need any assistance.