Every Thursday 3-7pm, and Sunday 8am-1pm, Galveston's Own Farmers Market is held at The Bryan Gardens. Join the fun in the beautiful Conservatory and botanical gardens of Bryan Museum to relax and enjoy time and conversation with friends, family, and Museum staff while shopping for locally grown produce, prepared foods, and edible farm products.
The Thursday market features all the perks that you've come to expect at the market, plus the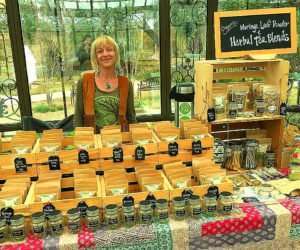 added charms of the Bryan Museum "Wine at the Bryan" weekly event. The Sunday market also features wonderful goods and the charm of Bryan's courtyard. Special events sometimes take place including Galveston Arts Center drawing, painting, sculpting lessons, live music, Plant Sale & Pot-Your-Own-Plant Station, and more.It is always free to browse and most events are free to participate.
July 8th, every second Sunday of the month, 9am-12 noon, the Friends of Rosenberg Library Book Sale & Give-Away takes place. Come peruse the books or just get a free kids' book to take home. The Friends curate special selections each month of nature, cooking, and science-related books, and you'll also find plenty of fiction, children's literature, and general book goodness. Future book sales will be August 12th, September 9th, October 14th, November 11th, and December 9th.
Yoga at the Market
There are also yoga classes available every Sunday at 10am at the market. These classes are led by local yoga teachers. All classes are free to attend.
July 19th, there will be a free Kid's Corner featuring Ranger Lisa with Galveston Island State Park. Ranger Lisa will help you learn all about fun on the water. You will work with a kayak, put on your best life jackets, and get hands-on for all kinds of outdoor fun during the weekly market.
For more info and to see what vendors will be at each market, go to facebook.com/GalvestonsOwnFarmersMarket.