Every Thursday 3-7pm, and Sunday 8am-1pm, Galveston's Own Farmers Market is held at The Bryan Gardens. Join the fun in the beautiful Conservatory and botanical gardens of Bryan Museum to relax and enjoy time and conversation with friends, family, and Museum staff while shopping for locally grown produce, prepared foods, and edible farm products.
The Thursday market features all the perks that you've come to expect at the market, plus the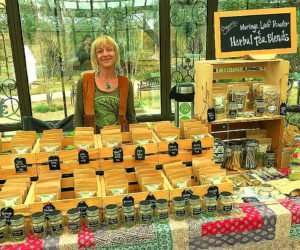 added charms of the Bryan Museum "Wine at the Bryan" weekly event. The Sunday market also features wonderful goods and the charm of Bryan's courtyard. Special events sometimes take place including Galveston Arts Center drawing, painting, sculpting lessons, live music, Plant Sale & Pot-Your-Own-Plant Station, and more.It is always free to browse and most events are free to participate.
August 23rd (3-6pm): Playdate at GOFM –
Join this casual playdate every 2nd and 4th Thursday at Galveston's Own Farmers Market, on the grounds of the Bryan Museum. All caregivers are encouraged to attend, regardless of experience level. Come to try out some new baby carriers, get some one-on-one help with questions, or just play and socialize with other caregivers. Let us know if there is anything specific you've been wanting to try and we can try to make it available! Since this is a playdate, there will not be any carrier library check outs. If you have an overdue carrier, you are welcome to return it. Limited on site parking but ample street parking available along 21st and Ave M. This is an outdoor event with no seating so feel free to bring a blanket to spread out!
September 9th (9am-12 noon): the Friends of Rosenberg Library Book Sale & Give-Away
takes place. Come to peruse the books or just get a free kids' book to take home. The Friends curate special selections each month of nature, cooking, and science-related books, and you'll also find plenty of fiction, children's literature, and general book goodness. Future book sales will be September 9th, October 14th, November 11th, and December 9th. This is held every second Sunday of the month.
Every Sunday: Yoga Classes –
There are also yoga classes available every Sunday at 10am at the market. These classes are led by local yoga teachers. All classes are free to attend and anyone is welcome to participate.
Every Sunday: "Bring a Cup"
– GOFM is doing away with disposable cups. They need the community's help to stock the market with mugs. Clean out the cupboards and bring them to market! Donated reusable cups will be available for use at the market – if you use it, take it home with you. Keep it, love it, or wash it and bring it back the next week.
August 19th, 23rd: Kid's Corner – Houston Bay Area Creative Reuse (HBACR) joins Galveston's Own Farmers Market several times in the upcoming months. They'll offer free kids crafts and life skills activities fit for all ages, all utilizing donated supplies. Donated arts and craft supplies are available for sale at a deeply discounted price. HBACR is non-profit recycles donated items that would otherwise end up in a landfill like old art supplies, architectural salvage, fabric and notions. They resell them at a very low price for artists, students, teachers and parents to give access to the arts.. Future dates are September 27th and 30th, October 4th and 25th.