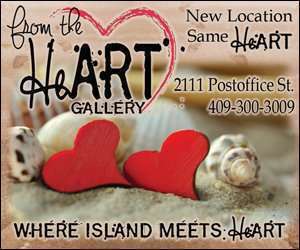 By Terry Card
Described by its customers as a "Hidden Treasure," the West End Gallery & Décor shop is unique.
What makes it special is the total immersion of its owners, Eddie Kier and Johnny Mize, ably aided by longtime employee Sue, in seeking art and décor that will fit with their clientele's preferences.
Over time, they have come to know most of their clients on a personal basis and can envision art and/or decor being perfect for a particular client. In their hunt for individualized pieces, art, furniture, carpeting, and drapery, their customers' desires and needs take precedence. Indeed, in order to tailor their inventory to their customers, they range far afield in seeking out acquisitions, not being content to simply buying within Texas, but stretching out to areas as far away as High Point, North Carolina.
That extra effort and reasonable prices, is appreciated by their clients, and as a result, much of their business growth has come via word of mouth through very happy and satisfied customers. As Eddie says, "If I wouldn't put it in my own house, I will not buy it for my clients."
For Eddie Kier, the designer in the partnership, his trade was learned literally at his mother's knee. Even as a baby, he slept in a crib in his mother's custom drapery shop. His mother was an interior designer, and soon young Eddie was accompanying her on appointments, learning customer service, gauging buying opportunities, and learning the art of selling. His expertise was acquired in the "school of hard knocks," not through text book learning in a class.
However, like most parents, Eddie's wanted him to have a proper education, and he stuck it out in architecture for two years at Lamar University in Beaumont before he realized he was an interior designer – not an architect. Born in Anahuac, Texas on the northeastern shore of Galveston Bay, the family moved frequently since his father was in the business of buying and flipping houses all over the state. He would buy houses in need of TLC, and Eddie and his mother would use their interior design skills to upgrade them. No matter where they went, his mother always kept her business, and Eddie helped. His older siblings were not interested in interior design, so Eddie was the one who immersed himself in it and the business.
Johnny Mize, Eddie's partner of 40 years, followed a more traditional route. Born in Nederland, Texas, between Beaumont and Port Arthur, he graduated from the University of Houston and worked initially as a chemist for Dow Chemical Corp. However, very early on he moved into human resources working his way up to becoming Global HR Manager. His father was a shift supervisor at Union Carbide, and his mother was an administrator at St. Mary's Hospital.
Very often, as is the case with Johnny and Eddie, it is amazing how people with substantially different backgrounds and living styles can come together and form a very successful partnership. Within the business, Eddie is the "front man" – out there with all the customers. Johnny is very much the backroom expert, involved more in the financial end with facts and figures. It is a good fit because as Eddie says – he does not like the paperwork and is happy to leave it in Johnny's capable hands.
They owned a home in Galveston since 2001 and really came to love the city. Eddie worked at Eiband's from 2005 to 2009 while Johnny was still with Dow Chemical. They moved permanently to Galveston in 2008 and were looking for some extra storage space for their furniture. They talked to John Stahlman, who owned a strip center in Jamaica Beach. At first they rented only 1,800 square feet. In October 2011, liking the location, they decided that in addition to storage, they would open a small boutique. The success of the store has led them to increase the size from the original 1,800 square feet to the present 3,500 square feet.
They found that with the new store, the hardest problem was to determine what to buy. Initially the store had mostly consignment art, which made up about 70% of inventory versus the present split of 50% shop owned art and 50% furnishings and décor.
Most of their customers have purchased second homes that were rentals in Galveston and Freeport. Most often, they wish to upgrade the art and low end décor often associated with rental properties to something more associated with their lifestyle. In keeping with their location and clientele, The West End Gallery & Décor boutique has upgraded their art and décor over the past six years, concentrating on a coastal and beach oriented lifestyle. They have a wide price range to accommodate a large cross-section of buyers.
Since moving to Galveston, they have immersed themselves in Galveston charities. They joined the animal welfare group PAWS in 2008/2009 and were recently honored at the annual PAWS gala for raising the most money since becoming a member. They regularly make and sell Christmas trees and wreaths to raise money for various charities. Many times when customers wish to clear their house of the old furniture and appliances they have, they provide free use of their trucks to transport the goods to the Galveston Women's Crisis Center. They are also strong supporters of Ronald McDonald House, Jamaica Janes, and the firefighters.
They are known for working with their customers – sometimes for much longer than anticipated. Eddie tells of one client who just could not make up her mind and changed fabrics endlessly but ultimately decided on the fabric Eddie had recommended initially. Obviously, the owners of The West End Gallery & Décor never give up on a customer and go to extra lengths to accommodate their needs.
In 2015 and again in 2016, The West End Gallery & Décor boutique was honored with the Galveston Daily News Readers Choice Award for "Best Design, Furniture, and Home Accessories." One needs only a glance, a first impression, to understand why they won it. What better way to discover the new and wonderful pieces that Eddie and Johnny have found during their buying explorations than by browsing the ever-changing layout in the shop with a complimentary drink in hand?
The West End Gallery & Décor boutique is located at 16708 Termini San Luis Pass Rd., Galveston. The store hours are Thursday-Saturday 11am-6pm, Sunday 12 noon-6pm and Monday 11am-6pm.
For more info call (409)974-0039 or go online to westendgallerydecor.com.