Written and Photographed by By Sharis Roe DeJaynes
There's a new sound in town, and his name is Will Lee Cheek. On Saturdays, between the hours of 12 noon and 3pm at Oasis Juice Bar at Market on 25th St., you'll find Will with a mic and an acoustic-electric guitar, playing a different sound. I was thrilled to hear more than three chords emanating from his unique Alvarez acoustic-electric guitar and a very pleasant, clean, and clear voice. Will and I sat down over a smoothie after he finished his set, and he filled me in on all things "Will Lee Cheek."
Island Guide: Take us back in time, and tell us about you and your history with music.
Will: I grew up in Houston, Texas. I started playing guitar when I was 6 years old, on a cherry red Epiphone Dot Archtop hollow body. At that young age, I put a band together with three kids of the owners of what was the Houston Flea Market that lived from down the street. In 6th grade I formed another band with my longtime friend, Randy Wheless. We played sock hops and parties and even had a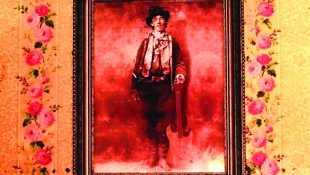 guy building custom crossovers and speakers for us, one of which caught fire at a gig! Randy was also my roommate in the same fraternity in college at UT. "Not Really" was our band name in our college days in Austin. We had regular gigs on 6th St., and people would always ask us if we were a real band to which we'd answer, "Not Really." The name just stuck for some reason. Austin was much nicer back then – when Stevie Ray Vaughn was newly discovered, and Eric Johnson had been playing there for years.
I graduated University of Texas with a Radio, TV, and Film degree in Communication. My senior year, I worked at Music Lane Recording Studio, underneath the old Texas Opry House, where Willie Nelson later recorded. It used to be the food locker under the old Austin Country Club. Eric Johnson could be heard there as well, practicing in a room down the hall. In addition to working at the studio, for my credit hours at UT, I had the opportunity to record some there as well. I came back to Houston after the big crash of the late 1980's, and I built houses for a long time. I'm now semi-retired.
I have a rosewood Martin I play every day and use to compose my music; it's an Eric Johnson autographed cutaway with colored stone and mother of pearl inlays depicting the nine planets. That guitar just 'resonates' and sort of writes music by itself. I just love it. I'm 99% self-taught, though I had a few lessons along the way. I can read music, but mostly play by ear and can play along with anyone.
I like to write more complex, jazz based songs with invented dissonant 9th and 11th chords, although I'll even throw in a polka when inspired. I typically write in pieces, with musical ideas logged at different times. I'll record snippets on my phone as the inspiration comes, save them, then piece together things until the music fits. Music first, lyrics later. I also sometimes write in different time signatures, such as 7/4 and 9/4.
Island Guide: When did you come to Galveston?
Will: I moved to Galveston at the end of 2014, so two and a half years ago. My wife and I live in a 106-year-old house on the east end. I simply love Galveston; the buildings and the architecture. I'm a history buff, so it just makes sense to live here. I used to teach history at Crossroads school for autistic children in Houston and also taught math to kids who were struggling, at Fort Bend ISD. I've taught everything, but really loved teaching history. My kids loved Jean Lafitte and pirate stories.
Island Guide: Tell us about your electric band?
Will: The Rafters started in 2005 and have three albums to date. We are an ongoing musical experiment to meld different styles of music, such as Southern rock, Blues, Jazz, and improvisational jamming, while in a unified format that promotes self-expression and spontaneous creation. The music The Rafters make is all about the creative process and providing a musical landscape that people can dance, smile, laugh, and heal with…sometimes out front and sometimes behind the scenes. It's such a blast.
The Rafters have been seen and heard multiple times at Dan Electro's Guitar Bar and Last Concert Café in Houston, and we look forward to more.
Island Guide: Tell us about your acoustic band?
Will: I formed Billy and the Regulators, to work on songs that just didn't fit in with The Rafters' sound. My buddy Randy is also playing electric guitar in this band. I typically play my Alvarez FCF7103 Fusion Chambered Folk Acoustic-Electric, which has one of the best 'plugged in' acoustic guitar sounds I've ever heard. We also have a great bass player, Drew Hevle, who alternates between fretted and fretless bass guitars. This band plays mostly country, traditional folk, and esoteric originals.

Prior to recording, I had just taken a trip to Santa Fe and found myself enamored with the Billy the Kid legend, so I wrote a couple of new songs about him. Hence, we released a CD in 2013 entitled "Ballad of Billy Bonney." Notice the CD cover: a Stratocaster instead of a rifle! We recorded the CD in Houston and the cover art background is from a 1900's era glued-down wallpaper we discovered behind the newer sheetrock in a Heights house I was renovating at the time. It was the perfect backdrop for the CD cover.
We have a radio show coming up on Saturday afternoon, July 22nd with Sandy Weinmann and the Deadbeat show. Tune in to KPFT 90.1 FM at 5pm.
Island Guide: Who are your greatest musical influences?
Will: My music influences range widely from Neil Young to Trey Anastasio, to bizarre Zappa and Miles Davis, and even Yes. The list could go on and on, but I always seem to come back home to Garcia and Grateful Dead as a reference point. I've always been amazed by their ability to create on the spot, take risks, make mistakes, and attack the unknown without a net.
Island Guide: Where can we find your recordings?
Will: You can find The Rafters music on CDBaby at cdbaby.com/cd/rafters. A signed copy of the "Ballad of Billy Bonney" CD can be picked up at any of my gigs. For videos go to YouTube at youtube.com/user/fenderscream. Also, search for Will Lee Cheek to find my YouTube personal channel.
Island Guide: What are your future plans?
I plan on doing a solo album, with new originals and some more traditional covers. Look forward to a recording of "Island Time," an original single about Galveston, coming soon.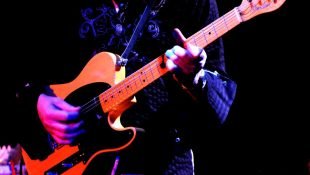 Island Guide: What else would you like people to know about you and your music?
Will: I love all musicians, and I'm fascinated by the singularity of each one. We all bring different things to the table. I personally try to stay away from standard chords, except where necessary. I like to invent my own voicings, adding dissonance. I can't help it, I create like that.
Island Guide: When and where can we find you playing?
Will: Please come to our Billy and the Regulators show, July 29th at Old Quarter Acoustic Café at 8:30pm. I frequent Open Mic Nights at Old Quarter as well, Wednesday or Thursday nights at 7pm. I also attend the acoustic jam on the first Thursday evening of every month at 7pm, at From the Heart Gallery (511 23rd Street.) Saturdays, you'll find me at Oasis Juice Bar & Market (409 25th St.) from 12 noon-3pm. Please come find me. I love to meet people and other musicians.
You can find the creative and technically on-point Will, Billy and the Regulators, and The Rafters on Facebook. For bookings, call (713)409-5409 or email cheekless@gmail.com.