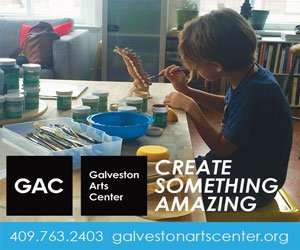 ---
Galveston Island is a beautiful, historic beach destination known for its great weather all year round. But, if you're not a sand-between-your-toes kind of traveler, don't worry. There are plenty of things to do in Galveston that don't include the beach, which is what makes our charming little island so diverse and special.
Here's a list of 25 non-beach activities to consider:
Stroll The Strand in historic downtown Galveston, known for its charming Victorian iron-front buildings that house boutiques, shops, restaurants and more!
Play at the Galveston Island Historic Pleasure Pier, featuring thrill rides, midway games, food and entertainment.
Explore the glass pyramids of family resort Moody Gardens. Here you can tour through a living rainforest replica, one of the largest aquariums in Texas and check out cool exhibits in the Discovery Museum.
Marvel at the beauty of the 1892 Bishop's Palace with a tour of this majestic historic mansion.
Splash into fun at Schlitterbahn Galveston Island Waterpark, known for the best indoor water park in the world!
Learn about the rare historic airplanes housed at the Lone Star Flight Museumwith a visit to this "war bird" museum.
Enjoy the eclectic flair of Galveston's culinary scene. Need suggestions? Check out our Galveston Island Food Guide.
Take a walking/biking tour of the Galveston Tree Sculptures, beautiful sculptures created from trees destroyed during Hurricane Ike.
Tour or watch a live show at The Grand 1894 Opera House. This gem of a theater has no seat further than 70 feet from the stage.
Visit LaKing's Confectionery to see its master candy maker make saltwater taffy the old-fashioned way. Don't forget to grab some goodies for the road!
Explore the history of pirates in Galveston at the interactive museum Pirates! Legends of the Gulf Coast.
Tour a retired oilrig at the Ocean Star Offshore Drilling Rig & Museum.
Walk aboard the 1877 Tall Ship ELISSA to see how sailors lived more than a hundred years ago!
Search family immigration history at the Texas Seaport Museum. Did you know Galveston was second in immigration to Ellis Island?
Visit the 1895 Moody Mansion for a tour of this gorgeous home, which has been restored to its turn-of-the-century splendor.
Get spooked at the Haunted Mayfield Manor – Texas' only year-round haunted house.
Learn about locomotive history at the Galveston Railroad Museum, boasting one of the largest restored railroad collections in the southwest.
Learn about Galveston's history and the worst natural disaster in U.S. by watching The Great Stormdocumentary at Pier 21 Theater.
Take an African-American Historic Places Tour and discover many of the African American firsts that happened in Galveston!
Peruse the many art galleries located on and surrounding Postoffice Street – just a few blocks from The Strand. After stopping in Rene Wiley Gallery, be sure to grab a beverage at MOD Coffeehouse next door.
Hit the green and play a round of golf at the Moody Gardens Golf Course.
Visit Rosenberg Library – the oldest public library in Texas.
Have a relaxing stay at one of Galveston's many resorts, hotels, beach houses, condos or bed & breakfasts. Sometimes sleeping in is what vacation is all about!
Make a spa date at any of Galveston's luxurious spas.
For sure entertainment, catch a show at the Island ETC Theater.
ABOUT GALVESTON ISLAND
Galveston Island is a historic beach town located on the Gulf of Mexico just 50 miles from Houston. The island is best known as a vacation destination, offering 32 miles of beaches, a variety of family attractions, Texas' premier cruise port and one of the largest and well-preserved concentrations of Victorian architecture in the country. The Galveston Island Convention & Visitors Bureau is a non-profit government agency and the official destination marketing organization for Galveston Island. For more information, visit www.galveston.com or call 1-888-GAL-ISLE.