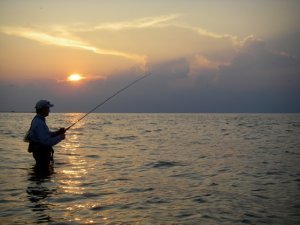 By Rob Lucey
With the smell of saltwater in your nostrils, it's easy to succumb to the siren call to wet a fishing hook while visiting the island. "SaltWater Sportsman" magazine lists Galveston as number three on its list of the top 10 Saltwater fishing cities in the United States, citing it for the redfish, speckled trout, black drum, and flounder in Galveston Bay, as well as cobia, wahoo, tuna, mahi mahi, red snapper, kingfish and marlin found off the Gulf side of the island. More than 100 species of fish are regularly caught in the waters around the island.
So where do you find this treasure of seafood? Grab your Texas saltwater fishing license, bait bucket and gear and take your pick.
Beaching It
If you like to keep your feet on solid ground while fishing, you have plenty of options starting with 32 miles of beaches. But beach fishing doesn't necessarily mean you won't get wet. Some fishermen like to wade right into the Gulf, planning their trips for early mornings when the southeast breeze smooths out the Gulf and brings speckled trout and other gamefish close in. Wade fishing requires you to keep your gear simple and secure in a strap-on wading box. Most wade fishermen wear lightweight pants to ward off jellyfish stings, along with a protective hat and polarized sunglasses to help cut the glare when watching for telltale signs of fish. Lifejacket or inflatable PFD is also advisable.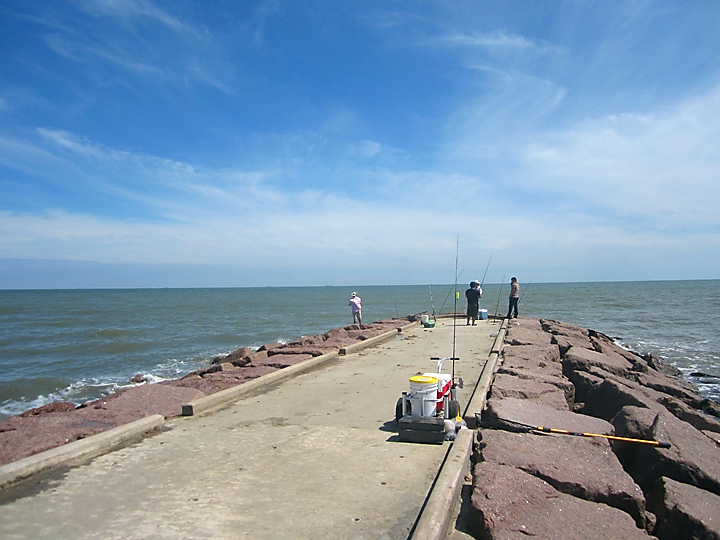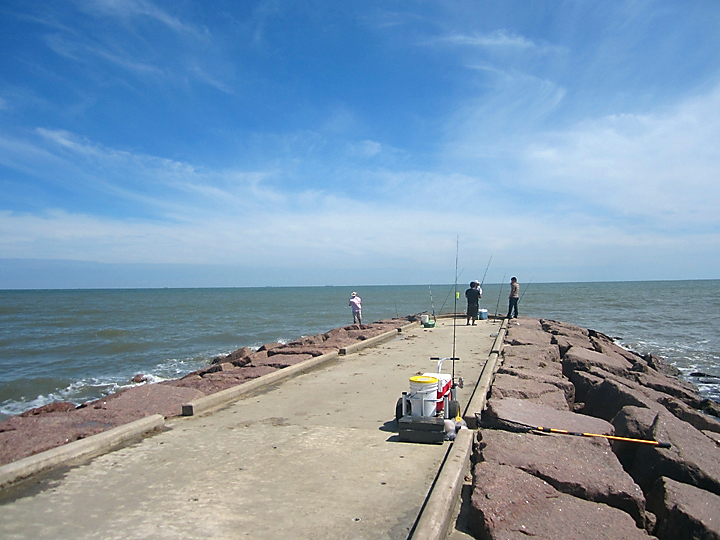 Structures, such as jetties, submerged rocks, and contours in the land can be good spots to try. Both bottom fishing and topwater lures can bring good results. When in the water, it's always a good idea to fish with a buddy and remain alert to changing surf and weather conditions.
Prefer to keep your feet on dry sand? Many regular beach fishermen like to plant PVC pipes in the sand to use as holders for an array of saltwater fishing rods. They use rods that are six to seven feet long with heavy weights on the end of the line, cast the baited hooks well offshore and sink them through the waves to the bottom where sharks, spanish mackerel, gafftopsail catfish and other popular gamefish feed. Often you'll spot these hardcore beach fishermen with an encampment including a shelter for ducking out of the sun while monitoring their rods, and at least one cooler (for icing down their catch – and the essential beverages to help beat the heat).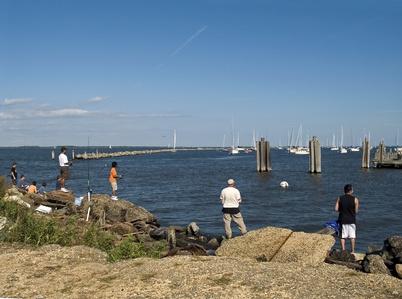 If you don't have these long poles in your arsenal, you still have options to get out to the deeper water. Along the Seawall between 10th and 61st streets, you can fish off of any of the 15 rock groins jutting out from the beach. These can get you out to deeper water where you might catch speckled trout, black drum and plenty of hardhead catfish (a nuisance fish unpopular as a table fish and even less popular when trying to avoid its pointy fins while removing them from your hook). Another common thing to catch off the groins is snags, as some submerged rocks and other debris can be found off the main structure. Old timers advise trying the groins while the incoming tide and a southeast wind are bringing favorable water into shore, bringing bait and sport fish within range of your hook. Look up the tides online (tidesandcurrents.noaa.gov) and try to arrive a couple of hours before high tide.
Another way to get further offshore is to try one of the Galveston fishing piers, both of which charge $10 (less for children, seniors and late at night). Common catches include drum, sheepshead, sharks, stingrays and record-setting tarpon. Both piers were built in the late 1960s/early 1970s and have become a tradition for generations of visitors.
The 61st Street Pier also rents rods and sells bait. There is a two-rod per person limit. The Galveston Fishing Pier at 9001 Seawall Blvd. is billed as the longest privately owned pier on the East Coast. Its amenities include Jimmy's Place, a casual dining restaurant over the water.

Bayside Bounty
If the surf is rough, you might have better luck on the bay side of the island. The trick here is finding public access points. A good bet is Galveston Island State Park (no license required with paid admission to the park). Pelican Island also offers access to the bay and the Galveston ship channel. Seawolf Park charges $6 to fish off its rock groins and paved bulkhead, ideally located to catch fish passing in and out of the channel.
Roads on the Galveston's west end also provide access points to the bay shoreline, but these may be on private property. Be sure to check for signage before unloading your gear. Fishing along the shore adjacent to the public boat ramps is generally permitted. That includes the one off of 61st Street leading into Offatts Bayou. Shore fishing along the bays has much more in common with fishing on inland lakes. You can use your favorite casting rod and lures, or purchase some shrimp, squid, minnows, cut crab or mullet to put on your hook to tempt your prey. Look for under-water structures where fish might be lurking.

Get on the Water
When it seems like the fish aren't coming to you along the shoreline, it may be time to go to them on a boat. If you already have a boat or are qualified to rent one, you should be familiar with which waters are best accessed on your particular vessel. Kayak fishing is usually best performed on the bay side of the island except on flat water days with minimal breezes. If you're in a small power vessel, you might also want to remain on the bay side when the surf is up.
In larger boats, offshore fishermen often troll for pelagic species with success depending on the time of year and migration patterns. During the summer months they find deep sea species that include bonito, king mackerel and billfish, eight to 10 miles offshore. These fish typically weigh 20 to 30 pounds and up; heavy tackle on strong line is advisable.
Another good bet is to fish near structures where fish gather, including oil platforms, shipwrecks and artificial reefs. Guide maps can be purchased at local tackle shops. The nearest natural reef is the Flower Garden Banks National Marine Sanctuary located roughly 100 miles offshore. While fishing is quite good there, it does require a full day's trip to get out and back.
Closer in, many boaters find success catching huge red drum that lurk toward the ends of the rock jetties protecting the mouth of the Houston Ship Channel. If you fish that area, be sure to fish outside the navigational markers showing the edges of the channel, as it is extremely busy with large ship traffic. Nearer the island, the wreck of the old cement barge Selma off Pelican Island is a popular fishing destination.
Hiring Experts
If you want more expert advice or don't have your own boat, hiring a fishing guide is a great way to tap into local knowledge. A fleet of nearly three dozen charter boats operate out of the Galveston Yacht Basin (715 N. Holiday Drive), as well as other marinas around the island. Most offer half and full-day outings for parties of up to six fishermen
(www.galveston.com/fishingcharters). A few larger "party boats" that can carry dozens of passengers operates out of Pier 19. All include gear and assistance with baiting hooks, but the smaller boats generally provide more individual attention, better odds of catching fish and fewer entanglements with somebody standing elbow-to-elbow. Some guides specialize in bay fishing, while others mostly head offshore, and other groups will do either one based upon weather conditions and customers' preferences.
Which ever way you decide to wet your hook, nothing beats the experience of a fish on the end of your line as it whizzes off the reel – except perhaps the experience of that same fish on the end of your fork at the end of the day.

---