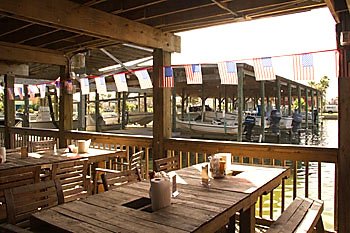 By Sissie Coomes
When you are at the beach, you either want to be in the sun, shaded under awnings and patios looking at the beach, or enjoying a great day or evening looking out at the water – and sometimes, perhaps all of it. Galveston hosts a huge array of restaurants and bars with great views. From people watching on the beach to watching the sunset, or even the cruise ships coming and going, the water is where everyone seems to flock.
Below is a list of a few restaurants and bars with fantastic views. Each one has something a little different to offer.
West End Restaurant and Sandbar
21706 Burnet Drive (Sea Isle subdivision), (409)497-4152, www.westendmarina.com
West End Restaurant offers full service fine dining upstairs in the restaurant, and island casual dining (and drinking) downstairs in the Sandbar.
It is located in the beautiful and secluded west end area, tucked away in the Sea Isle subdivision, overlooking Galveston Bay. The Sandbar is a cozy and covered, open-air patio that is never wanting for shade or a breeze. Relaxed and easy, The Sandbar is the place to grab a casual bite to eat, as well as to take a break from a day on the sand and water. Their full-service bar includes a variety of beer and wine along with many house specialty drinks.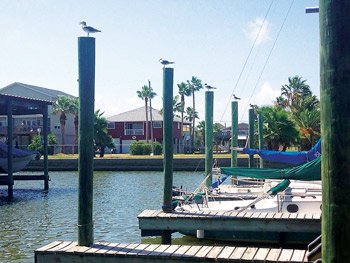 Boiled crawfish, oysters on the half shell, burgers, lots of fried seafood and wings are on the menu. They offer daily drink and menu specials, a great happy hour, and a super casual atmosphere – what more could you ask for! Oh, a view!
West End Restaurant and Sandbar is located on the canal/bay side of the west end of the island. Made all of wood with miles of decking, handmade tables, and located over the water surrounded by boats, boat docks and anything else you can think of concerning the boating lifestyle, The Sandbar has a great atmosphere and has the peaceful, slow pace of the West End, swaying and rocking to the beat of fun for all.
Weekends at The Sandbar, the main event is music. The Sandbar has karaoke every Friday night and live music every Saturday, 7-11pm.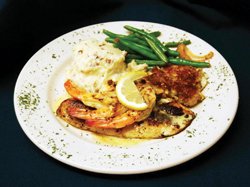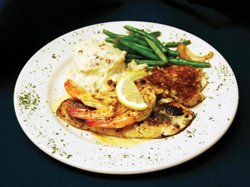 Frequent patron Darien Allred said, "This is the best place to get a great steak and an extremely large stuffed potato, plus a fantastic fruity mixed drink. The environment in the downstairs Sandbar is to die for. The view is fantastic. Oh, and did I mention you can launch your boat here, too? The boat launch is very deep, and they have a great bait and tackle shop as well." Steak Night is every Monday, 5-9pm, in The Sandbar.
They also have a fully stocked general store for all your grocery needs and offer a full service bait shop and marina, that is complete with 4 ton lifts, electric, water supply, and quality marine grade fuel. They are also an authorized distributor for YETI coolers and accessories.
The Sandbar opens at 11am every day and is super casual. The West End Restaurant opens at 5pm and reservations are recommended, as well as appropriate dress. The Sandbar downstairs is dog friendly.
Olympia The Grill at Pier 21
100 21st Street, downtown Galveston, (409)765-0021
"Olympia Grill – great food since 1500 B.C.!"
Olympia The Grill at Pier 21 has won a host of awards: Winner of "Best Greek," "Best Happy Hour," and "Best Waterfront Dining" in the 2015 Galveston.com "Best of Galveston Awards." So, it's no surprise to the locals that this restaurant, unique in location and menu offerings, also has a fantastic patio overlooking the Harbor.
From Galveston.com: "Larry and Tikie Kriticos were born and raised in Galveston, Texas. They are first-generation Greek Americans. Their father, Gus, came to Galveston from the Island of Patmos, Greece, and opened the Seawall Cafe on 17th Street (1946) in Galveston. Their mother Nora's family came from Sparta, Greece. The Golden Greek Restaurant belonged to their Uncle Paul and Aunt Beaulah Santire. In other words, the pros at Olympia Grill come from a long line of great Greek Cooking, and have unparalleled experience in the restaurant industry. The chefs at Olympia Grill prepare fresh food daily and have family recipes that come from hundreds of years of experience. Features include seafood, Greek salads, gyros, lamb, and fine burgers."
Olympia is open every day for lunch and dinner and was recently named a Texas Monthly "Pick" for great food quality and service.
Olympia The Grill at Pier 21 has a stunning view of the Port of Galveston with seating on a wrap-around patio. With the fans creating a nice breeze, it is always a nice place to dine or have cocktails. Try Olympia's chocolate martini or the cucumber mojito, you won't be disappointed!
"I've been to Olympia's other location on Seawall before, and this one on Pier 21 is just as good if not better. They have a big menu with lots of variety, from seafood to burgers to vegetarian and Greek. A lot of the plates allow you to taste many different things which I love when trying new things. The menu has a big variety of many classic Greek specialties. There is something for everyone," stated Darian Morris.
Olympia The Grill at Pier 21 is open Sunday-Thursday 11am-9pm, and Friday- Saturday 11am-10pm.
Float
The Seawall, long known for it's 10 miles of non-stop beaches, hosts a huge array of opportunities to catch a glimpse of the Gulf and the beaches.
A swim up bar that overlooks the gulf? Yes, please! Located in the heart of the Seawall's entertainment district, Float offers a swim up, pool-side bar perfect for cooling off from the sun, comfy seating overlooking the Seawall above the sidewalks on a second level and poolside, plus an inside bar with tables and open doors to help you relax. Whether you come in a swimsuit or your work clothes, there is a place for everyone to unwind.
Float also features live bands throughout the year, a tropical drink menu and plenty of sunny fun.
Float is open daily 11am-2am. Wednesday is College Night with $1 drafts 10pm-close.
Jimmy's Restaurant & Bar
9001 Seawall Blvd., (409)974-4726
Jimmy's Restaurant & Bar has the one of the best views in Galveston, with the only "over the waves" dining on the Island. On warm days, the restaurant and deck wall to wall doors open up all the way around to offer panoramic views of the amazing Gulf.
The house specialty is fresh fish tacos, made with locally-caught grouper and served with white wine caper sauce. The shrimp poboy is a favorite as well, but Jimmy's has much more than seafood to enjoy. They also have a great kids' menu with pizza, chicken nuggets, and more. The bar offers an extensive collection of premium beers and Texas wines. Favorites include Skrimshaw Pilsner, Dogfish Head 60 minute IPA, Brewhouse Brown Ale, Fat Tire Amber, ShockTop, and Maui Coconut Porter. The selection changes often.
Jimmy's Bar is open a bit later than the kitchen on busy nights, but they do occasionally close early if the weather isn't cooperating. So, when it's after 9pm or if the weather looks doubtful, you might want to call first to avoid being disappointed when you arrive.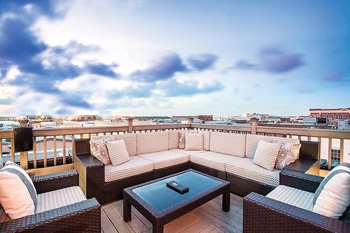 Fishing is available downstairs – they have everything you need, including bait and access to the long fishing pier.
Jimmy's is open Sunday-Thursday 10am-10pm, and Friday-Saturday 10am-11pm, weather permitting. Parking is along the Seawall.
The Rooftop Bar
Above Tremont House, 2300 Ships Mechanic Row, downtown Galveston, (409)763-0300
Since 2011, Galveston hotel's Rooftop Bar has been wowing customers with its wine, beer and cocktail offerings, as well as incredible views of downtown and the harbor. The city's only open-air rooftop venue boasts comfortable sectional seating areas and bar-high tables. At night, the sophisticated lounge glows thanks to an eight-foot, lighted Manzanita tree and illuminated pots.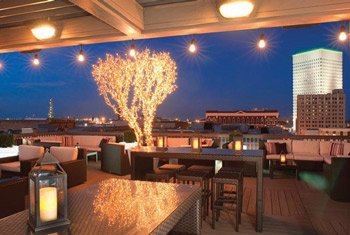 This upscale, outdoor patio bar is a great place to unwind. Whether you want to watch the cruise ships come and go, or the night lights come alive downtown, The Rooftop Bar has a great scenic view offering views in all directions as far as the eye can see. The sunset is stunning from here too. On a clear evening, you can see for miles across the harbor and bay!
To get to The Rooftop Bar, simply go inside the beautiful Tremont House, find the elevators and go up to the fourth floor, then just follow the signs. There is a little bit of winding around, but it is easy to find this elegant escape from the hustle and bustle of downtown.
The Rooftop Bar is open Tuesday-Saturday 5pm-12 midnight (weather permitting). There is a small limited food menu available.