By Sissie Coomes
The best part of a meal in traditional New Orleans style is the rich desserts, such as hot and fresh beignets laced with powdered sugar, king cake, praline candies, or bread pudding featuring rum sauces. Coffees, candy, and ice cream too? Certainly! They don't call it Fat Tuesday by accident!
Let's get started with some great Mardi Gras desserts that you will want to try on the Island.
King Cakes
The History
The Mardi Gras or Carnival season officially began on January 6th or the "Twelfth Night," also known to Christians as the "Epiphany." Epiphany comes from a Greek word that means "to show." Jesus first showed himself to the three wise men and to the world on this day. As a symbol of this Holy Day, a tiny plastic baby is placed inside each King Cake.
The King Cake tradition is thought to have been brought to New Orleans from France in 1870. A King Cake is an oval-shaped bakery delicacy cross between a coffee cake and a French pastry that is as rich in history as it is in flavor. It is decorated in royal colors of purple which signifies "justice," green for "faith," and gold for "power." These colors were chosen to resemble a jeweled crown honoring the Wise Men who visited the Christ Child on Epiphany.
In the past, such things as coins, beans, pecans, or peas were also hidden in each King Cake.
Today, a tiny plastic baby is the common prize. At a party, the King Cake is sliced and served. Each person looks to see if their piece contains the "baby." If so, then that person is named "King" for a day and bound by custom to host the next party and provide the King Cake.
Mardi Gras Day has a moveable date and Fat Tuesday is always the day before Ash Wednesday which always falls 46 days before Easter.
"A king cake is about indulgence, hence the name 'Fat Tuesday.' It has a festive appearance no matter whose cake you get. It's just a festive product." – Tariq Hanna, co-owner and executive pastry chef, Sucre in Uptown New Orleans
Here on the island, check these out:
Maceo Spice and Import Company
Maceo Spice and Import Company is legendary for their food and their King Cakes. Your favorite Italian deli features the best King Cakes in Galveston, straight from their cousins at Rao's Bakery. They are available in one size in several flavors: Traditional Cinnamon, Strawberry Cream Cheese, Raspberry Cream Cheese, Blueberry Cream Cheese, and Voodoo (coconut and chocolate) which is slightly higher in price.
Maceo Spice and Import Company is located at 2706 Market St., downtown Galveston, (409)763-3331, maceospice.com.
They have a few in the store and are taking orders. Allow 24-48 hours notice please.
PattyCakes
PattyCakes Bakery is a polished reincarnation of the great Graugnard's Bakery, located in Galveston on the east end. "We pride ourselves in offering the most delicious treats in the area, made with the finest and the freshest ingredients available." And they are offering King Cakes this year!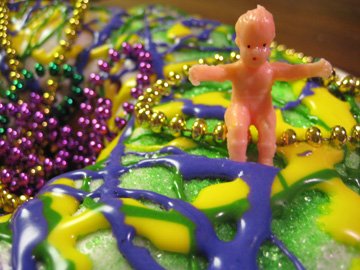 Several different versions of King Cakes are available in two different sizes, "Regular" which serves 8-16, and "Large" which serves 16-24. Flavors available include Cinnamon-Sugar, Raspberry & Cream Cheese, and Cinnamon-Sugar Pecan.
PattyCakes also offers an array of other items including breads, pastries, cupcakes, cake balls, cookies, muffins, croissants, scones, dog biscuits, and much more.
PattyCakes is located at 704 14th St., (409)76-CAKES. They are open Tuesday-Saturday 7:30am-6pm, Sunday 8am-3pm, closed Monday.
To place an order go to PattyCakes Facebook page at www.facebook.com/pattycakesgalveston. They ask for a 24 hour notice. You can also download an order form at www.pattycakesgalveston.com/2016mardigras.pdf.
Hummel's General Store & Deli
Long time West End favorite, Hummel's General Store & Deli offers King Cakes. If you see Jamaica Beach, you've gone too far, and you've missed this wonderful general store. Be sure to call ahead about 24-48 hours.
They also give out free beads to customers and do not sell them.
Hummel's has a kitchen, beer cave, and tons of other stuff for all the west enders.
Hummel's General Store & Deli is located at 13722 Termini San Luis Pass Rd., Galveston, (409)737-995, www.galveston.com/hummels.
Beignets
Another Mardi Gras tradition is beignets (pronounced "bin-yey"), and Galveston has a few options.
The Gumbo Diner
Every time we think about beignets, we picture the hot and fluffy plate of fried dough, amply covered in powdered sugar at The Gumbo Diner. A generous snowfall of powdered sugar guarantees that we cover ourselves, as well as the table, with sugar dust with every bite, and every time, we find ourselves in sheer heaven.
Whether you are wanting a sweet snack or a sugary breakfast, The Gumbo Diner is a fun place to treat yourself to some authentic beignets.
Gumbo Diner is located at 3602 Seawall Blvd., Galveston, (409)762-3232, thegumbodinner.com. Beignets are served all day and are available for take out, too.
Galveston Restaurant Group also sells beignets at Nonno Tony's World Kitchen at Pier 21 in Galveston. Additionally, they serve homemade New Orleans style bread pudding at The Gumbo Diner, Little Daddy's Gumbo Bar, Nonno Tony's World Kitchen, and Saltwater Grill – yum!
Shrimp & Stuff, Downtown
Breakfast is served every day from 7:30-11:30am, and as far we can find, Shrimp & Stuff is the only place around that offers beignets with different sauces – caramel, chocolate or raspberry sauce.
And, Chocolate beignets!
In addition to serving the classic style beignet, Chef Juan Cardona adds a little cocoa powder to make a chocolaty version of the delicious treat. Beignets are available until 11:30am daily.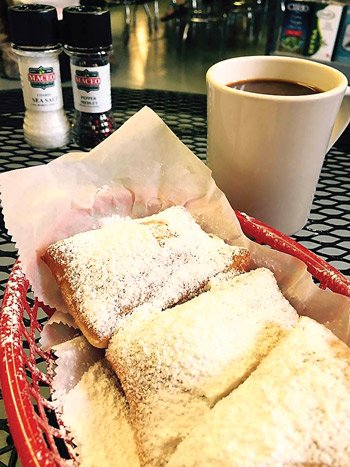 Shrimp 'N Stuff Downtown is located at 216 23rd St., downtown Galveston, (409)974-4609, shrimpnstuff.com/23rd.
Maceo Spice & Import Company
From 10am-2pm every Sunday, Maceo's offers their golden beignets made from scratch. Their version of the pastry is served in traditional New Orleans style with a healthy coating of powdered sugar, served three to a plate, fresh and piping hot.
Pair these with a cup of dark roast chicory coffee or Cafe au Lait and you will see why this has become a Sunday tradition for many locals.
Maceo Spice and Import Company is located at 2706 Market St., downtown Galveston, (409)763-3331, maceospice.com.
Other Mardi Gras Goodies
Sugar Bean Coffee and Cream
In the mood for the glorious New Orleans flavors but want to something a little different too?
Check out Sugar Bean's Caramel Pecan King Cake Iced Coffee. This cold brew Texas pecan coffee is sweetened with caramel pecan syrup and topped with half and half. It is heaven in a cup and a great way to start your day.
Also, Sugar Bean's Bananas Foster Latte is a classic latte, sweetened with banana and cinnamon syrups, then topped with bananas foster infused whipped cream and caramel drizzle. You'll go bananas for this – Lagniappe!
Sugar Bean is located at 11 Evia Main, Galveston, (409)974-4473, www.instagram.com/sugarbeancoffeeandcream.
Be sure to get a punch card where you can receive every 10th drink free.
Hey Mikey's Ice Cream
The best of two worlds collide into a heavenly concoction – King Cake Ice Cream. This is a rummy cinnamon-based ice cream with chunks of King Cake inside. It is sure to satisfy every sugar craving that you have. "This is not merely ice cream, it's a new sensory experience," said Leslie Mollay of Boise, Idaho.
Hey Mikey's Ice Cream is a locally made product. They create all of their own ice cream right here on the island. They offer old-fashioned, hand-dipped ice cream in a variety of custom flavors.
Hey Mikey's is located at 2120 Postoffice St., downtown Galveston, (409)602-3286, heymikeysicecream.com. Winter hours are Wednesday-Sunday 2-9pm, closed Monday and Tuesday.
La King's Confectionery
For more than 37 years now, proprietor and "official taster" Jack King has been keeping old-time confectionery traditions alive in the heart of Galveston's Strand Historic District. He has made a career of serving up tempting treats to generations of tourists, families, and locals alike. "It's a fun place. People who came here as kids 20 or 30 years ago are now bringing their kids here," says Jack.
La King's master candy maker will delight you with his old time specialties – peanut brittle, divinity, pecan pralines, hand dipped chocolates, fudge, and their famous salt water taffy made right before your eyes on antique equipment.
Their pralines are the best around! Few confections are so readily identified with the South as pralines – the irresistible mound of candy, made of caramel and pecans. Different Southern cooks swear by a variety of recipes with or without brown sugar but we think La King's are by far, the best recipe of these little mounds of goodness.
La King's offers a Mardi Gras taffy that's tropical punch flavor and yellow with green and purple stripes. They also have a vanilla flavor fudge that is purple, yellow, and, green. Rumor has it that they are working on a King Cake flavored fudge too!
La King's is located at 2323 Strand St., downtown Galveston, (409)762-6100, lakingsconfectionery.com.
Gaido's Seafood Restaurant
"I'm not sure what it is about bread pudding that I love so much. Maybe it's the warm gooey bread topped with butter and rich cream, or it could be all the cinnamon and dense, rich and sweet bourbon sauce, but whatever it is, Gaido's has some of the best I have ever eaten!" said Liz Wellington.
Both, Gaido's Traditional Bread Pudding and the Banana Bread Foster comes with a scoop of vanilla ice cream. Don't bother fooling yourself thinking you will "share this" with someone. You will want every warm bite yourself!
Gaido's is located at 3828 Seawall Blvd., Galveston, (409)761-5500, www.gaidos.com.
Bahama Buck's
Located on the east end of Seawall, this shop is offering a King Cake Combination – a SNO creation! What's a SNO? It is a snow cone, but it is super light and airy. Bahama Buck's also offers crowd-pleasing Crème Brûlée, and for the kid in you – Birthday Cake with Sprinkles.
They will be selling beads with Bahama Bucks Medallions and will be out on the Strand as a vendor this year during Mardi Gras selling SNO and hot chocolate to the crowds.
Bahama Buck's is located at 500 Seawall Blvd., Suite 390, Galveston, (409)632-7151, bahamabucks.com.