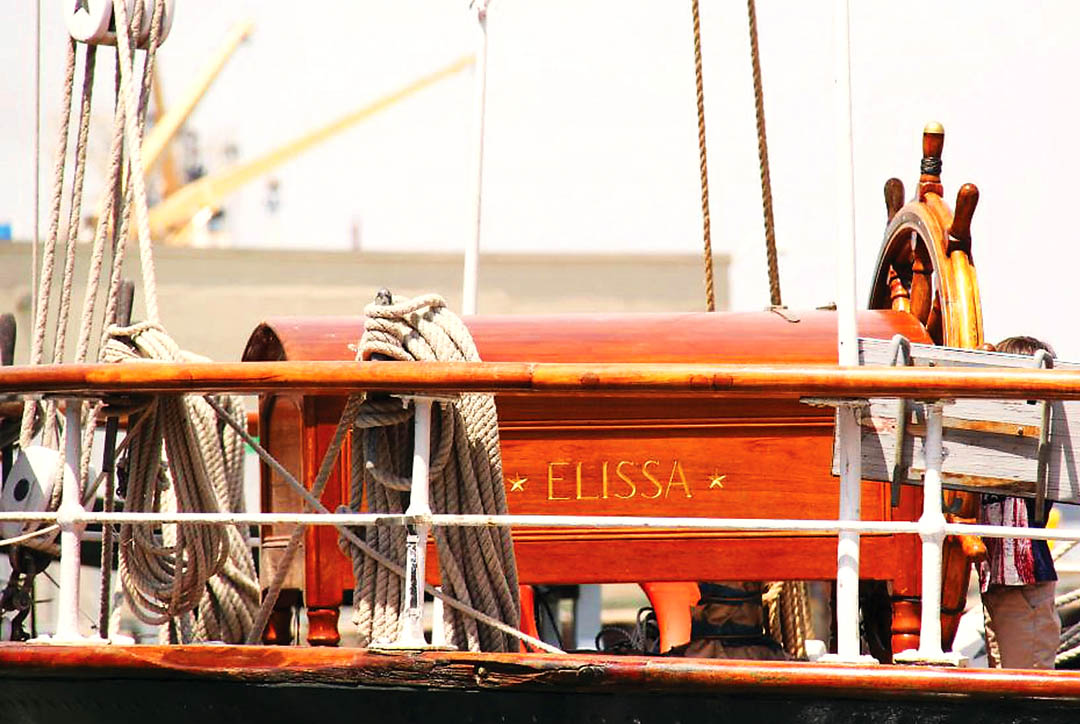 Long before cars, airplanes, bridges, and causeways, there were boats. In the early days of Galveston, the Island was only accessible by boat, but now the necessity for this mode of transportation in the private sector has made way for endless recreation and fun to be had, especially when all four sides of a particular town are surrounded by water. From fascinating history to exhilarating thrill rides, from the little boats to the big boats, Galveston offers an array of boating activities, amenities, and exhibits for everyone from the most seasoned captain to the most obstinate landlubber.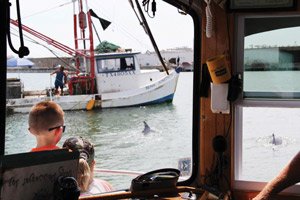 Harbor Tours
Owned and operated by the Texas Seaport Museum, Harbor Tours is an educational and entertaining tour and dolphin watch that careens through the waters of Galveston Harbor. The Seagull II was built specifically for sight-seeing excursions and includes both covered seating and a rooftop deck that offers spectacular views. The boats are captained by licensed operators who also display a riveting, all-encompassing knowledge of Galveston history. One hour tours are available daily, and Harbor Tours also offers private charters and educational field trips for student groups. 2200 Harborside Drive, (409)765-8687, daily tours leave at 11:30am, 1pm, 2:30pm, and 4pm, $10 per person.
Galveston Party Boats
Galveston Party Boats is Galveston's premiere fishing charter company that pioneered the use of the catamaran fishing vessel in Galveston waters. Aboard these vessels sport fishermen will enjoy the use of the latest in technology and equipment for securing some of the Gulf's most prized catches. Drum, Amberjack, Stingray, and Shark are only some of the species expected to be reeled in during their various excursions that range from four hour "Bay & Jetty" trips to "Deep Sea" trips ranging in length from eight to thirty hours.  1700 Harborside Drive, (409)763-5423, www.galvestonpartyboatsinc.com, hours and prices vary, reservations recommended.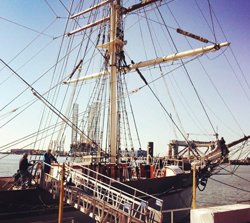 The Tall Ship Elissa
One of the oldest (and fully functional) commercial sailing vessels in existence, the Elissa is the official Tall Ship of Texas and has been named one of "America's Treasures" by the National Trust for Historic Preservations. Although almost other-worldly in her appearance, Elissa is not a replica nor is she grounded as she continues to make annual trips into the Gulf of Mexico.  Built in Aberdeen, Scotland in 1877, the three-masted ship stands at 99 feet tall, measures 205 feet long, and weighs over 620 tons. Owned and managed by Texas Seaport Museum, a division of Galveston Historical Foundation, the Elissa is available for tours and private functions while she is docked at Pier 21. Tickets available at the entrance. Pier 21, 2100 Harborside Drive, www.galvestonhistory.org.
Baywatch Dolphin Tours
Owned and operated by Galveston local Captain Michael Caldwell, Baywatch Dolphin Tours is a fun, friendly, and informative romp through the waters of Galveston Harbor. All the sights and sundries of port commerce are displayed and described, but nothing beats the sight of the dolphins when they come out to play. Baywatch is also a great place for the beginning of your vacation, as the Captain is great about directing guests to other attractions. Pier 21, 2101 Harborside, (832)859-4557, $10 per person, infants and pets ride free, www.baywatchdolphintours.com.
Seawolf Park
Seawolf Park is located on Pelican Island and was built at the site of one of the United States' largest immigration ports during the 19th century. Known for its peaceful picnic and play areas, fishing piers, and as a great dolphin watching spot, Seawolf Park is also home to two World War II battleships, a submarine named the USS Cavalla and the destroyer USS Stewart. The USS Cavalla SS 244, SSK 24, and AGSS 244 is a Gato class submarine that patrolled the waters of the Pacific and is the only remaining ship from WWII that sank an aircraft carrier. The USS Stewart Destroyer Escort 238 was the first of many vessels commissioned and produced by a shipyard in Houston. Both battleships are dry-docked and open for exploration. From Galveston, on Broadway, take 51st Street North over the 51st Street Bridge to Pelican Island, continue straight until the road dead ends into Seawolf Park; log online at  www.galveston.com/seawolfpark; parking/gate fee of $6 for cars, separate per-person admissions for Naval Display and/or fishing. Child and Senior Citizen discounts available.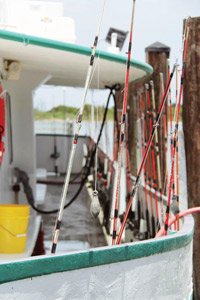 Jet Boat Tours
Lauded as the "Max Thrill Ride" of Galveston Island, Jet Boat Tours is an exhilarating speed ride on the Sun Time Water Sports jet boat, Spin Time, which has no external parts, no rudder, and no propeller, but instead uses a Hamilton 212 Jet unit. The unit draws in water, compresses it, and then drives it out of the boat at 3,000 gallons per minute. Steering is controlled by the direction of the flow of the jets, and it can also brake and reverse using the physics similar to that of an aircraft. The equivalent of a water-borne roller coaster, the Jet Boat Tour is 20-minutes of high speed thrills that even includes doing some donuts in the harbor if you're lucky. Pier 21, 2100 Harborside Drive, (409)276-6116, www.suntimewatersports.com, open 7 days a week, $28 per person.
Caribbean Breeze Boat Rentals and Parasailing
One of Galveston's most all-inclusive boating destinations, Caribbean Breeze Boat Rentals offers everything from jet skis to pontoons to parasailing. See full feature article on the right. 1723 61st, (409)740-0400, www.galvestonboatrentals.com, www.galvestonparasail.com.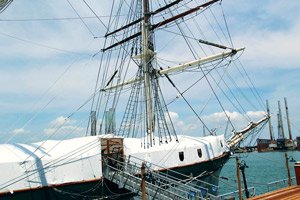 Marinas
If you are bringing your own boat to Galveston, there is no shortage of full-service marinas to provide for all of your boating needs, whether docked or in motion. The West End Restaurant and Sandbar is a full-service marina that includes a bait and tackle shop, grocery store, restaurant and bar. (21706 Burnet Dr., (409)497-4152.)
On the other end of the Island is Galveston Yacht Basin that is home to over 1,000 sailing vessels and is located within close proximity to all of the activities of downtown. (715 Holiday Dr. North, (409)762-2689, ext. 201).
Currently under construction is the Pelican Rest Marina, not yet open but already being anticipated to be one of the premier marinas on the Gulf Coast. State of the art technology, lusch tropical landscaping, water sport rentals, and the finest service and amenities are only some of the traits of this marina. When Pelican Rest is completed, it will be the most protected deep water marina in Texas.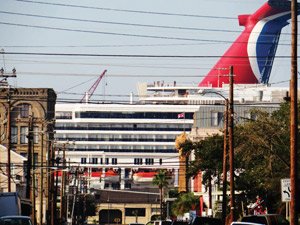 Cruises
Galveston opened as a cruise terminal in 2000, and with all of the attractions and amusements it serves as a perfect launching pad for your tropical journey. Currently four cruise lines and six ships call the Port of Galveston home, including the Princess' Crown Princess, Carnival Magic, Carnival Triumph, and Royal Caribbean's Mariner of the Seas. The newest addition to the cruise line traffic is the Disney Magic, slated to leave from Galveston through the end of 2013. To make your journey as easy as it is enjoyable, several transit companies offer direct shuttle service from parking lots to the cruise terminal. For a complete list of cruise dates from Galveston visit www.galvestoncruises.com; for travel information regarding your upcoming cruise visit www.portofgalveston.com.