The Bryan Museum is located in the historic Galveston Orphans Home at 1315 21st St. Set in an exquisite Renaissance Revival-style building surrounded by beautiful landscaping in a historic neighborhood, The Bryan Museum is an oasis in the heart of Galveston.
Regular tours are a great introduction to the Museum. You will be guided through all of the permanent galleries where you will learn about the history of the West, the collection, and the historic building. Tours are given (no reservations needed) at 11:30am and 2:30pm. Tours are included in the price of the museum admission at no additional cost.
Tickets are $14 for adults, $12 for seniors and military, $10 for students with valid ID, $5 for children 6-12, and children under 6 are free. The museum is open Wednesday-Sunday 10am-5pm, and closed Monday-Tuesday. For more info call (409)632-7685 or go to thebryanmuseum.org.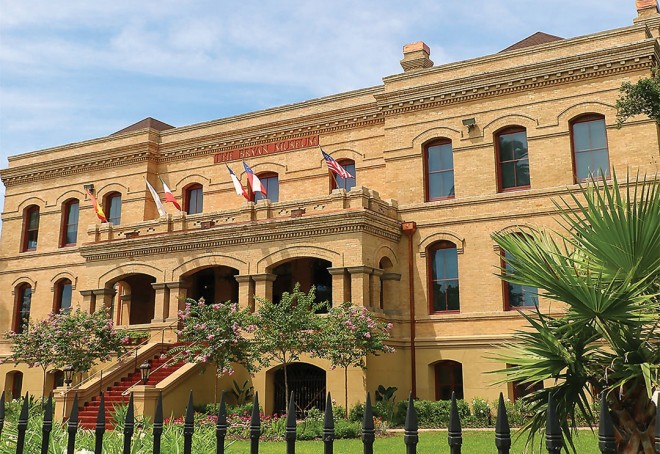 Every Thursday (3-6pm) and Sunday (9am-1pm): Galveston's Own Farmers Market – Founded in 2012, Galveston's Own Farmers Market is a weekly outdoor market hosted at the Museum that provides a direct connection to vendors creating and growing fresh whole foods, including farms, ranches, bakeries, cheese-makers, and specialty food producers.
May 2nd, June 6th (5-7pm): After Hours in the Museum – Donna Reznicek leads a discussion of "A Daguerreotype of Amasa Turner, Wife, and Daughter." Enjoy free admission to select museum galleries on the first Thursday of every month.
May 4th, 11th (3-5pm): Renovations with Ashley & Michael Cordray Homes Tour Lecture Series – On May 4th, join renovation and restoration experts Ashley and Michael Cordray, who will answer all of your pressing questions about the Galveston homes scene. On May 11th, Baylor Professor of Museum Studies Dr. Kenneth Hafertepe will talk about the historic homes of Waco and preservation activities in the city. $10 suggested donation. Purchase Tickets
May 9th, 16th, 23th (Second, Third, and Fourth Thursday, 3-6pm): Wine at The Bryan – In conjunction with Galveston's Own Farmers Market, you can join the fun for a relaxing time and conversation with friends, family, and Museum staff. Wine, beer, and complimentary bar snacks will be served inside the Museum Shop. Please enter from the Guest Parking lot behind the Museum.
May 18th (4-6pm): Texas Gunslingers – Join Bill O'Neal, former State Historian and author of more than 40 books including "Texas Gunslingers," at the Bryan Museum! Discover why the Lone Star State was known as the Gunfighter Capital of the Old West. Uncover the events that led to frequent gunplay and blood feuds in towns such as Tascosa, El Paso, Fort Worth, and Lampasas. RSVP Today!
June 6th (5-7pm): After Hours in the Museum – Beverly Davis discusses the short-lived 19th-century French-Texas colony Le Champ d'Aisle. Enjoy free admission to select museum galleries on the first Thursday of every month.
June 15th (4-6pm): Out in the Open: Texas Shipwrecks in Public Spaces – Amy Borgens, Texas Historical Commission State Marine Archaeologist, will share discoveries and investigations of visible shipwrecks along the Texas coast.
June 29th: Hands-On History Festival – Hands-On History Festival will be a day-long family-friendly event of interactive activities and historical demonstrations and re-enactors!
Summer Camps
July 8th-12th (9am-3pm): Yo Ho Ho: It's a Pirates Life for Me Camp – Swashbuckle into the life of a privateer in the 1800s and follow the footsteps of Galveston's most famous pirate Jean Lafitte. A search for hidden treasure utilizing maps, compasses, and a pirate's luck will be a feature of the week, along with lessons about life at sea, early ship building, pirate skills, and navigation. Cost is $250, bring your own lunch. Register at bryanmuseum.com.
July 22nd-26th (9am-3pm): Cowboy Up for the Big Adventure – Time travel back to the American West of the late 1800s and learn about the daily life and work of the American cowboy and cowgirl on a famous Texas cattle drive. Face the dangers of life on the range and try your hand at chuck wagon cooking, making gear, branding, poetry and music. Register at bryanmuseum.com.
On Exhibit
Opening June 14th: Patchwork History: Texas-Themed Quilts From the Winedale Quilt Collection – "Texas quiltmakers regularly honor the state by creating Texas-themed commemorative, patriotic, and family quilts," said Kate Adams, quilt curator at the Dolph Briscoe Center for American History at the University of Texas, Austin. The Bryan will feature select quilts from the Briscoe Center, including the award-winning "Captain Tom, A Tall Texan," and two quilts from renowned quiltmaker Shirley Stevenson of Sherman, Texas.