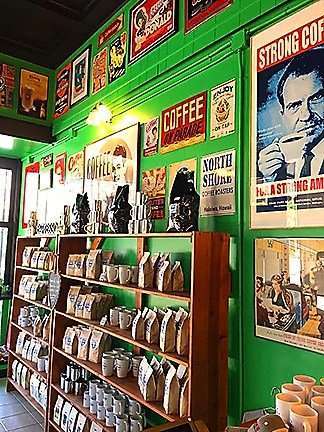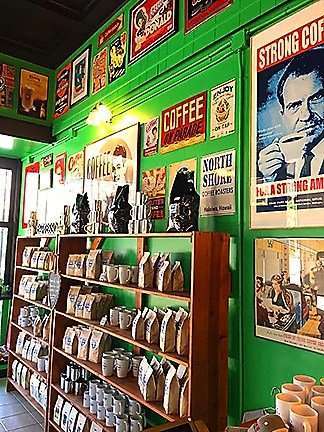 By Terry Card
When longtime Galveston residents are told by someone they come from places that are renowned for their beauty and/or great climate or that they have traveled the world – the often asked question is – why ever did you settle here in Galveston?
What they take for granted is Galveston's uniqueness. For many people who have lived near bodies of water, Galveston, the beach community, is a draw. For others – it's the fact that Galveston may be a city of 50,000 people – but is really a village. And there is a saying in Galveston – that if you can't find something to do here, then you are just plain lazy!
Then there are the people. Eccentric? You bet! Fun loving? Of course! Galvestonians are always willing to gather at a favorite spot and discuss the topic at hand.
The owners of Galveston Coffee Roasters, John Alvarez, and Dru Borges, specifically sought out Galveston when they left Hawaii. John had lived there and been in the coffee business for the last 25 years of his life, owning and running a shop on the north shore of Oahu. His wife Dru was born and raised in Hawaii. The draw of moving from one beach community to another beach community appealed to them especially since both Hawaii and Galveston have a good mix of locals and tourists – which in their mind suited the coffee business well.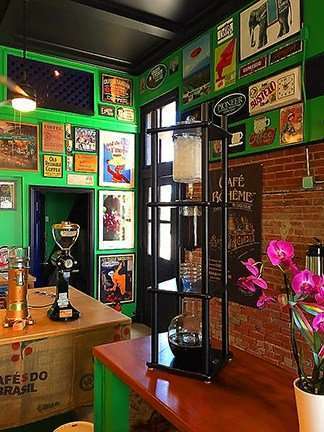 John admittedly had first-hand knowledge of Galveston, having been born and raised in Houston. He went to the University of Texas gaining a degree in economics and then attended Loyola University in New Orleans earning his MBA. His father was a Houston banker and his mother was an artist born and raised in New Orleans where she became a successful painter, specializing in flowers.
Dru was born and raised in Honolulu, and after high school decided to start her own business at 22 years of age. She ran her cleaning service for 30 years with a superstar rating – an accomplishment based on not even one single complaint in all that time.
After moving here, they looked at many different locations, but when space became available downtown, they grabbed it. After cleaning and painting their new premises for about one and a half months, hanging all the pictures and posters they had collected from around the world, they opened Galveston Coffee Roasters on 23rd Street just south of the famous Star Drugstore, in July 2016.
Over time, their customer base has evolved into more of a repeat business of locals. The mix is approximately two-thirds local and one-third tourist.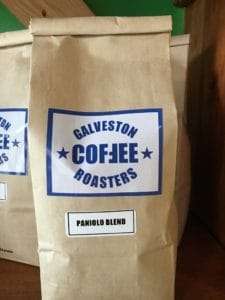 The first year they opened, they had their worst weekend ever during the Lone Star Rally and seriously contemplated closing for the rally last year. Surprisingly, business was very strong during the 2017 rally, as it is during various events like Dickens on the Strand, Mardis Gras, July 4th and others. This is definitely a commonality amongst businesses located in the downtown area, which shows how important the Galveston events are.
Like many of Galveston businesses, they support local charities, especially the Farmer's Market.
John and Dru roast all their own coffee. They have access to coffee beans from all over the world because Houston is one of the largest coffee ports anywhere. There are two main types of coffee bean – Arabica, which is the top quality bean – and the one Galveston Coffee Roasters use exclusively – and Robusta, an inferior quality bean – which they never use.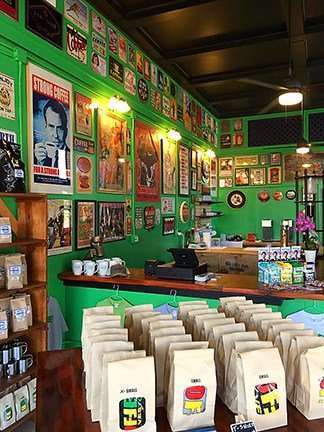 Galveston Coffee Roasters obtain their beans from coffee brokers in Houston. When they lived and owned the shop in Hawaii, they were able to get the beans directly from the farms, but here, it's not possible.
From the Arabica beans they purchase through their broker, they create custom blends. There are two types of coffee bean – one is hard and the other is soft. Beans from different parts of the world and different altitudes will be harder or softer. This is not necessarily an indicator of quality. Some softer beans come from Guatemala and Panama, whereas, harder beans often come from Africa.
At Galveston Coffee Roasters, they use the softer beans to produce a lighter coffee, and the harder beans to produce a darker coffee.  Based on their experience, the harder beans can be roasted longer than the soft beans.
In addition to the 12 regular brands of coffee they produce, they have 30 flavored coffees. A new flavor is the Marshmallow Crème – which has a subtle taste of marshmallow – and is very smooth.
They have free samples all day. Each day they change the samples offered. Galveston Coffee Roasters is a cozy shop with a plethora of signs and posters adorning the walls, as well as an inevitable Hawaiian statue. In addition to coffee, they have T-shirts available which are sold in – what else? – a coffee bag.
They are open every daily 9:30am-4:30pm, except Tuesday.