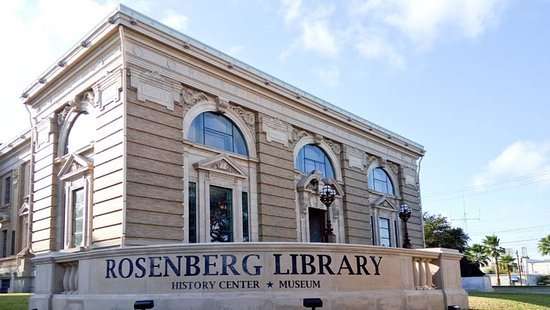 Passport To The Past:
Henry Rosenberg's Gifts to Galveston
May 2018 marks the 125th anniversary of Henry Rosenberg's charitable bequests. Rosenberg Library has created a free, month-long program, "Passport to the Past," to celebrate this milestone. People of all ages are encouraged to participate.
When Galveston businessman and philanthropist Henry Rosenberg died in May of 1893, his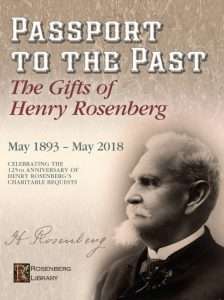 last will and testament was made public. To the great surprise of local residents, Mr. Rosenberg left the bulk of his sizable estate to fund various charitable projects around the city. Among these were the construction of a library, an orphanage, a church, a monument honoring veterans of the Texas Revolution, and public drinking fountains for both people and animals.
Of the original seventeen Rosenberg fountains, only nine still exist. Many of these have been moved to their present sites from other locations on the island. Each fountain bears a unique design.
Henry Rosenberg's will also funded the construction of a YMCA building, but it was torn down in 1954.
Fortunately, many of Mr. Rosenberg's gifts to Galveston can still be found today. "Passport To The Past" provides a unique opportunity to explore the island and uncover the legacy of Henry Rosenberg.
Visit Rosenberg Library (2310 Sealy St.) or the Bryan Museum (1315 21st St.) to pick up your free "Passport To The Past" booklet and map. Participants who visit all fifteen sites in the passport will receive a free ceramic mug or stainless steel tumbler of their choice. Prizes are redeemable at Rosenberg Library (while supplies last).
---