By Kimber Fountain
Nothing beats a great breakfast, and not just to start your morning. The most versatile of mealtimes is delicious any time of the day. Lunch is just lunch and dinner is just dinner, but breakfast can be breakfast, lunch, and dinner. Breakfast for lunch even has its own name, brunch, and "breakfast for dinner" was a standing tradition in my family growing up. I am not entirely sure what explains the twenty-four hour appeal of breakfast, all I know is that I have never eaten a ham sandwich in the morning, but I certainly have been known to answer the call of bacon and eggs at midnight.
Here in Galveston there is no shortage of great breakfasts, whether it's a sweet and syrupy mound of fluffy pancakes or a savory and scrumptious plate of hash browns and sausage. It was not easy to pick my top five, but somehow I managed. I could not, however, bring myself to rank them in any particular order. As vast and varied (and delicious!) as these morning (and mid-morning) meals are, I simply could not pick a number one. So here they are, in no particular order, my five favorite breakfasts on Galveston Island.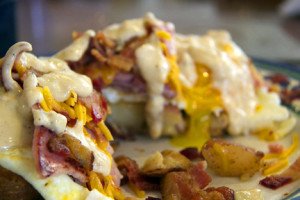 The Katastrophic, Shykatz Deli
If I really was forced to pick a favorite, this would probably be it. Not only are owners Kat and Shy two of the most talented women on the Island, just stepping through the door puts me in a good mood. When I first started visiting Shykatz, I tried many different things on the menu and I was never disappointed. But the day I discovered the Katastrophic, I knew that I would never order anything else. The breakfast to end all breakfasts, the Katastrophic is a heaping mound of everything that makes breakfast great. A homemade biscuit, or toast if you prefer, is piled high with layers of breakfast potatoes, ham, and bacon, then topped off with two eggs prepared to your liking. But the kicker, the crowning glory, the thing that sets the Katastrophic apart from all other breakfasts, is the gravy that smothers it with perfection. I have a few theories about what makes Shykatz cream gravy so stupidly and incredibly delicious, but I prefer simply to leave it a mystery and merely revel in its gluttony goodness. The best part is, Shykatz serves breakfast all day, so I can find the cure for my Katastrophic craving any time I need it.
1528 Avenue L. | (409)770-0500 | www.shykatz.com
Open Monday-Saturday 7am-3pm, Breakfast Served All Day, Closed Sundays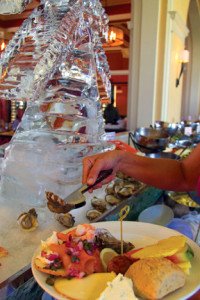 Galvez Sunday Brunch, Hotel Galvez
Ah, the Hotel Galvez, one of Galveston's finest and most regal monuments to an era of refined elegance and graceful sophistication, and subsequently the only place where you can stuff your face and still feel classy while you are doing it. Sunday Brunch at the Galvez is one of the Island's best-loved and longest standing traditions, when the trademark wicker furniture in the historic front hallway moves aside to make way for tables piled high with free-flowing delicacies. "This brunch should be on everybody's bucket list," says Marketing Director Christine Hopkins. Indeed, this is so much more than a meal. It is an event. Served buffet style, Galvez brunch includes a carving station, an omelet bar, a waffle station, a pasta bar, and an expansive dessert selection. That does not even include the main stretch of the buffet, which is a seemingly endless journey that takes you over mountains of gourmet cheeses, homemade breads, and fresh vegetables; through oceans of fresh seafood including crab legs, shrimp, lox, and freshly shucked oysters; into caverns of chafing dishes full of seasonal entrees and traditional breakfast fare; and around it all flows a river of sauces, butters, and spreads to complement your meal. Brunch diners are seated in the Veranda with stunning views of the Gulf waters, and treated to free-flowing mimosas and wine. All in all, Galvez brunch is a luscious and luxurious dining experience, and although it is more than accommodating with an Island casual dress code, it is also the perfect place for those desiring an upscale, elevated atmosphere.
2024 Seawall Boulevard | (409)765-7721 | www.hotelgalvez.com
Brunch served every Sunday 11am-2pm.
Reservations recommended and can be made via Open Table.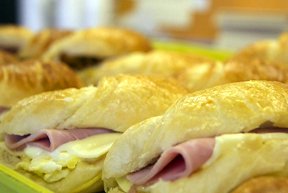 Croissant Kolaches, Donut Palace
At first glance Donut Palace seems like just your run-of-the-mill donut shop, except maybe for the bright pink exterior. It is a relatively small operation, too, with only two bakery cases, but there is magic inside them. Magic in the form of their homemade croissant kolaches which are hands-down the best kolaches on the Island. For starters they are huge, this is not your typical little pig-in-a-blanket. A full sausage link, stuffed with cheese, is wrapped with layers of buttery, soft croissant dough and baked until it is perfectly golden and flaky. They are also available in a jalapeno variety, with the spicy peppers baked into the kolache next to the sausage, so they keep their kick despite the heat of the oven. Donut Palace also serves meaty breakfast tacos and massive breakfast sandwiches on their homemade croissants, and of course their donuts are fantastic, too.
2117 Broadway Avenue | (409)765-8022
Open Daily 6am-1pm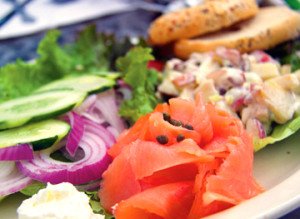 Lox and Bagel Platter, Mosquito Café
Above the Mason Dixon line, and especially in big cities like Chicago and New York, you will be hard-pressed to find a breakfast joint that does not have Lox. Down here, however, it is a remarkable rarity. Luckily for Islanders though, Mosquito Café throws caution to the wind and fearlessly serves up this Yankee delicacy. In a world of breakfast that would seemingly crumble with the absence of red meat, this delightful dish is a fresh, healthy, and satisfying alternative to the heavy hand of a skillet. Lox, in case you are wondering, is brined salmon. Much different from smoked salmon that has a flaky, firm texture, lox is silky and moist, with a tangy flavor and creamy texture. Not only does Mosquito Café serve Lox, they serve it the right way, too. The platter comes with your choice of a plain or an "everything" bagel (go with the "everything" bagel, trust me), and is accompanied by a beautiful presentation of all the traditional lox garnishes: cream cheese, capers, fresh tomatoes, and red onion.
628 14th Street | (409)763-1010 | www.mosquitocafe.com
Breakfast served Tuesday-Saturday 8am-11am and Sunday 8am-3pm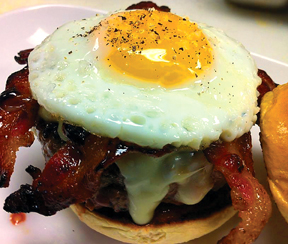 Breakfast Burger, Yaga's Café
Okay so it's not technically breakfast. But this self-proclaimed "hangover killer" combines my favorite meal, breakfast, with my favorite food, burgers. And let's face it. If you are indeed searching for a hangover cure on a plate, chances are that it is your first meal of the day because you did not actually go to bed until the sun was coming up. Never fear, this is one meal that definitely lives up to its nickname. The Breakfast Burger starts with Yaga's half-pound Certified Angus Beef® burger, and jumps on the breakfast bandwagon by topping it with gooey cheddar cheese, crispy bacon, and a fried egg. So skip the confessional, because there is no better way to atone for drinking your dinner than with breakfast and lunch together on a bun.
2314 Strand Street | (409)762-6676 | www.yagaspresents.com/yagascafe
11am-9pm Seven Days a Week