July 15, 2023
---
Opening:
Mayuko Ono Gray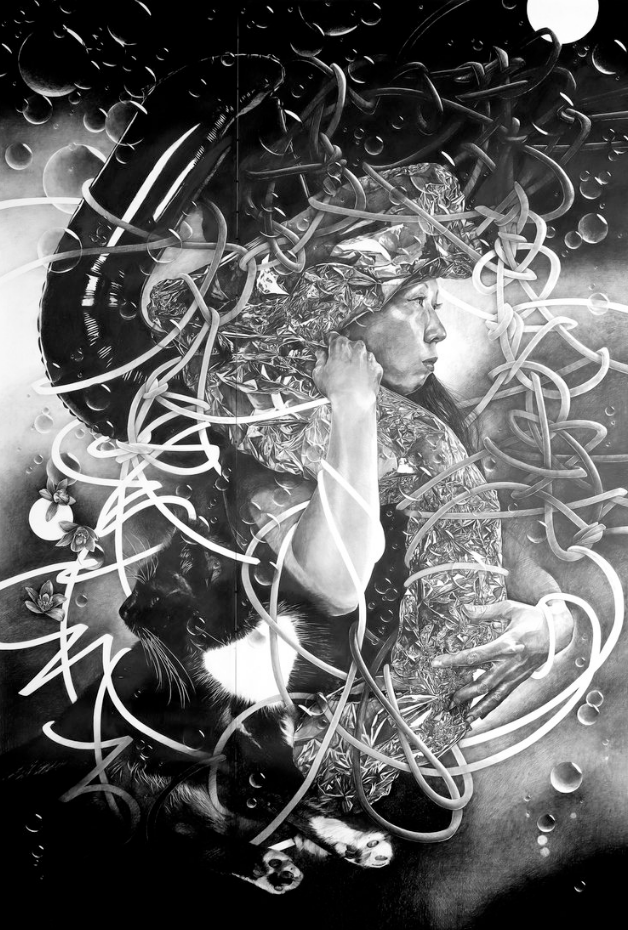 Mayuko Ono Gray's exhibition, 七転び八起き_Fall seven times, get up eight, features the artist's monumental graphite drawings that juxtapose Japanese calligraphic forms with depictions of the people, animals, and still-lifes captured in her daily experiences. Reflecting on her life, which is both culturally Japanese and American, Ono Gray's graphite drawings hybridize influences from traditional Japanese calligraphy combined with Western drawing practices and aesthetics. Each drawing is titled with a Japanese proverb spelled out with hiragana and kanji characters intertwined to create a single line from the top right to the lower left of the pictorial space, following traditional Japanese writing format. The line serves as a metaphor for life and the path taken from birth to death. Through this work Ono Gray navigates her position living between two cultures and languages.
Strand Gallery
July 15 – October 1, 2023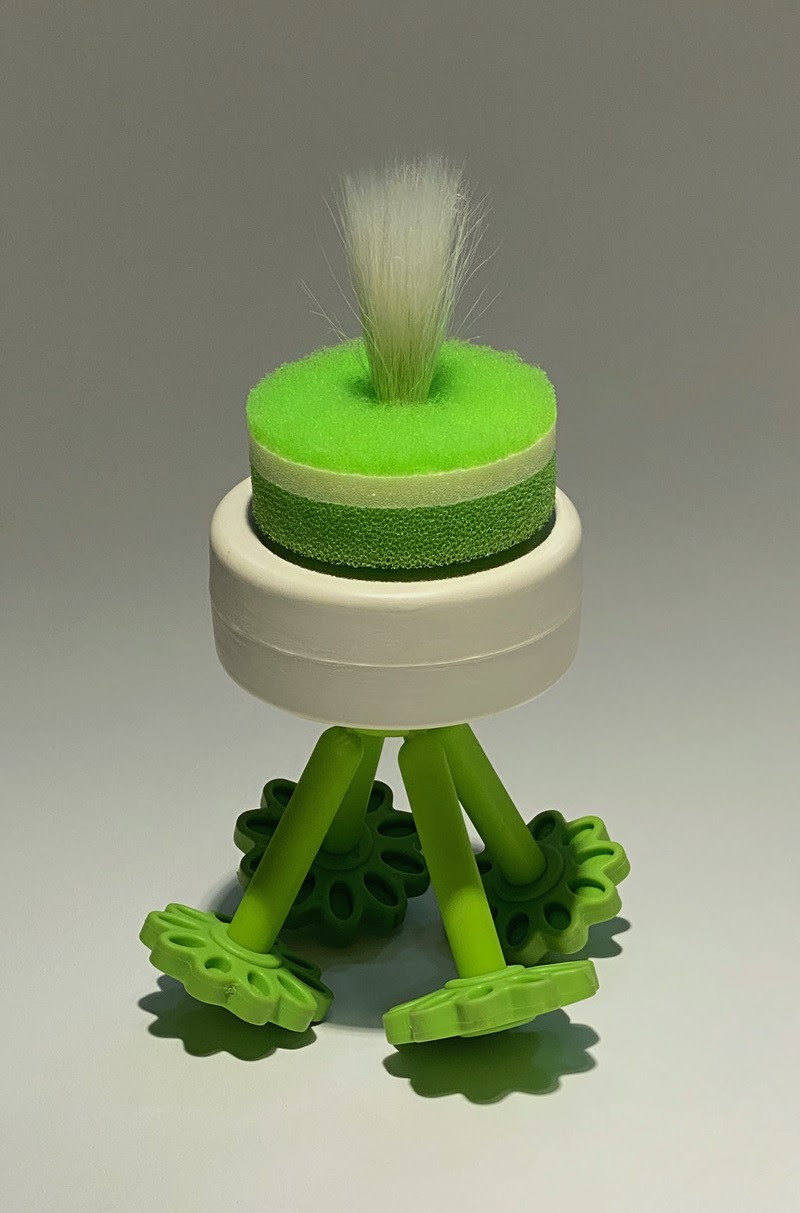 1878 Gallery, June 3 – August 20
June Woest's exhibition, Those Prepared for the Weather are Those that Get to Go, features hand-held weather contraptions that empower their beholders to become master manipulators of the weather.
Constructed of mass-produced found objects attached to ceramic forms, the works are conceptually designed to fix the weather when facing forecasts of high winds, floods, heat, cold, and haze.
Her self-study on weather manipulation and familiarity with blustery weather events during her youth in Kansas informs her interest in human climate resilience.
Tiring of doomsday predictions, Woest's work offers an optimistic view on the changing climate and instigates continued conversation about the future of the weather and the possibility and hope that humans can change it.
Eden: Lauren Kussro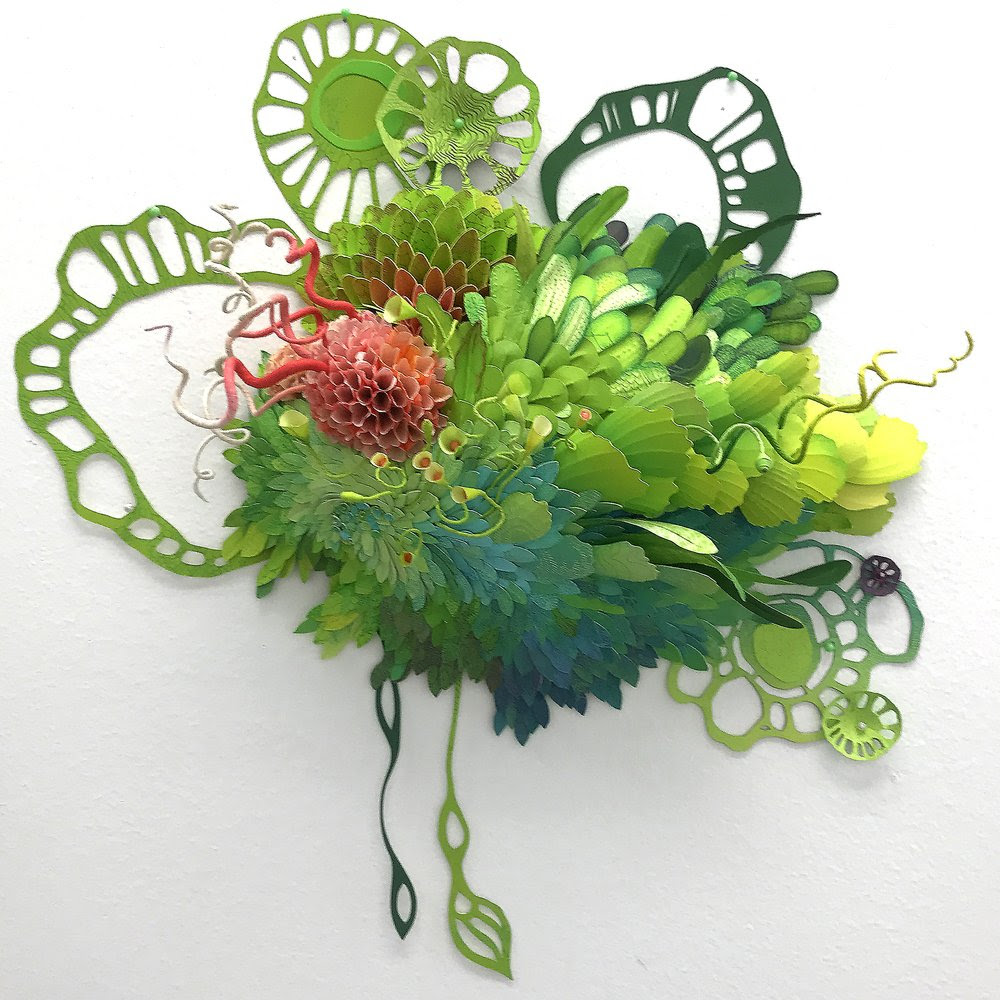 Brown Foundation Gallery, June 3 – August 20
Eden features recent prints and paper sculptures by Lauren Kussro inspired by the artist's playful investigation into the natural world. Kussro's work incorporates various printmaking methods and manipulations of cut paper that echo the complex patterns, textures, and repetition of forms found in plant life.
Kussro's fascination with nature speaks to a desire to return to a fresh, new, and unspoiled place. Like a garden, her works are both methodically planned and grow naturally during their meditative construction.
Their vivid and intense colors come together in arrangements of fantastical botanical forms that transport the viewer into an otherworldly garden.
Classes:
Mixed Media Art Camp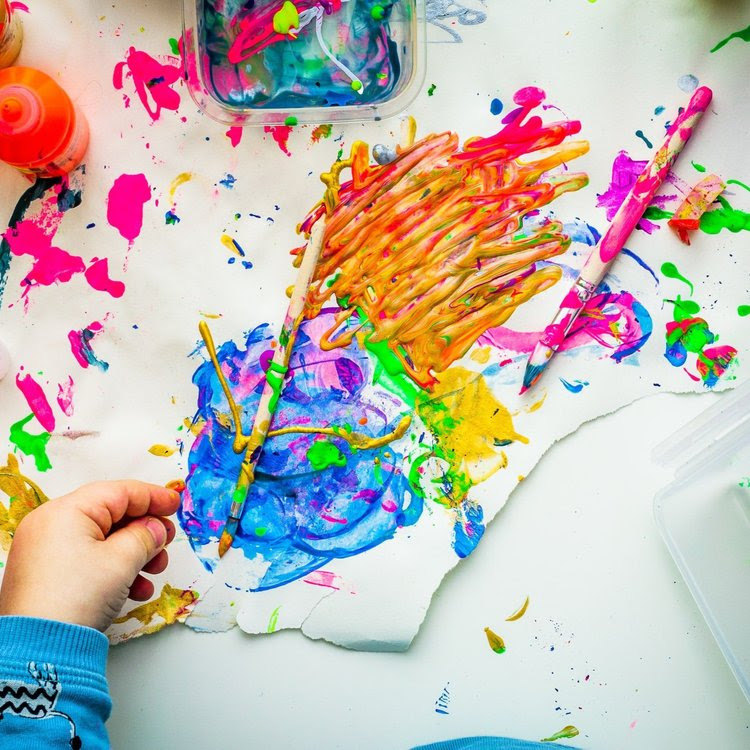 Friday, July 24-28 | 9am-4pm     Register Here!
Mixed Media art camp led by local artist Catherine Stroud! This camp is perfect for artists of all levels who want to explore the possibilities of mixed media and learn from a professional in the field. Mixed media art is all about experimentation, and sometimes that means making a mess. We'll provide all the materials and tools you need to create your own unique works of art.
July 31 – August 4 | 1-4pm    Register Here!
Join us for an exciting ceramics camp designed specifically for 1st and 2nd graders! In this camp, young artists will have the opportunity to explore the wonderful world of ceramics through engaging and hands-on activities. Guided by a skilled teaching artist, participants will learn various hand-building techniques and discover the magic of working with clay. Through interactive demonstrations and discussions, children will gain a deeper understanding of the materials they work with.
Shark Week Art Camp!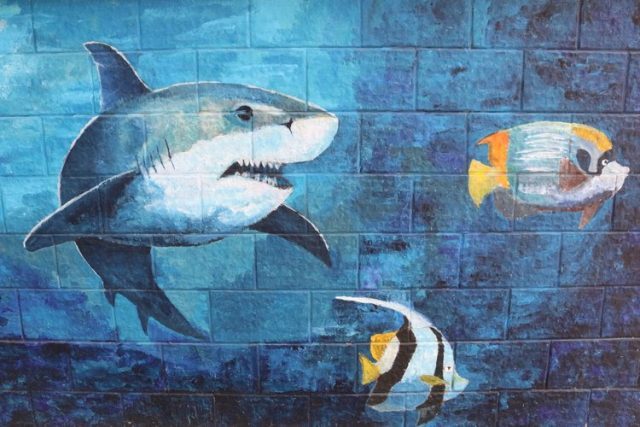 July 10 – 14 | 9:00am-4:00pm     Register Here!
From painting and drawing to sculpting and collage, we'll explore a range of art techniques while learning more about these incredible creatures and their importance in our oceans. Our camp is open to students of all ages and skill levels, so whether you're an experienced artist or just starting out, you'll find plenty of opportunities to stretch your creativity and have fun.
Galveston Arts Center has plenty of opportunities available for those interested in volunteering and we would love your help! From special events like ArtWalk and community festivals to helping out in the gallery, you can offer your support and earn volunteer hours (which can be exchanged for classes, discounts and ticketed events). See how you can lend a hand:
-ArtWalk
-Special Events such as festivals, farmer's markets, etc.
-Desk Team/Gallery Monitors
-Weekend Docents
-Street Team
-Handy Work
-Classroom Assistance
-Archives

---