#catbuttparfait #catbutt #galvestonartscenter #art #artshow #installation

Posted by Brian Keith Jones on Wednesday, June 5, 2019
Have you ever cleaned up one of your cat's hairballs and thought, "Oh yeah, art?" A new exhibition debuts at Galveston Arts Center on June 8th with a very curious title: "Cat Butt Parfait: Chuck & George Explore the Ecosystem of Domestic Feline Digestion."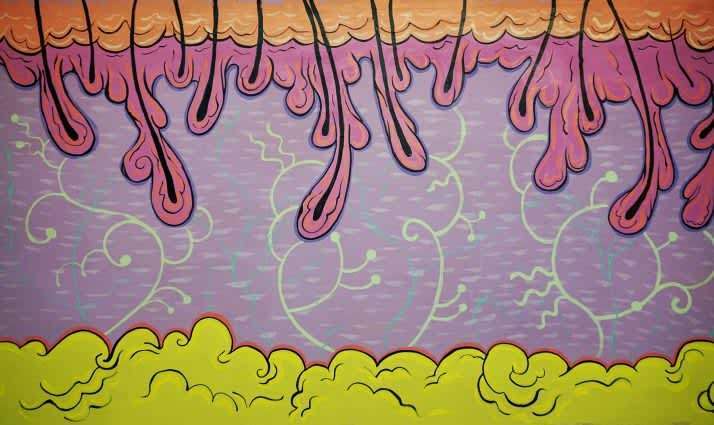 Chuck & George is the ongoing collaborative project of Brian Keith Jones and Brian Keith Scott. This fantasia is inspired by the parasites that populate the feline digestive system, but fear not: they promise that this is an exhibition filled with humor. Chuck & George use multiple media, including paintings, drawings, ceramics, and papier-mâché.
An opening reception takes place on June 8 beginning at 6pm, with the artists speaking at 6:30pm. "Cat Butt Parfait" runs through August 18. This exhibit is supported in part by an award from the National Endowment for the Arts.
Jeffrey Dell's exhibition, "Maquette Moon," continues in the Brown Foundation Gallery through July 7.
The galleries and the ArtWorks Museum Store are open to the public Tuesday-Saturday, 11am-5pm, and Sunday 12 noon-5pm. Admission is free at all times. GAC is located at 2127 Strand St., Downtown Galveston.
<
Events
Every Tuesday (Tuesdays, 6-8pm): Ceramic Studio – Learn hand-building techniques in pottery, figurative sculpture, and glazing with earthenware clay. Create sculptural relief tiles, full 3-D sculpture, functional pottery and tableware, figures, and more. This course uses ancient methods that don't require a potter's wheel, including coil construction and slab-construction. Students will learn how to securely join corners and handles, make lids fit properly, and various kinds of surface treatments, textures, and glazes. Fees are $50 for two sessions or $75 for four sessions. Join at any time!
Every Wednesday through August 7th (5:30pm): Printmaking for Adults and Teens – Explore a variety of printmaking techniques with exhibiting artist Amber Kaiser of Burning Bones Press. No experience or particular skill in drawing is necessary, and all materials are provided. The nine weeks are divided into three mini-courses lasting three weeks each:
June 5th, 12th, 19th – Relief Printmaking

June 26th, July 3rd and 10th – Drypoint Etching

July 17th and 31st, August 7 – Monotypes and

Chine-collé
Each 3-week session is $60. Register at galvestonartscenter.org/about/printmaking/.
August 2nd-3rd (1pm-4pm): Taiguruma Kids' Workshop – Taiguruma are the traditional Japanese fish-shaped lantern on wheels, and making them is a favorite childrens' pastime during an annual celebration in Niigata, Japan, a sister city of Galveston. The people of Niigata love spreading the word about this custom, and visitors from the city will conduct this workshop, which will be conducted at an elementary level for children 10 and up (children under 10 may participate with a parent. $85 for the 2-day workshop.
GAC Summer Clay Camps with Visiting artist Pat Johnson
Award-winning figurative ceramicist Pat Johnson is returning to Galveston for the fourth summer in a row to teach clay camps at Galveston Arts Center: from June 10th-14th, and again from July 8th-12th, both from 1-4pm, Monday-Friday.  Camps last three hours each day, allowing students to delve deeply into a project over five days.
Ms. Johnson's week-long workshop lets students explore the design and production of handmade ceramic objects and tiles. Using stories and imagination as inspiration, students will create fun ceramic projects including usable pots and fanciful sculptures. Students will learn ancient ceramic methods such as pinch, slab and coil pots, rolling cylinders, altering shapes, and applying surface textures and colors.
Varied projects in hand building will include building a slab-built animal and coil-built pots inspired by the history and pottery of the Caddo Indians of East Texas. Students will examine the forms of birds, mammals, and marine life in the Galveston area, and will enjoy making handmade and painted tiles. Each child will learn to draw and design their own concepts, how to decide on materials, and how to use specific tools to accomplish their designs.
Ms. Johnson will share her broad knowledge of ceramic surface techniques, including commercial underglazes and underglaze pencil. Both directed projects and experimentation will be supported and encouraged at each child's skill level. Pieces will be glazed and fired.
Camp tuition is $150 per child for early registration.  Prices increase to $165 a week before each camp begins, so register early! Tuition includes all materials. Both camps are held at GAC's recently remodeled, ADA-accessible facility on the corner of Strand and 22nd Street.  The spacious studio/classroom is a bright, beautiful space with high ceilings and plenty of natural light, outfitted with all the essential artist's equipment and supplies.
The complete schedule for classes and camps along with online registration can be found at galvestonartscenter.org/summer_art.  Parents may also register by phone or in-person at GAC.  Pre-registration IS required. Scholarships are available while funds last.
About the instructor: GAC is truly fortunate to have Pat Johnson as a visiting instructor. A full-time artist for more than 40 years, Johnson lives and works in the rural town of Fayetteville, TX.  She has been featured in many solo and group exhibitions across the region; including at the Art Car Museum, Galveston Arts Center, Longview Museum of Fine Art, the McNay Art Museum, the Houston Center for Contemporary Craft, and the Mesa Contemporary Arts Museum in Mesa, AZ. She also has had work chosen for the Ceramic National at the San Angelo Museum of Fine Arts and was awarded a 2nd place in 2004.  She now has work in the permanent collections of the San Angelo Museum of Fine Arts, the Live Oak Art Center in Columbus, TX, and many private collections. She has been a juror for the Texas Clay Arts Association and has led many, many workshops and camps for adults and children since 1998. Her work can be seen at earthworm-tangerine-882m.squarespace.com.