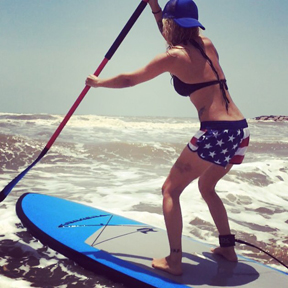 By Robert Lucey
While surfers have ridden the waves off Galveston's beaches for decades, few have done so with a paddle in their hands until the past few years. Paddleboarding has become one of the fastest watersports in the world, and now several young entrepreneurs are riding that trend with stand up paddleboard (SUP) rental businesses on the island. Traditional surf shops such as Island Spears (6026 Seawall Blvd.) and Ohana Surf & Skate (2814 Ave. R1/2) have joined the craze, offering both rentals and SUP sales.
SUPs are generally longer boards than traditional surfboards, providing more stability in still water. The modern sport traces its roots back to traditional Hawaiian surfers who had large, heavy boards requiring a paddle to power out and onto the waves.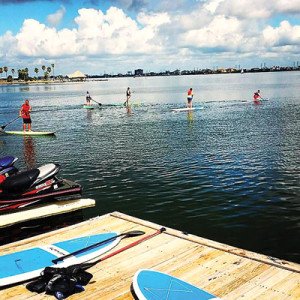 The Gulf waters are often flat during the summer, which isn't any good for traditional surfing but is ideal for SUPs. Even when there are waves, the paddle can help surfers get out further in order to ride waves longer and also provides a means to steer while riding the wave. Other SUP fans enjoy exploring the bay side of the island. Galveston State Park is popular. After paying the $5 park fee, renters can paddle the waterways checking out the bird life on the many small islands and spotting flounder in the shallows.
Because it uses the upper body and legs for balancing, paddleboarding provides a great workout, toning abs, quads and especially the core. As the sport grows, participants are finding new ways to use their boards. There are organized SUP races. Anglers are jumping onboard special SUPs built with gear tie-downs and pole mounts. Others even practice yoga atop their SUP boards.
One of the newly launched rental companies is SUP Gulf Coast (www.supgulfcoasttx.com) which began offering rentals right off the beach at 29th Street this year. Marlo Landreth (co-owner with Jason Worthen) said she first tried the sport after renting a board at a surf shop but became frustrated because she didn't know what to do. She tried again during a trip to Ireland last year and was hooked. She then jumped in head-first, completing training in Key West, Florida, in February and now offers classes along with rentals. Landreth says people are generally comfortable on the board within the first hour, whether they're kneeling or standing up.
"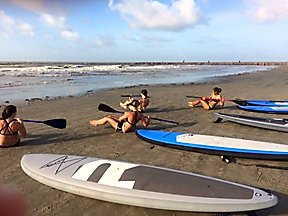 About 90 percent of our renters are first-timers," she says. "It's something that's new to the community. We're just trying to get people familiar with it down here. I've had a lot of locals come and come back again. They take a lesson then come back for hourly rentals."
In their first month of operation, SUP Gulf Coast had more than 250 renters. With 20 boards in stock, they are able to fit a board to any person's needs for any conditions. "I had a 68-year-old woman out there in the waves paddling and she was having a blast," Landreth says.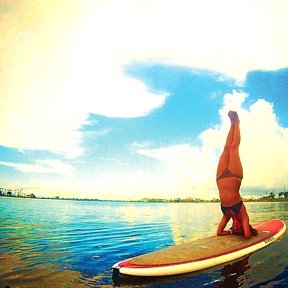 Another SUP entrepreneur is Eric Bingham, owner of Island Stand Up (www.islandstandup.net) who got into the sport a few years ago. "At the time, the only place you could rent a paddleboard was at a surf shop," he recalls. "My parents wanted to try it, but we couldn't find a place to rent a decent board. That's when the light went off." Bingham wrote a business plan, got a loan and launched his company in 2013. He had a beach concession last year but has opted to focus on rental deliveries and sales this year. He provides free delivery for rentals around the island and includes the complimentary on-site instruction with each rental. "I primarily rent to people in vacation homes and private homes," he says.
Bingham keeps eight to 10 boards for rentals and is also a dealer for Riviera Paddlesurf, a popular line of SUPs. "I'm usually out almost every morning paddle surfing myself," Bingham says. "The sport is really starting to grow."
Bingham notes that it appeals to all ages and is particularly popular with women, who comprise nearly 70 percent of his customers. Many of his rental customers end up buying boards from him after the first or second rental.
SUP fans can also launch onto Offatts Bayou from Galveston Paddleboard Center (www.paddlegalveston.com) at 1723 61st Street. The company bills itself as the largest paddleboard rental operation in Galveston. The American Canoe Association Certified Instructors on staff provide lessons, including a three-day beginner camp running March through September. In the summer months, the center holds Evening Fireworks Paddles each Friday and Saturday night where participants can enjoy the pyrotechnic displays launched from Moody Gardens on the opposite shore of the bayou.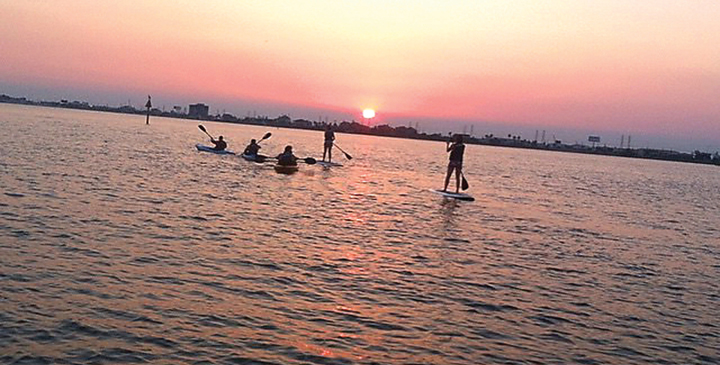 Yoga via  SUP is hugely popular.
Classes for SUP Yoga in July are:
July 2nd & 16th – 2:30pm, 4:30pm and 6:30pm
Friday, July 3rd – "Red, White & Blue, 12 noon
Saturday, July 4th – "Red, White & Blue, 10:30am
   6:30pm – Sunset & Stripes and at
   8pm – Fireworks Paddleout
Every Sunday – 2:30pm
Monday, July 13th – 12 noon
Every Tuesday – 2:30pm, 4:30pm and 6:30pm
Wednesday, July 15th – 12 noon
Thursdays, July 2nd and 16th – 2:30pm, 4:30pm and 6:30pm
Friday, July 17th – 12 noon
July 23rd-31st there will be no classes.