An Anonymous Girl by Greer Hendricks and Sarah Pekkanen
An instant #1 New York Times Best Seller in 2019, this second novel by the same authors of The Wife Between Us, is a creepy, scary, psychological thriller.  Placed in Manhattan, the story centers around a young girl with a troubled past who gets sucked into an ethics study devised by a psychiatrist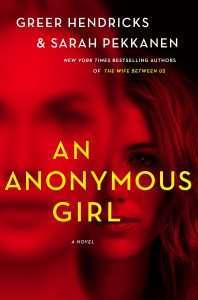 wanting to expose her cheating husband.
After being manipulated, lied to, and being presented with a skewed morality, the main character, Jessica, finds herself deep in a situation where the lines between the study and life become blurred and paranoia begins to sink its teeth in.
A page-turner? Oh, my, yes!  This is one book that starts off a bit slow, but gains speed the further in you get.  Easy to figure out the ending?  Not on your life.  The twists and turns the plot keeps taking will have you on the edge of your seat and not quite sure who to root for.
On my recommendation, grab a glass of wine, sit in your comfy chair, and get ready for a great literary ride through the psychosis of the deranged mind of this wife.  You will not regret it!  (you might want to bring the whole bottle of wine along for the ride!)
5 of 5 – Copyright 2019 – St. Martins Press
An Elderly Lady is Up to No Good by Helene Tursten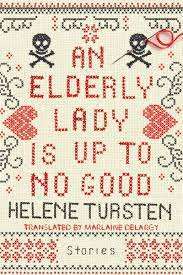 This charming little book, translated from Swedish to English by Marlaine Delargy, is a collection of five delightfully macabre short stories centering around the main character, Maud, and her dastardly deeds.  Maud is an unassuming, frail-appearing, little 88 year old lady who takes it upon herself to take out individuals who, for one reason or another, have fatally entered Maud's life.
While taking on the persona of an innocent, helpless old woman with the help of canes, walkers, and hearing aids, Maud is anything but helpless as she cleverly plots the murder of an individual in each of the five different short stories.
This is an easy read and provides a bit of humor to those of us who know the elderly, are related to the elderly, or are the elderly!  I just wish it had been longer, I was really beginning to enjoy the conniving antics of this charming, yet dastardly, lady.
5 of 5 – Copyright 2018 – SoHo Press
---