Mario's Seawall Italian & Pizzeria:
An Old Tradition of Ooey-Gooey Yumminess
Three words could really say it all about Mario's –  pizza, pasta, and seafood, but Mario's is so much more! Galveston's oldest Italian restaurant, Mario's Seawall offers pastas and pizzas as well as a weekday lunch buffet 11am-3pm, and an extensive Sunday brunch. You can always order off the menu at any time.
A few favorites (it's extremely hard to narrow it down) are the Seafood Calzone, Seafood Mixed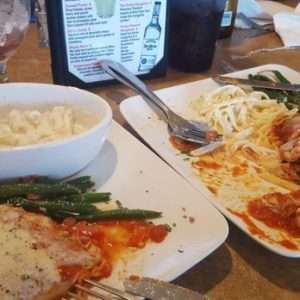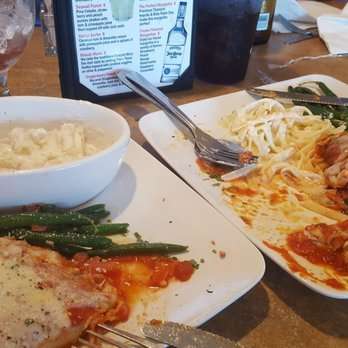 Grill, and the Lobster Stuffed Ravioli. The seafood dishes offer shrimp, clams, mussels, crab, fresh fish, lobster, and snapper all taking center stage or tossed with your favorite pasta. Lobster Mac 'n Cheese is to die for!
If you are wanting something other than seafood, be sure to try the Sausage Gnocchi or other italian classics. If you are looking for something more unique, the Italian nachos with chicken is great to split at a table with many guests.
Pizza is an all-time favorite here and definitely a must try. Mario's offers deck-oven pizza specialties and wood-burning gourmet pizzas. A local favorite is the meat lover pizza. All pizzas are cooked in their wood burning oven ,which you can see from most tables inside the restaurant. Gluten Free, Vegetarian and Chicago deep dish pizzas are also available.
Don't forget the gelato! Mario's offers 6-7 different flavors: Key Lime Pie, Italian Cream Cake, Tiramisu, and other desserts are offered. The selection changes regularly, so be sure to check out the display near the hostess area.
A recent passion of mine has become patio dining. I think it's that spring has brought out my inner need to be outside, and when you combine that with my ongoing need for delicious food and drinks – Mario's open-air patio is great. It sits in front of the restaurant with a lovely fountain, statue and small intimate tables offering diners a quiet peaceful afternoon.
Mario's offers huge portions, stellar service, and a patio/window view of the beach.  Mario's also offers an extensive bar, and complimentary Wi-Fi wireless internet. Happy Hour is available at the bar or on the patio, Monday-Friday 4-7pm.
Mario's Seawall is located on the east end at 628 Seawall Blvd., Galveston, (409)763-1693, mariosseawall.com. Mario's is open Sunday-Thursday 11am-9pm, Friday-Saturday 11am-10pm. Reservations are not needed.
---