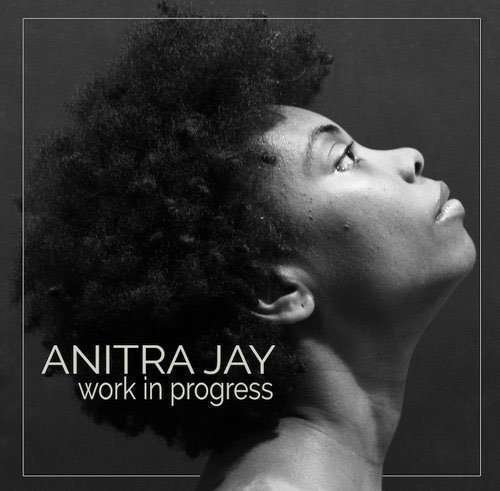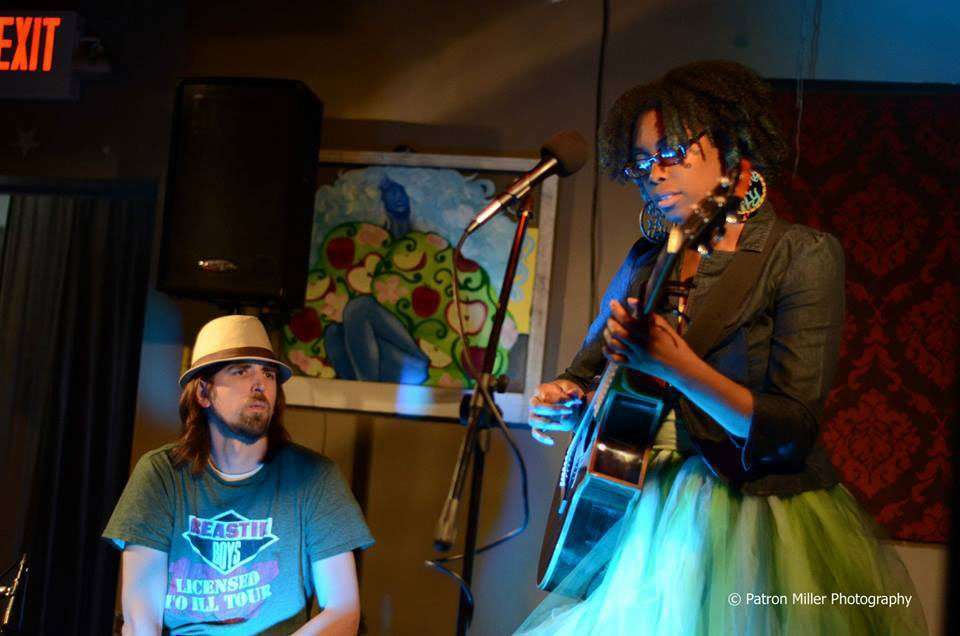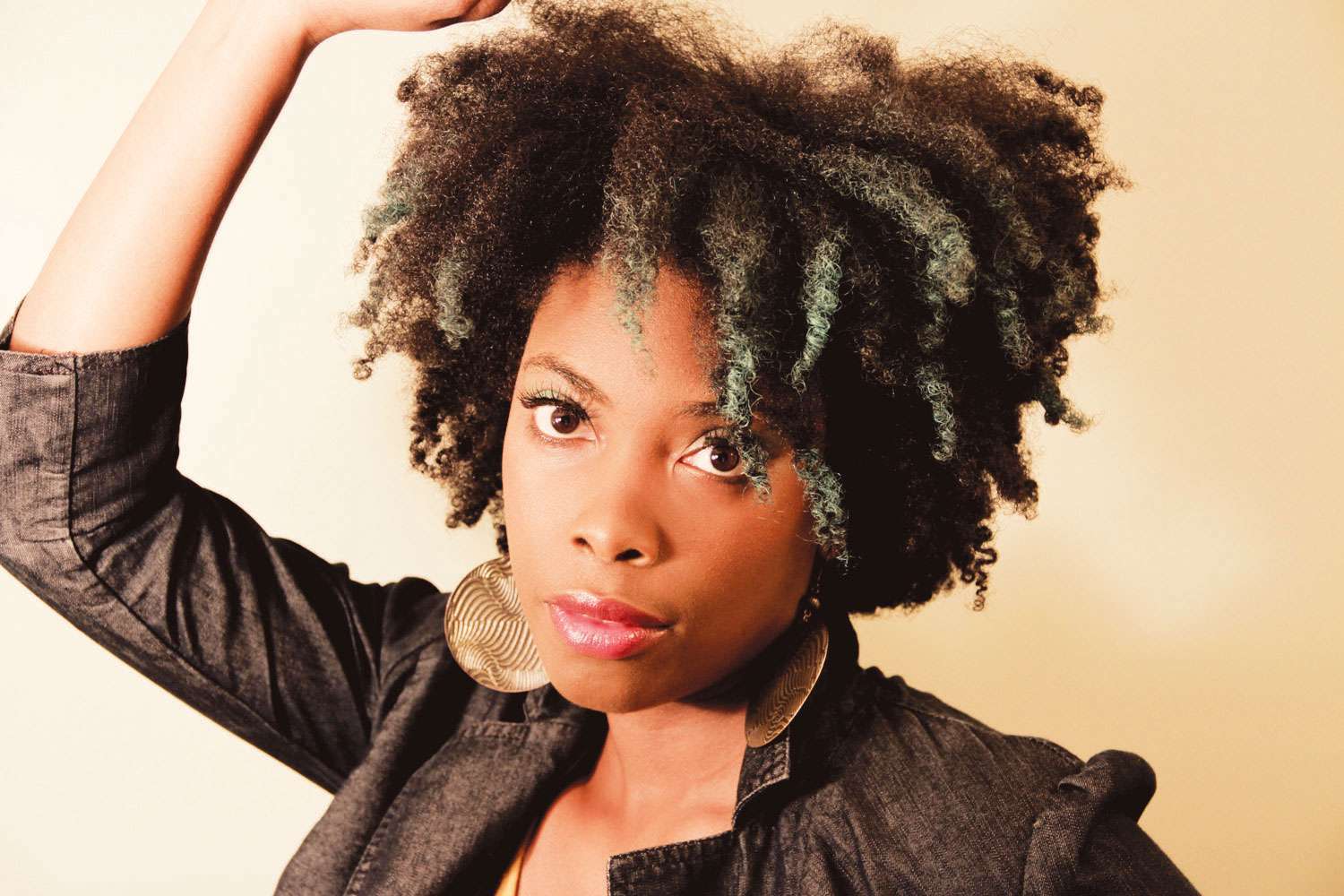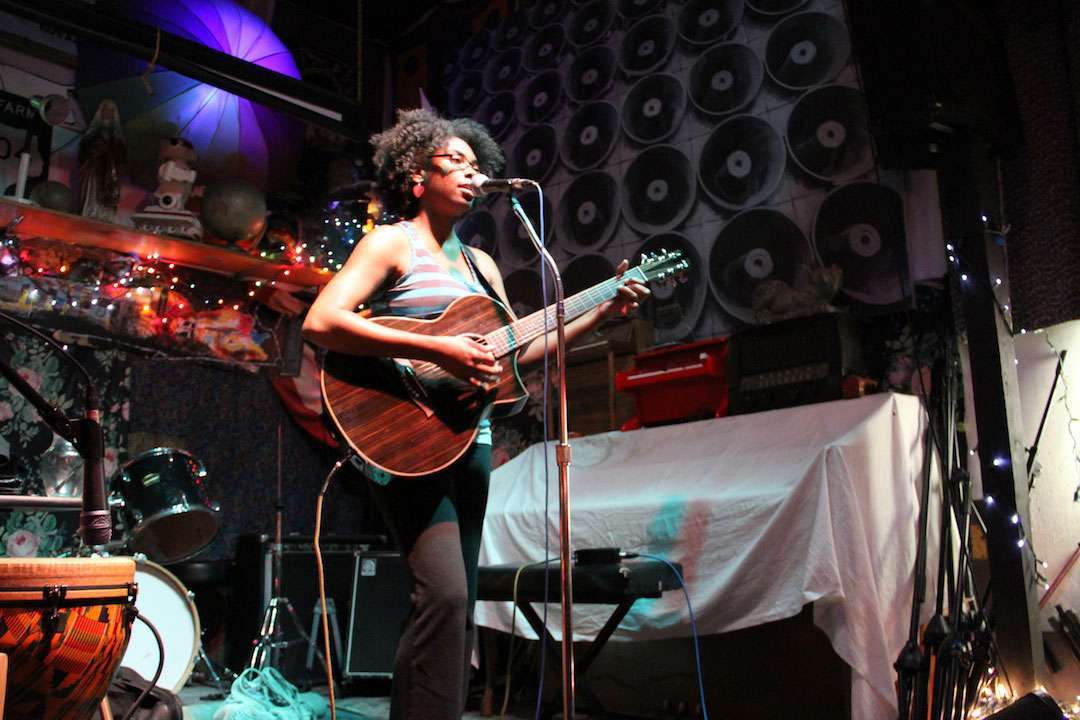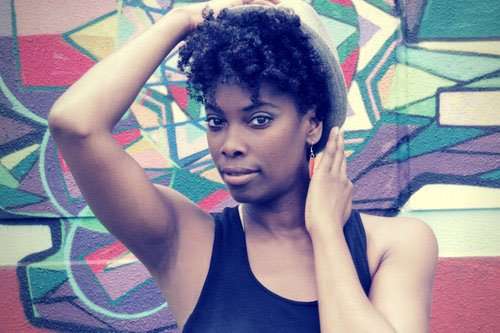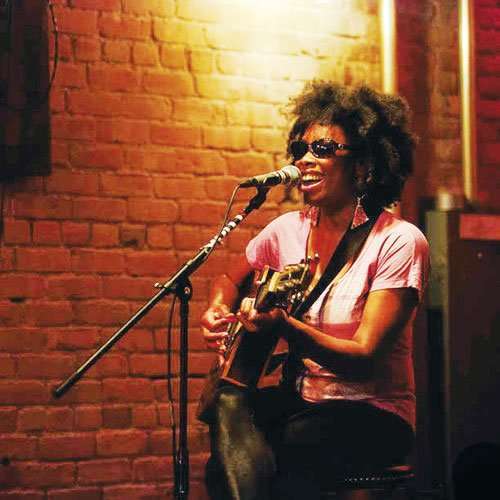 The pop music world continues to reward spectacle and flashy production, but singer-songwriters who work in the acoustic realm and focus on connecting in live performances are still able to draw loyal audiences in 2019. 
With three albums under her belt and a fourth in the works, Houston-based Anitra Jay is attracting attention with a sound that has been referred to as "acoustic soul." With her New Orleans roots, a style that draws from gospel, jazz, and old-time soul, and influences such as Erykah Badu, India.Arie, and Alicia Keys, it might be tempting to think of Jay as a throwback. But her lyrics are centered in the here and now, and those words combine with her groove to leave her crowds satisfied. A recent exposure for Jay and her husband on the HGTV series "Tiny House Hunters" promises to bring her even more notice.
GalvestonIslandGuide.com recently caught up with Anitra Jay.
Where are you from, and how long have you been playing music?
Anitra: I am from New Orleans, Louisiana. I've been playing music professionally since 2011 when I first embarked on music as a career. However, music has always been a part of me since I was a young girl. I grew up singing in the choir at my church. So my musical style is rooted in Gospel.
Who is in your band, and what does everyone play or contribute?
Anitra: I sing and play guitar, and I perform with my husband Rob, who is a percussionist.
Describe your style of music, your sound, for someone who has never heard you.
Anitra: We are very lively and upbeat. Our music is a whimsical mix of soul, pop with jazzy highlights. We perform original music and well-known cover tunes as well, with our own soulful twist. 
Your music is described as "pure soul" and "a sultry poetic mix of R&B, soul, and gospel." What does that mean to you personally?
Anitra: In New Orleans, where I grew up, any event was an opportunity to listen to music and dance. Even at funerals, we have what's called the Second Line. Historically, the second line was the crowd behind the friends and family of the deceased. They formed a marching line where they danced to the beat of a brass band. Today, a Second Line doesn't necessarily have to be for a funeral. They just do these Second Line Parades routinely throughout the year as well as for weddings, receptions, parties, and other get-togethers. Where I'm from, music is ingrained in every aspect of life. It has heart and soul. I take all that as my own inspiration incorporating this essence into the feelings behind my vocals and the overall emotions behind the music. My personal experiences, interest in poetry, love for R&B music, and my roots in Gospel come together to create this fiery blend of music coursing through me. 
Describe a live show for someone who hasn't had the honor of seeing you.
Anitra: My favorite shows to perform are house concerts and listening rooms where the atmosphere is intimate. That's where my audience can truly get to know me and my music. For example, you might get pulled into the show because we do a lot of improvisation and interact with our audience. Songs are made upright on the spot using inspiration from our audience. It makes our shows super memorable and engaging in that way. If you happen to catch us at a winery or a bar, you might get an entirely different experience! Those atmospheres allow us to drift off into the background where we can play around with the songs, get into improvisational jam sessions, get loud, get quiet, and really groove. Either way, audiences will be presented with fun and upbeat entertainment that they can dance and move their head to. 
How old were you when you fell in love with music?
That's a tough question. I don't know if I can pinpoint it really. I mentioned earlier that I grew up in the choir at church. That fact is a pillar of my music story. The gag is, it was actually something I was forced into. My mom was in the choir and I suspect she had me up there with her because she wanted to keep a close eye on me as a child. I was 8 or 9 years old at the time. As I grew up, I eventually started to embrace it and they gave me opportunities to lead songs and do solos. I distinctly remember trying to do solos and our organist would completely stop playing and give you a mean look if you went out of key even if you were in the middle of the song. Having that happen to you a couple of times in front of a live audience was super embarrassing. So I started listening to tapes of other Gospel singers and would try to mimic them. I also started listening to Whitney Houston, Anita Baker, Mariah Carey, Sade, Michael Jackson, and basically any music I had access to. Luckily my Dad had a sizeable record collection that kept me busy. That's when music took hold of me.
Was there a point in your life where you decided that playing music was going to be your career? Tell us the story of how that decision came about. And who are some of your key influences?
Anitra: In 2009 I had gotten laid off of my corporate job. If you remember, that was during an economic recession. People were getting laid off at my job left and right. The day I got laid off, I realized I needed to do something different with my life. I have this song on my "Keep the Faith" album called "Opposite Side of Life." It talks about following all the plans and doing everything right and still going nowhere. Well, I had become jaded with the idea of working a conventional job because I put a lot of effort into that job. I spent a lot of mental energy trying to navigate office politics. There were many long days and sleepless nights trying to hold down that job. And one day you walk in to work and they hand you walking papers. I was angry. I started questioning my entire life and my decisions and I came to one conclusion. I decided to do what I really wanted to do all along – be a musician. I pulled out my guitar that I had as a hobbyist and got to writing. I wrote and wrote and wrote. Before I knew it, I had enough material for a full-length album. So I rented a room in my apartment clubhouse, invited friends and family, and performed those songs and a few covers to a live audience. It was a soft-launch into music. The audience reaction was my determining factor to decide if I would continue down that path. It was a hit! So I recorded the songs and that became my first album. 
My influences are Lauryn Hill, India.Arie, Sade, Bill Withers, KC and the Sunshine Band, Earth Wind and Fire, Miles Davis, Raul Midòn, and many others.
What has been the biggest challenge to overcome being a musician?
Anitra: You have to develop a few layers of thick skin when you're putting your heart and soul out for public consumption. You get a lot of rejection in this business. Rejection from music snobs, rejection from industry gatekeepers, and even rejection from your own family, unfortunately. It's especially tough with art because it's so intangible. I've come across people saying no to me simply because they couldn't 'feel' my music. "I'm just not feeling her," was the exact words, in fact. Ultimately, I've had to overcome the idea of rejection. Just not worrying about what critics have to say. I've had to learn to be okay with people's opinions. I've had to learn to focus on my own goals and desired outcomes instead of what other people want. I've had to get comfortable with being uncomfortable for the sake of evolving into what I'm supposed to be.
How does the songwriting process happen for you, and what influences you as a songwriter?
Anitra: My original songs are about the human life experience, relationships, emotions, things we go through on a day-to-day basis. I write about loss and triumph. Music is incredibly healing. There are emotions that go unspoken in our space, and music gives those emotions a place to express and exist. Being a songwriter is about so much more than rhyming and putting words to music. Songwriting is a strategic expression of thoughts and feelings that resonate in harmony with our spirits. So my songwriting process consists of capturing the feeling behind the words and figuring out a way to describe that feeling through words and song. It can start with just me strumming along on my guitar, or something that has happened to me or someone I know, or I can wake up out of a dream with the chords and words already written for me. It all depends on what season I'm in. 
Tell us about getting on HGTV's "Tiny House Hunters." It sounds totally cool. 
Anitra: It truly was a wonderful experience! Rob and I set out on a quest to lower our living expenses and live a minimal lifestyle so we can focus on music. A big factor in that was reducing our housing costs. That sparked our interest in tiny homes. We connected with a producer for Tiny House Hunters at a convention, and before we knew it, we were auditioning for a TV show on a major network. Filming was soon underway. The show followed us as we toured a handful of homes to purchase. It aired in May of 2017 on HGTV. Ultimately, we decided to build one ourselves. That experience was truly life-changing. We had no construction experience at all. It's kind of radical what we did as I think back on it. Ultimately, it taught us to believe in ourselves and to not be afraid to do unconventional things.
What is your favorite song to perform and why?
Anitra: "I'm Still Here" is an original song and it's my most favorite to perform because the message is strong and inspiring, plus it's upbeat. And I created a little 'second line' dance of my own that audience members can follow and dance along with. The song's message is about conquering life triumphantly. It's about celebrating the fact that after all you've been through, you're still here fighting on.
What advice would you offer people who are just starting out, either individually, or as a band? Everyone has a "first day."
Anitra: My advice for people just starting out is to assess your personal goals. Determine what success means to you first. Then figure out a way you can realistically achieve that. Also, business and marketing is a big aspect of being a musician. Focus on learning how to effectively market and promote your brand and learn how to run a business. If you can do those two things you have a fair chance at making it.
What piece of music equipment can you simply not live without?
Anitra: My guitar for sure. I work out my own emotions by just humming and strumming on my guitar a lot. Being able to play my guitar means more to me than just being a performer. I'd be playing my guitar whether I am a professional musician or not. 
And our five questions that we ask everyone – 10 years from now, what would you like to be doing?
Anitra: 10 years from now, I'd love to have a music venue of my own and take a more active role in celebrating music and art in my local community. I'd also love to travel to foreign countries and do something impactful with my music on a global scale. 
If you could open up for any band right now, who would it be?
Anitra: I would love to open for Jill Scott! I saw her at the Essence Festival in New Orleans and I was blown away by her stage presence and authority. She has an old-school vibe with a modern glow. I think my music could complement her well.
Any big announcements, big gigs, new music, etc?
Anitra: I'm working on releasing my next album, "Work in Progress." It's about accepting life as a process and using challenges and discouragement as a way to grow and evolve to your higher purpose. I'm hoping to release that in the next few months. I've been working on this album for years. It's been a work in progress in itself. 
Is there anything else you would like people to know about you?
Anitra: A big part of my newest project, "Work in Progress," is committing to digging deeper to find your own inner strength. We're discussing the purpose, values, and individual meaning. If you're interested in being a part of my "Work in Progress" project, join the crew at anitrajay.com/work-in-progress. There, you can sign up for the latest updates, pre-order the album, and make your own work in progress commitment. 
Anyone you want to thank or acknowledge?
Anitra: I especially want to acknowledge my husband. He's my biggest fan and I am grateful we can work together on this music journey! I also appreciate my friends and family for having my back. I also truly appreciate my supporters! I wouldn't be here without them. The people who support my music are vital to my career and their support not only impacts me personally but the progress of independent arts in our community as a whole.
Where can people find you online?
Anitra: My website is AnitraJay.com. You can find me on Facebook at facebook.com/anitrajay and Twitter at twitter.com/anitra_jay. I'm also on YouTube.
Any last words?
Anitra: I hate to sound like a cliché, but I encourage everyone to follow their dreams and to embrace your passion with commitment and drive. We each need everyone to be actively working in their true purpose. That's how we can change the world.
---