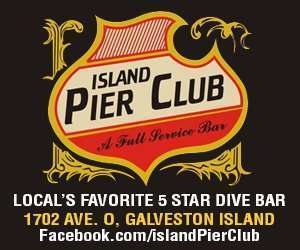 By Kimber Fountain, Photos by Christa Schreckengost
A well-rounded antiquing experience in Galveston is by no means a one-stop-shop, because just like the goods they carry, a complete collection is the most prized possession. Each and every store has a character all its own and an atmosphere as unique as its owner and they each tell their own story of the past. But together, they weave an incomparable tale of time gone by, and provide wonderful, historical perspectives as numerous as the people who lived them.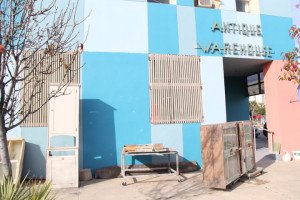 Antique Warehouse
Antique Warehouse stands alone in its raw authenticity, as its historic downtown building provides the perfect backdrop for a seemingly endless array of furniture and collectibles in their original form. The dust and rust is just part of the charm of Antique Warehouse, and owners Scott and Holly Hanson are well known in Galveston for their expertise and willingness to assist their customers.
"We are mostly sought out for our architectural pieces, such as doors, windows and authentic hardware," says Holly, and according to their regular customers, they know every inch of their extensive collection. "They will help you find anything," exclaimed a loyal customer of the Hanson's, now in their eleventh year of business. In addition to housewares and furniture, Antique Warehouse also houses an extensive collection of glassware, books, art, and Galveston memorabilia, as well as small antique devices such as typewriters, scales and signage. Located at 423 25th Street, (409)762-8620, open Thursday through Sunday 11am-5:30pm, closed Tuesday and Wednesday.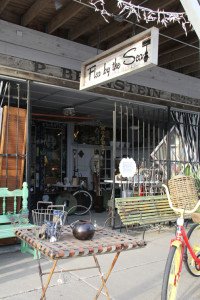 Flea by the Sea
Flea By The Sea showcases new items and vintage decor that has been creatively redesigned to keep customers eager to visit often. They go out of their way to find those special pieces that continue to surprise. Flea by the Sea, "vintage decor and more" is all about putting forth a whimsical collection of refreshed vintage finds mixed with new decor accessories that will create a home filled with happiness.
Join them as they share their passion for designing, decorating and creating something from nothing. Located at 2528 Market Street, (409)762-0322, open Monday-Saturday 10am-6pm, Sunday 12-5pm, closed Tuesday and Wednesdays.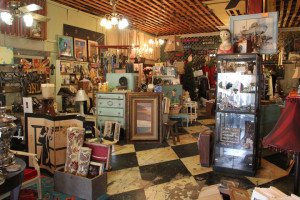 LeChat Antiques
Le Chat Noir is the product of local collector and connoisseur Scottie Ketner, who started as a private collector over 25 years ago. "Then you look and you have this collection of collections," Scottie proclaims. "And, I needed an outlet. I love what I do, I love the creativity of it all." Her creativity has come even more into play since Hurricane Ike. She muses, "we lost a lot of the real, century-old, solid pieces to the storm and since then we have shifted focus to more vintage pieces. The vintage pieces have good bones, they have good structure, but sometimes they just look old and tired." When it comes to deciding how to restore a piece Scottie is emphatic that, "the furniture has to talk to me," evidencing her innate connection and love for her profession. "The challenge is to create a work of art out of something that has been cast off. There is a great satisfaction in that for me." Le Chat Noir is also the home to five other vendors, providing a wide variety of vintage clothing, hats, furniture and trinkets. Also for sale at Scottie's shop are all-natural, organic soaps made by her son Jason Matsumoto and handmade jewelry made of broken, vintage china made by her daughter-in-law, Amy Matsumoto, author of the newly released "Haunted Galveston." Located at 4301 Avenue S., (409)457-9586, open Thursday – Tuesday 10am-6pm.
Located at 1513 19th St., (409)766-7711, open Monday – Saturday 10am-6pm, Sunday 12-6pm.
Texaco Collectibles and More
Located at 410 23rd St., (936)445-6550, open Friday, Saturday, Monday 10am-6pm, Sunday 12-5pm and by appointment.
The Antique Girls
Located at 4619 Fort Crockett Blvd., (409)497-2989, open Tuesday – Friday 10am-6pm, Saturday 10am-5pm, closed Sunday and Mondays.
Garden Room
Located at 2323 Winnie St., (713)306-0498, open Thursday – Sunday 10am-5pm.
Vintage
Located at 408 23rd St., (214)232-9027, open Tuesday – Saturday 10am-6pm.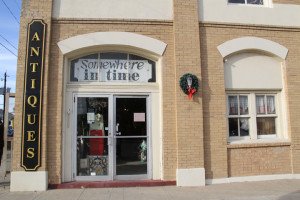 Tarnished Treasures
Located at 4014 Broadway, (409)939-4955, open Sunday 1-5pm, Monday 1-5:30pm, Wednesday-Saturday 10:30am-5:30pm.
Somewhere in Time
Somewhere in Time, owned by Christine Solis, is that store that just makes you smile as soon as you walk in the door. The shop is almost museum-like in its organization and display, with all the items categorized and displayed artistically in glass cases, but in a setting with all the warmth of grandma's living room. Jennifer Perry has leased a space at Somewhere in Time for just over a year and tells one of the most phenomenal stories of Hurricane Ike as she points up about ten feet to a display of hourglasses. Nestled on top of a piece of framing in a section of the wall, they sit a good three feet below the waterline that is marked with the recognizable blue arrow. "They didn't move," she says amazed. "The entire store was destroyed and the water rose well above those hourglasses, yet they didn't move an inch. And so [the owner] took that as her sign to reopen." Moving about the store, Jennifer continues, "this is that place where you can find the item you haven't seen since you were a kid; those little things we remember fondly from our childhood." In that vein, the store is home to comic books, vinyl records, dolls, and marbles, as well as antique sewing machines, medical supplies, kitchenware and vintage clothing. Somewhere in Time is also one of the few antique dealers in Galveston that sells antique money and coins. Located at 124 20th St., (409)762-1094, open seven days a week 10:30am-5:30pm, www.somewhereintimeantiques.com.
Big House Antiques
Big House Antiques has been proudly serving the Galveston area for 15 years. Big House carries investment quality American and European antiques, estate jewelry, clocks, rare books, fine porcelains such as Royal Doulton and Staffordshire, and pottery such as Roseville, McCoy and Hull, to name a few, as well as pressed glass, Victorian Lusters, chandeliers, Persian rugs, Flow Blue, large variety of Trapp Candles and much more. Located at 2212 Mechanic, (409)762-0559, open Sunday 12-5pm, Monday-Saturday 10am-6pm, closed Wednesday.
Island Relics
Island Relics is a bright and happy place that strikes a great balance between an antique shop and a resale shop, offering a wide variety of both restored vintage items and resale items. Owner and operator Barbara Boyd is in her third year of resale, antiques, and vintage retail, before which, she spent 17 years as the owner of a ladies clothing boutique. "It gives me a purpose," she says of her cheery and sparkling store, which houses the collections of eighteen different vendors. In addition to the main floor that displays furniture, collectibles, and an extensive collection of jewelry, there is also a small boutique in the back with women's clothing and an adjacent warehouse where they store larger or unfinished items. Located at 911 22nd St., (512)925-0290, open seven days a week, 10am-5pm.
Upcycle/Recycle Antiques and Stuff
Located at 416 22nd St, (409)761-1026, open Wednesday – Saturday 11am-7pm.
Galveston Gallery
An island favorite for many years, Galveston Gallery offers a superb collection of items that stand out from the ordinary. Every nook and cranny, including the stairs, of this beautifully-restored home-turned-business in the island's historical Silk Stocking district is filled with an unsurpassed selection of treasures guaranteed to delight islanders and visitors alike. Noted for its extraordinary selection of gourmet coffees and teas, specialty foods, decorative home furnishings and antiques, Galveston Gallery also offers shoppers an eclectic array of unique gifts and gift ideas. Galveston Gallery also carries a large selection of candles and fragrance lines for the home, including Beeswax Designs, Votivo Aromatic Candles, and Archipelago Botanicals. Located at 1825 25th St., (409)763-6116, open Monday – Saturday 10am-5pm.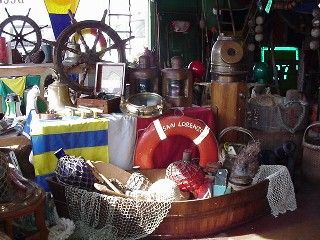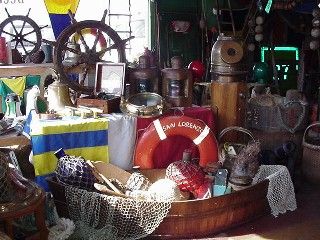 Nautical Antiques and Tropical Décor
Nautical Antiques and Tropical Décor has two distinct specialties just as the name suggests, but primarily the shop is known for their incredible inventory of authentic ship salvage, including hardware and lighting. Owners Michael and Adrienne Culpepper have been in business for thirteen years and annually they travel overseas to outfit their store. The nautical items come all the way from shipwrecking yards in Turkey, India and Bangladesh; and the tropical décor side is garnered from locations in Indonesia, Haiti and around the United States. Look for two all-new shipments to arrive soon, one in early-mid January and the second in late February. Located at 2202 Ships Mechanic Row, (409)539-5469, open weekdays and Saturday 10am-6pm, closed Tuesday and Wednesday, Sunday 11am-4pm, www.piecesofship.com.
Modern Vintage
Located at 2005 Postoffice St., (409)762-0202, open Thursday through Monday 10am-6pm.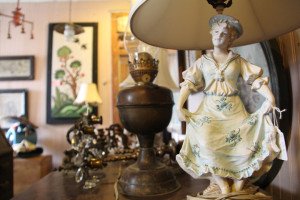 The Emporium at Eiband's
The Emporium at Eiband's is a full service decorative and design center. Located in historic downtown, customers may stroll through the shop and enjoy the unique pieces and special finds collected just for The Emporium. An impressive array of antiques and collectibles, this design emporium highlights the wares of over 30 dealers and artists, and includes clothing, jewelry, books, furniture, antiques, art, architectural salvage and interior design services. Located at 2201 Postoffice St., (409)750-9536, open Wednesday-Sunday 10am-5pm, Monday and Tuesday appointments only.
Catz Jewelry
Catz's carries a unique array of estate and fine jewelry to suit every budget. Cathy Catching, owner, also teaches "Angel Talk" classes and does personal healing sessions in addition to running the jewelry shop. She is also currently writing a book with the working title "I Can Hear Angels." The book recounts her miraculous healing of a lengthy illness and the incredible events surrounding it. Just prior to the miracle of healing, she was given the gift of clairaudience (the ability to hear the divine) which enables her to receive clear messages from her angels. Located at 2029 The Strand, (409)740-1565, open Friday, Saturday and Sunday 10am-6pm.
Vintage Galveston is one of the largest shops on the Island. Since owner Charles Early's vision was a store with unceasing variety, Vintage Galveston plays host to seventeen different vendors that have on display a veritable feast of vintage and antique treasures. "Each vendor has their own particular niche," says Charles. "We have such an eclectic variety here, and that is what I love about it." His sellers' specialties range from dolls to mid-century modern furniture and everywhere in between. The store is also home to long-time Galveston jeweler Robert Gonzales, who provides his services in antique jewelry repair and also creates custom pieces. Vintage Galveston also carries a good selection of architectural items for home restoration and in the spirit of community has donated a space to the local Women's Crisis Center to aid in their fundraising efforts. Located at 1708 23rd St., (409)939-1317, open Monday through Saturday 10am-6pm, Sunday 12-5pm.
Past Perfect
Past Perfect is owned by Karen Brandt and Donna Siegow. The two ladies have been estate sale organizers for many years and wanted a shop to accompany this business. Past Perfect is just that shop. Six dealers rent space and sell antiques, furniture, art, shabby chic, decorative-accessories, stained glass and more. Besides the dealers, Brandt and Siegow sell auction and estate sale items. Everything sold here is clean and of good quality, this is a treasure trove of good stuff. Located at 2001 Postoffice St., (409)789-7047, open Thursday through Monday 10am-6pm.
Hendley Market
Hendley Market, established in 1979, is located in the historic Strand district. They reside in the first commercial building on The Strand, built in 1858. During the Civil War, the North and South used the building as a look out over the important cotton port. Items available are antique medical instruments, antique books, Victorian era items and retablos from Mexico. They also carry a selection of over 200 nativities and santons. When in the store- "Bare feet and dogs are welcome; food, drinks and smoking are advised against." Located at 2010 The Strand, (409)762-2610, open Thursday through Sunday 11am-5pm.

---