Did you know that the word "gumbo" comes from the West African word "kingombo," which translates to "okra?" Gumbo is a staple meal when it turns cold, and Galveston has a nice variety of styles and kinds that are sure to satisfy your every craving.
Gumbo recipes first showed up in 1802, but became more popular in the 1970's when the Cafeteria of the United States Senate added it to their menu in honor of a Louisiana Senator, Allen Ellender.
Yeah, we are gumbo professors and connoisseurs of 'all-things gumbo,' and here on Galveston Island, we have lots of Gumbo choices. Here are a few of our "Locals' Favorite" Gumbos, as well as a few of our own picks.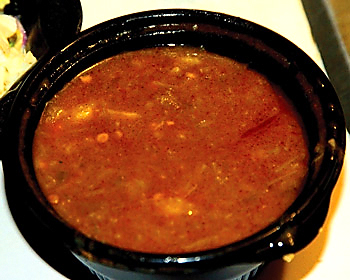 Gaido's
3828 Seawall Blvd., Galveston, (409)761-5500, gaidos.com
Let's get started with the tried and true Galveston favorite, Gaido's. Having opened their doors to the public in 1911, it's only fair that we start with them. The same year that air conditioning was invented, the Gulf was teeming with a bounty of fresh seafood. From that day forward, Gaido's popularity as the freshest fish house on the Gulf grew from S.G. Gaido's unwavering commitment to serve only the best. They have been open for what seems like forever for a reason, and they have been "rouxing" up that delicious brown southern charm for as many years.
Gaido's Brooks' Gumbo, a Thibodeaux, Louisiana-inspired hearty gumbo, is made with okra, shrimp, and Cajun spices. A rich roux is the key to Gaido's gumbo, and it is a long-time favorite for many locals. Gaido's Brooks' Gumbo is available in two sizes, by the cup or by the bowl. Trust us, you are going to want the larger serving of this world class gumbo.
If you would like to try the gumbo and other soups, the Soup Combo is the way to go. You get three small cups, consisting of gumbo, bisque, and the soup of the day. Watkin's Bisque is as legendary as Brooks' Gumbo. It is a delicate blend of flavors with a seafood cream base, along with shrimp, pureed tomatoes, carrots, onions, and spices.
Add a half dozen oysters to complete your Cajun meal. Gaido's oysters come in a variety of style – on the half shell, Oyster Maria (cornmeal battered and fried with bacon on top), Cy's Demise (charcoal grilled with parmesan), or baked. You can also get a combination platter and a side of French bread for an awesome meal.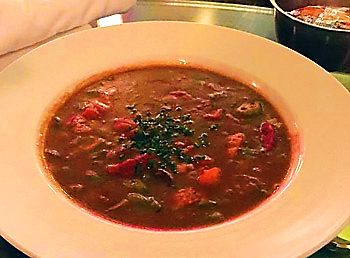 The Pelican Club
3819 Avenue T (behind Gaido's), Galveston, www.pelicanclubgalveston.com
A sister restaurant to Gaido's, The Pelican Club's Executive Chef Ross Warhol, originally from upstate New York, has been educated in some of the world's most legendary kitchens. Yet, even with such an enriching education, he credits his grandma, the best chef he's ever known, for inspiring his love of all things culinary. He says, "I have had the humbling honor of cooking in some of the most renowned kitchens in the world. Those experiences led me to a deep belief in sourcing fresh, seasonal food from the surrounding fields and sea in a daily search to create new, dynamic dishes. With each unique creation, we want to engage not only your palette, but your sense of adventure as well."
Traditional Creole Gumbo is classic Cajun fare, and comes loaded with chicken, andouille sausage and white rice. Add to your enjoyment by pairing your gumbo with the snapper crudo, a tostada, corn pudding, avocado, pico de gallo, pickled red onion, queso fresco, serrano pepper, and cilantro.
The Pelican Club is open Wednesday-Saturday 5-9pm and offers a nice, quiet atmosphere that is far removed from the hussle and bussle of the holiday season.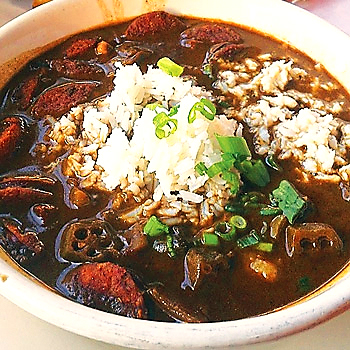 Little Daddy's Gumbo Bar
2105 Postoffice St., Galveston, (409)750-8888, littledaddysgumbobar.com
Downtown in the popular shopping district of Postoffice St. quietly sits Little Daddy's Gumbo Bar, offering outdoor and indoor dining.
If you have the word "Gumbo" in your restaurant's name, well then you can bet that it's going to be good. The word gumbo is often used as a metaphor for a mix of cultures that existed in Louisiana in the 18th century. This culture combined the cooking of the French, indigenous tribes, and Africans.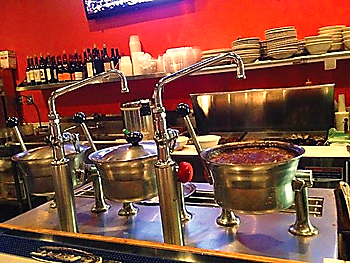 So it is in this tradition, that Galveston's own Little Daddy's Gumbo Bar brings you a full menu of delicious gumbos (pictured above). Not one or two kinds of gumbo – but four! Choose from seafood, chicken and sausage, prime rib, or if you can't make up your mind, the Mumbo Gumbo is a combination of it all.
Each serving of gumbo is made to order in their award-winning steam kettles, and is served with steamed rice. Their gumbo is available in two sizes, "Little Daddy" and "Big Daddy."
This restaurant has made an entire menu based around Gumbo, and what a great job they have done.
With more than 62 types of beer and a large wine list available, you can kick back with a "Big Daddy" bowl, an ice cold pint and a side of the NOLA's Seafood Balls – life just doesn't get much better.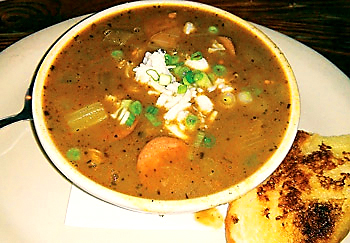 Black Pearl Oyster Bar
327 23rd St., Galveston, (409)762-7299
While we are downtown, let's walk on over to the Black Pearl, located on the corner of 23rd and Market St. The Black Pearl focuses on its oyster bar, but is equally lauded for its grilled specialties, fresh-from-the-Gulf seafood, tantalizing steaks, and their gumbo.
The Black Pearl stirs up some of the best seafood gumbo on the island. Their homemade, hearty, and rich roux is loaded with shrimp, oysters, crab, sausage, and okra, and makes up some of the best gumbo you will ever hunger for.
Black Pearl's Seafood Gumbo is available in cup or bowl size. Grab a side of Crab Stuffed Jalapenos and do a some hearty eating while you sit by Black Pearl's large glass windows and people watch.
Oysters at The Black Pearl are always available, in delicious dishes such as Oysters Rockafeller with spinach cream cheese, Oysters Haelen topped with crab meat, cheddar, and bacon, and Oysters Diablo with spicy diablo sauce, shrimp, and cheddar cheese.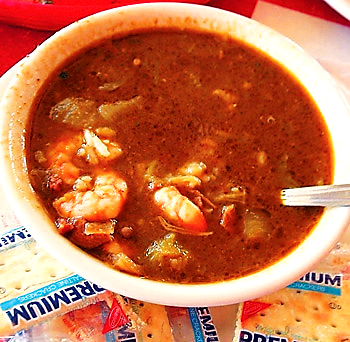 Benno's on the Beach
200 Seawall Blvd., Galveston, (409)762-4621, bennosofgalveston.com
Let's roll on down to the seawall to the infamous Benno's. Located right on the Seawall, Benno's hosts a gorgeous view of the rolling tide waters of the Gulf.
You can't help but feel relaxed, happy, and warm looking out at the view while enjoying a nice hot bowl of Shrimp Gumbo. Don't even begin to count the number of Gulf Shrimp in your bowl, there are way too many to try.
They start with the same thing all Cajuns do, a rich thick roux, then add what chefs call "The Holy Trinity" – onions, celery, and green peppers. These are always a must for both Cajun and creole cooking. Let's not forget about the succulent Gulf Coast Shrimp, sausage, and spices. Mix, mix, stir, stir…do it with love and fire, and there you have Benno's Gumbo.
The Shrimp Gumbo is available in two sizes, cup and bowl, so grab some French bread to go with it and you will be one happy Cajun.
Don't forget to save room for Benno's heavenly Bread Pudding with Bourbon Sauce for dessert.
Benno's is a fun, family restaurant that has everything seafood-related you could possibly want, from shrimp and crawfish to crab and oysters. Watch their Facebook page to see what seasonal specials are available.
Miller's Seawall Grill
1824 Seawall Blvd., Galveston, (409)763-8777, millersseawallgrill.com
Right down the seawall from Benno's is the long-time, locals' favorite, Miller's Seawall Grill. This place is full of Galveston locals everyday – rain or shine, cold or warm weather, the locals love Miller's.
Mama Miller's very own unique gumbo recipe is a hot and spicy bowl of goodness. Everyone has their own secret gumbo recipe, with the key word in this sentence being "secret." Miller's has been cooking up Mama Miller's Gumbo for 37 years, so you know it has to be good. If you aren't sure about it, ask for a sample first. It is spicy! We promise you it is spicy, rich, and hosts a heavenly roux of flavors.
Bowls of gumbo are served with grilled bread and rice, while the cups of gumbo are served with crackers.
We recommend a bowl and a classic – a big ol' Fried Shrimp Po-Boy. You may need a short nap before moving on.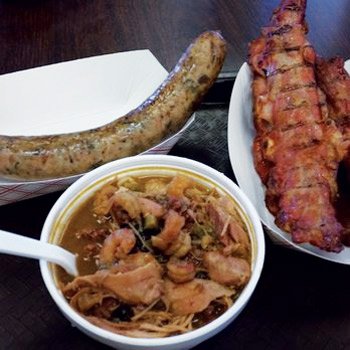 Leo's Cajun Corner
3201 Broadway Avenue J, Galveston, (409)765-5151, leoscajuncorner.com
If you drive down Broadway, you can't help but smell the hickory smoke wafting through the air as you pass Leo's Cajun Corner. Again, when the word "Cajun" is in the name, you can bet that they know their stuff and have some authentic gumbo.
Follow your nose to the wonderful seafood gumbo and smoked meats – that's right, smoked meats such as ribs, sausage, boudin, and brisket, all cooked to a Cajun perfection. Leo's Gumbo is prepared fresh daily, comes in the standard two sizes of cup or bowl, and is super reasonably priced, starting at $3.25 for a cup.
From their website, "[We have] a commitment to our customers to provide top quality products – always fresh, never frozen – using four generations of authentic Louisiana recipes. From speciality sausages and boudin, to homemade desserts, we always put our very best in everything we do." With Leo's long-standing reputation and that they are open for breakfast, lunch, and dinner – you have no excuse not to get in there and get your grub on.
And those smoked meats that we mentioned earlier – they are perfect for your holiday party menus. Leo's makes their own sausage in four versions – pork, beef, 'garlic onion with beef or pork,' and Leo's Special – pork, jalapeno, bell peppers, hot sauce, garlic and onions. Boudin is available too in regular flavor, crawfish, and smoked versions. Deer sausage is available sometimes as well.
Although we tried, there is no way to eat and write about all the wonderful gumbo that is available on the island. It is a challenge that we gladly accept, but there is certainly no way to try it all, so maybe you should do a little gumbo island exploration yourself. Let us know what you find by sending your suggestions to TheIslandGuide@gmail.com or posting on our Facebook page at www.facebook.com/galvestonislandguide.
Stay hungry my friends!


---