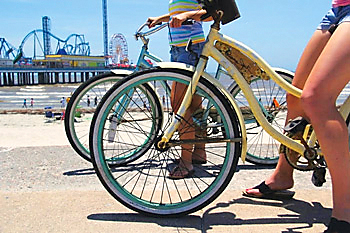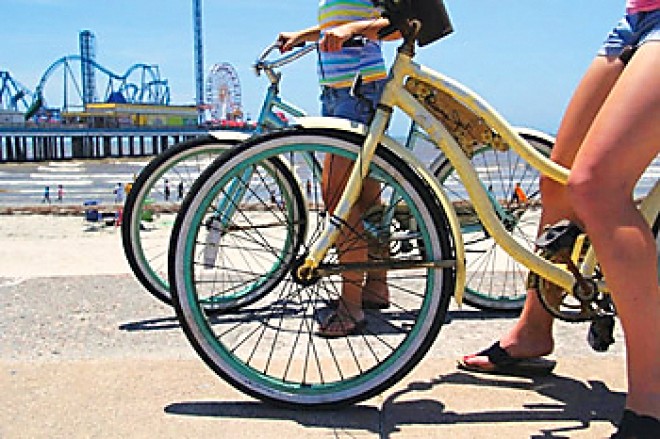 By Elizabeth Rogers │ Photos by Christa Schreckengost
Riding a bicycle brings you closer to your surroundings, closer to life, and closer to the details that can escape through the blur of a car windshield. The rhythm of the pedaling and the senses that are engaged when on a bicycle have been the start and substance of many of life's greatest experiences. And if you add in the elements that make Galveston Island so special – sun, fun, history, architecture, nature and more – you're in for an especially unique ride.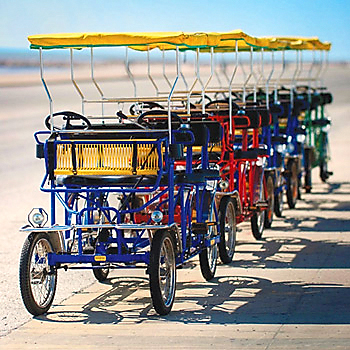 Step One: The Bike
There are many shops in Galveston that specialize in bicycle sales and rentals but none more well-versed than Island Bicycle Company. Located at 1808 Seawall Boulevard, Island Bicycle can find the perfect bicycle for you, depending on your wants, needs and budget. The stock a wide variety of beach cruisers, mountain, road, youth and comfort bicycles. Not in the market to buy? Give one a spin and rent one for the day.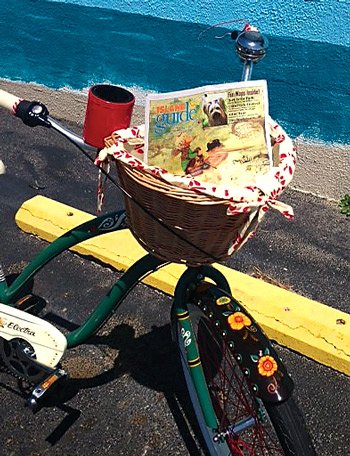 Island Bicycle owner Jeff Nielsen maintains that just as important as the brand of bicycle is the care that goes into assembling and maintaining it. They offer full service repairs and assistance with any bicycle needs. What would a beach cruiser be without the mandatory coconut cup holder or bike bell? Island Bicycle has every accessory from baskets and bells, to cup holders and cushions. The fun part is making your bicycle uniquely yours!
Step Two: The Path
Galveston Island has a biking experience for everyone. Whether you're a beach bum, a historic home hound or somewhere in between, there's a path for you.
Hit Seawall Boulevard for over 10 miles of paved sidewalk and endless sun and fun.
Brrrriiiinnnng! your bell at the passersby, wave to the kids and breathe in the amazing Gulf of Mexico beachfront.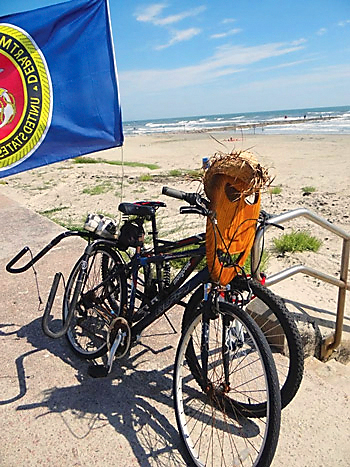 With spectacular sights along the way including the Historic Galveston Island Pleasure Pier, Murdoch's, various fishing piers, restaurants, and shops, your head will spin as fast as your wheels. Don't forget to stop for a cold drink to fill your cup holder along the way; snow cone vendors and beachfront shops dot your path, ready to refresh.
Are you awed at Galveston's historic architecture? Then take to the city's East End or Silk Stocking Historical Districts for breathtaking beauties dating back to pre-1900 Storm. Famed architects like Nicholas Clayton still resound in the homes dotting the east end of the island. The advent of Hurricane Ike tragically inundated beloved oak trees from the historical neighborhoods, but these homeowners turned lemons into lemonade by carving the remaining trunks into whimsical and incredulous works of art. Nature, pets, storybook characters and more were brought to life through the stumps of these once majestic oaks. Grab a tree sculpture map from any visitor center location or brochure rack and visit as many as possible – their new found forms will bring a smile to your face and are best accessed by bike.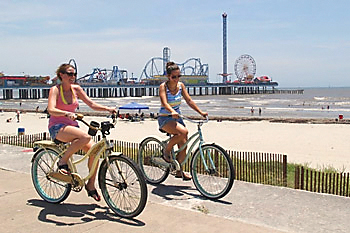 Step Three: The Plan
Galveston Island is a liveable, walkable, bike-able community.
The options are endless: bike to one of hundred of eatery options across the island. From seafood and sushi to burgers and beer, the island will fill your belly and bike ride with deliciousness.
Looking to live like a local? Stop in at Sonny's Place, 1206 19th Street, for a cheeseburger, fries and a game of pinball (stand in line behind the kids, please!).
Making a night of it? Cruise down Postoffice Street for art gallery adventure topped with sushi, seafood, gumbo and more at the plethora of diners, bars and grills.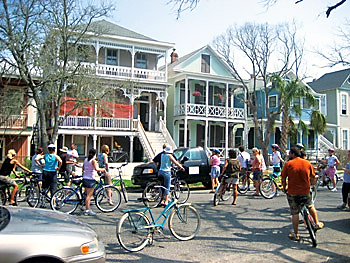 Pull down to Pier 21 for a glimpse of the Elissa and dining options from Greek to Italian and beyond.
Sweet treats can be scored if you pedal your way to Hey Mikeys! at 902 Avenue E – just park outside, catch the local night air and lick your way through one of their many homemade, fresh flavors and custom cones.
Pump your way down the Strand and fill your handlebar basket with gifts and goodies from merchants and retail shops – apparel, home goods, specialty items and more.
While there, stop at Saengerfest Park for a free concert or movie night event. Entertainment is available just about anywhere you can pull up atop your bike.
How should you outfit for your biking adventure? Comfortable clothes that won't interfere with the gears or chain on a bike are best, as well as closed-toed shoes and a hat to protect from the island sun. Many beach cruisers simply don their swimwear and spin down the Seawall. Just throw a cute coverup in the basket and go. Either way, make sure to slather on some sunscreen and hop aboard – your next adventure awaits, and it takes two wheels to get there.
The options are endless when you have the freedom to pedal your way to perspective. Go biking on Galveston Island today!

---