By Gini Rainey
"Letters to My Grandchildren – Living an Intentional Legacy"
By Sharon Stone
While this is not a book that might ever make it to the top of any of the best seller lists, this is definitely a must-read for anyone who is searching for something to believe in.  Ms. Stone, having reached her 60s without landing on a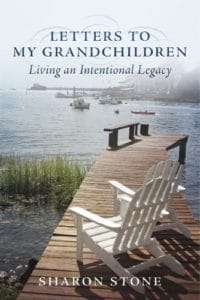 spirituality that really "felt right" to her, had explored nearly every ideology and philospohy available to help give her that feel-good spiritual connectivity that so many people around her were experiencing.  Faced with an uncertain future because of several debilitating health issues, she became aware that she would have to decide for herself what her faith would be.  She came to the realization that "…the Christian faith was a story of unconditional love with God the Father; Christ, the son, and the Holy Spirit….It did not say that suffering was a continuous condition…It spoke real truths to me about everlasting concepts and an eternity of love."
Written in a very clean cut, easy to understand style, this book is a short read that can have long-lasting effects on the reader's life.  It's a book for anyone who is searching for their spiritual identity and is open to a refreshing new way of looking for and realizing just what their inner-most desires are for the rest of their life.
Not only is this a book that I would recommend to my fellow soul-searchers, but it truly is a heartfelt gift for Ms. Stone's children and grandchildren.  I am so thankful that she took the time to verbalize her search for her spiritual identity, as she passed away on January 16th of this year in Conroe, Texas.  She was my sister and I shall truly miss her frank and honest way of looking at life.
5 of 5 Copyright 2012 – Book Baby
"Caroline: Little House, Revisited"
By Sarah Miller
What a treasure I discovered while searching for something new to read!  Always a fan of the "Little House" books,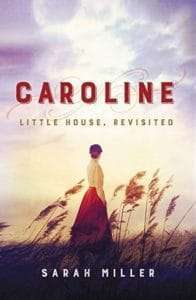 this novel, authorized by Little House Heritage Trust, tells the story of the Ingalls family from the mother's point of view.
Beginning with their move from the little house in the big woods of Wisconsin for a new life in Kansas' Indian Territory, Ms. Miller brings an adult perspective to the child Laura's stories.  Faithful to the flavor of the original books by Laura Ingalls Wilder, this book could be thought of either as an extension or companion to those books.
This book will draw you right in from the beginning and keep you immersed to the end with the revisited exploits of the Ingalls family.  Filled with Caroline's internal reactions, the reader will find themselves immersed in the adventures, hardships, and dangers of the pioneer life.  As one reviewer said "If you're a big fan of the Little House books, you don't need to read any reviews; you'll just get it!"
5 of 5 Copyright 2017 – William Morrow