By Terry Card
"That man's gone crazy! What's he doin' diggin' for oil in front of the old orphanage? Does anybody know what's goin' on?"
And, so it appeared to the neighbors surrounding the old State orphanage, the original Gothic Revival building having been designed by Galveston architect Alfred Muller in 1895, and reconstructed in Renaissance Revival style in 1902 by architect George B. Stowe after the Great Storm of 1900.
But true to form, J.P. Bryan was thinking ahead, and with methodical planning of the same fashion that he used to create his outstanding collection, he chose to heat and cool his museum, utilizing geothermal wells – more costly up front – but more efficient and sustainable over the long haul.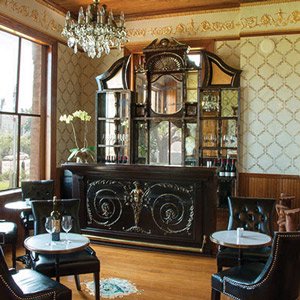 Alex Gonzalez, the historic preservation contractor who owns Creative Combinations, discussed the system installed in 2013 just after J.P. purchased the property. "There are 67 wells, 300 feet deep, in vertical loops along the front and both sides of the Museum. The water is distributed and collected by two manifolds; the north one near the front fountain and the south one near the dance floor. Five heat pump units hanging in the rafters are in the basement and five are in the attic."
Uncharacteristic of a man, who for decades, with his wife Mary Jon, had collected over 70,000 pieces including books, documents, art, weapons, and other memorabilia chronicling the history and settlement of the southwest, J.P. took very little time in deciding where he was going to house his collection.
Mary Jo Naschke, in charge of public relations for the museum, told the story. "J.P. had for some time been searching for a permanent home for his collection, rather than only being able to hold selective displays in his Houston building and other venues. He was in Galveston and was leaving for Houston when he received a call from his curator, Andrew Gustafson. "Where are you?" Gustafson asked. When J.P. told him, he said, "There is a building for sale on 21st Street you will want to see." J.P. immediately arranged a tour of the building with the real estate agent and in just four hours, his decision was made."
As quoted, J.P. stated, "For our collection, the building's large rooms and high ceilings is a marriage made in heaven." And as Alex Gonzalez, who worked very closely with Mr. Bryan said, "J.P. is very proud that we did not move a single wall. In addition we used the original wood as much as possible. For example, the wood you see used for building the reception desk and eleven doors throughout the museum, including those in the reception area, was taken from the wood stripped from the ceiling in the basement, where the children's area is now located."
Tirzah Hall, Outreach Coordinator for the museum, works with the volunteers who guide visitors and explain the artifacts in each room to visitors. "I love working here. There is a steep learning curve but it is extremely rewarding. J.P. is incredible, very giving. I love the history and art, and working with the volunteers and visitors."
One of those volunteers is Donna Reznicek, a retired high school teacher. "I enjoy history and have extensively studied the life of Alfred Muller, the original architect. So for me, this is the perfect museum. Also, in a sense, it is my home. I was a state ward and protestant, and this was the orphanage for protestant state orphans. St. Mary's looked after Catholic orphans and Lasker House took in the Jewish orphans."
Visitors who come from various parts of Texas often have a different perspective than out of state visitors. Kevin Lueb, from Rockwall, near Dallas, was visiting the museum because, as he said, "When I had been in Galveston previously, I had seen this building evidently abandoned. It was such a fine looking building even then, before all this beautiful restoration work took place. When I learned it was open – I actually didn't care what was being displayed – I just really wanted to see the building. But I think the display will be awesome. I can't wait to see all of the building and I am really interested in seeing the history of my state and the southwest."
An out of state visitor, from St. Paul, Minnesota, Michael Aldrecht, had read about the museum in a publication which described the display of southwest history and art. "I am very interested in the history of the southwest and that is my primary focus. However, that being said, the building is incredible."
The many children in the reception area were anxiously waiting to visit the children's area below that houses a pirate's den, toys from some of the original orphans, a wooden ship play area featuring the sounds of a cannon as it fires off smoke, a mermaid, nautical paintings, and tentacles of a giant octopus that spread over the ceiling.
The Bryan Museum, which was the recipient of the Galveston Landmark Commission Rehabilitation Award on May 14th of this year, has been received with great enthusiasm by Galveston.
As City Council member Norman Pappous said, "J.P. Bryan under promised and over delivered on this project. The Bryan Museum is not just for the Galveston and Houston market, but is truly a national treasure on Galveston Island. It is spectacular."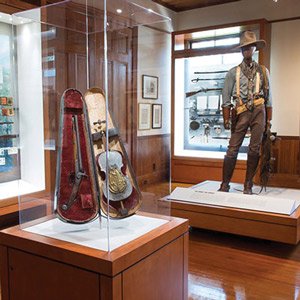 This spectacular museum houses some of the most inspiring historical objects relating to Texas and southwest history. What Texan isn't proud of our heritage and independence as a country, our ancestors having fought for and died for Texas independence from Mexico? It is fitting that this museum is located in Galveston, the home of the Texas Navy.
Within the walls of this restored orphanage is housed one of a kind pieces of history like Santa Anna's field command order book showing commands Santa Anna made during the Texas campaign right up until two weeks before the Battle of San Jacinto. In another display, is the sword used in the capture of Santa Anna when he tried to escape, disguised as an ordinary soldier.
But the museum is much more than the Battle for Texas Independence. The breadth of history of the innumerable displays includes objects like the Colt Walker revolver used in the Mexican American War of 1846 to 1848, a Spanish colonial silver saddle, an Alamo receipt signed by Colonel William Barret Travis just three days before 'The Alamo,' extensive letters from and statues and paintings of Stephen F. Austin (J.P. Bryan is third great grandson of Stephen Austin's sister, Emily Austin Bryan Perry), Southwest Art by Frank Reaugh, one of J.P. Bryan's favorite artists, and artwork by Texas artists Jose Arpa and Elizabeth Ney and works of German artists who settled around Castroville and Fredericksburg.
Alex Gonzalez, when discussing the renovations said, "The original wainscoting was too high to display the art, so room for the artwork displays was made by lowering the five and one-half foot high wainscoting down to three feet. The original wood is still there, but has been plastered over."
In addition to the displays set in the various rooms, is an outstanding conference room with wood walls that immediately elicit a warm feeling as soon as you enter, thirty foot open webbed Cyprus beams that support the wood ceiling, an acid etched concrete floor that is naturally patterned by the acid and colored to lend a cozy feeling and brightness to the room. "It is J.P.'s favorite room," confided Alex, "and he never thought it would be able to be built."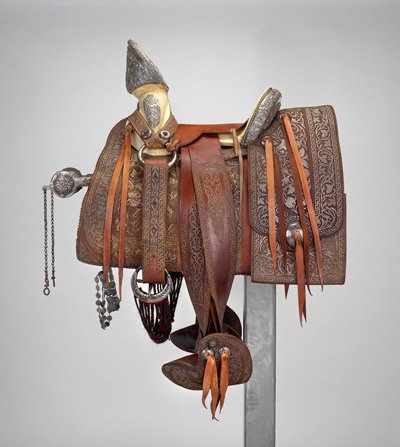 The Captain's Quarters, across the hall from the conference room, is a nautical themed room, created using artifacts purchased from Nautical Antiques Warehouse, a local Galveston store. J.P. tried to buy from local stores and suppliers whenever possible. This room is used as a groom's reception room. A hidden bar, special lighting, and plush seating, create a relaxing room for the groom and his ushers. Wedding receptions will be held in the new glass conservatory to be constructed behind the museum building, as part of phase 2 and 3, for which permit application has already been sought. And, "as promised during a meeting with surrounding residents and businesses, of which I am one," said Rex Reynolds, owner with his wife Gayle of The Water's Edge Studio & Gallery across the street from the museum, "I understand that J.P. purchased the old Children's Crisis Center building at the back and will be tearing it down to provide off-street parking, so that residents will not have a flood of parked vehicles in front of their houses and businesses. Knowing that he cares and has been as good as his word when he met with the residents, allows residents to be patient – knowing any parking problems will be short term."
And as Councillor Pappous intoned, "J.P. Bryan under promises and over delivers. What a wonderful legacy for the man and for our city."
The Bryan Museum – definitely over-delivered!
The Bryan Museum is located at 1315 21st St., Galveston, (409)632-7685, thebryanmuseum.org. It is open Friday-Monday, 11am-4pm. Tickets are adults $10, seniors, military and students (with I.D.) are $8 and children (6-12) are $4. Children under six are free. Group rates available.

---