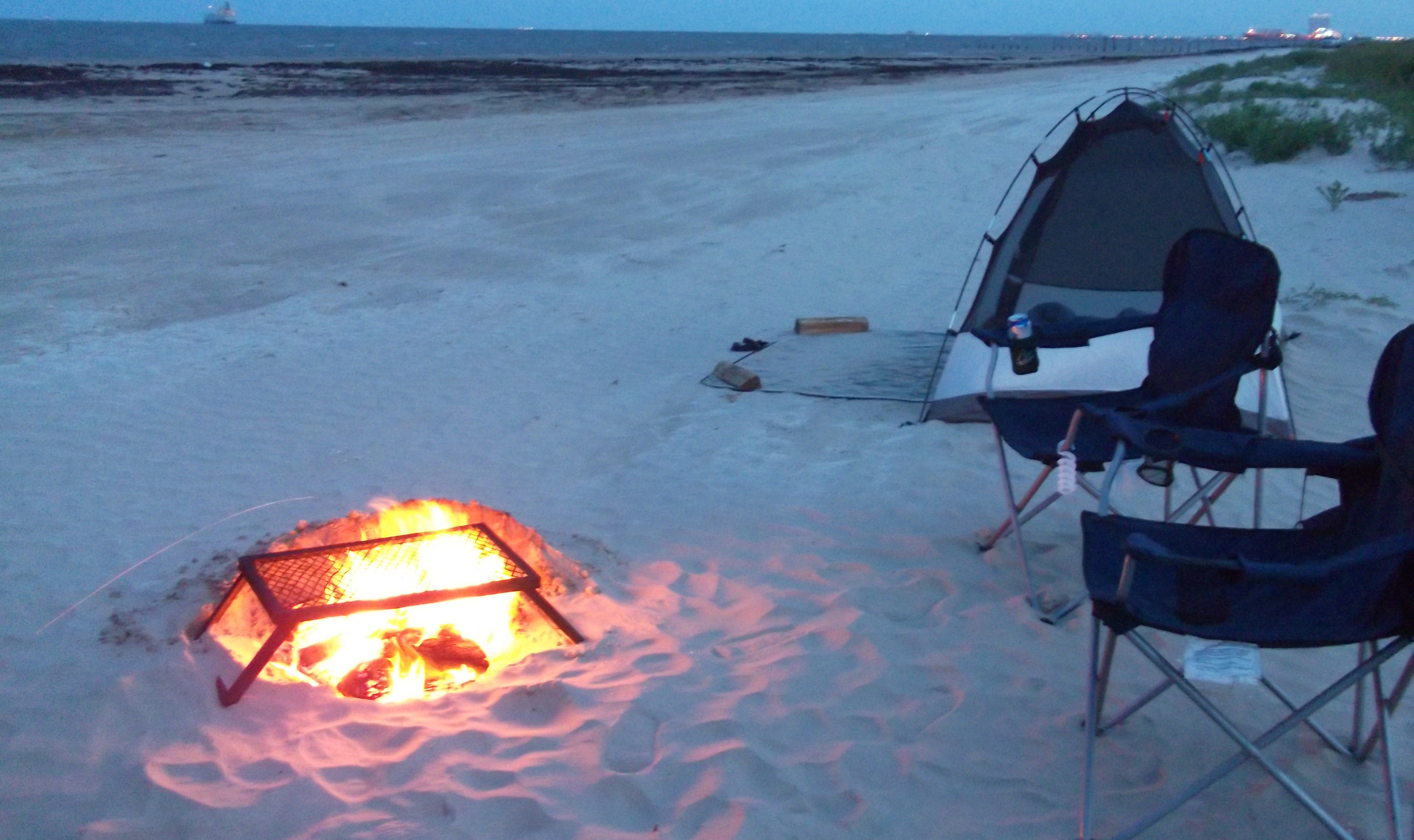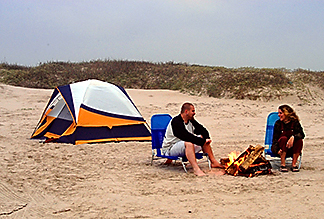 By Rob Lucey
More than 40 million Americans go camping in the United States each year. While campers still hope to get away from it all and get back to nature, these days modern families want to remain plugged in at the same time. A recent survey found that today's campers think it's more important to have good wifi than a pit to build a fire at night; more than half saying they go online at least once a day while camping. For many years, another trend has been to haul ever-larger trailers and recreational vehicles out to the campgrounds to carry all those essential modern conveniences.
Luckily camping enthusiasts coming to Galveston can find all levels of amenities to meet their desires – from primitive state park sites for old school tent pitchers to classic RV parks and pristine modern resorts with all the latest services.
While summer is the busy season for families while kids are out of school, the island RV resorts also host a large population of older "snowbirds" escaping the cold during the fall and winter months. Camping on the island is a year-round activity, and fall is the best time of all.
If your idea of camping involves pitching a tent and getting close to nature, then Galveston Island State Park is the place to be with 66 campsites on the West End of the island that can be reserved by visitors paying the daily entrance fee.
The sprawling 2,013-acre park has 10 tent-only campsites with water along the shore of Como Lake on the bay side of the island. Nearby are 20 more sites with water and electricity for RV's and trailers (although tents are allowed there as well). Both areas include picnic tables and restrooms with showers. The tent area also has a shade shelter, fire ring, and food storage boxes.
Across FM 3005 (Seawall Boulevard) on the beach side of the island are 36 more premium sites with water and electricity. The sites are suitable for RV's, tents, or trailers. Facilities include nearby restrooms with showers, picnic tables, fire rings, and shade shelters.
The park has been open since 1975. It's located near where the island's first residents, nomadic Akokisa Native Americans and later Karankawas, camped more than 1,000 years ago while living off fish, wild game, and shellfish. Shipwrecked Spanish explorers and later, pirates led by Jean Lafitte, also camped nearby.
Today, visitors still enjoy fishing, swimming, cycling, bird watching, hiking trails, and relaxing on the beach. The park Rangers host events, mostly on weekends, including sand castle contests, sunset paddling excursions, junior turtle patrols, beach and bay explorations, and geocaching. The campground is usually near capacity in most months, so you'll be surrounded by other campers.
Visit tpwd.texas.gov/state-parks/galveston-island/ for more information.
Also on the island's West End, is Stella Mare RV Resort, 3418 Stella Mare Ln, with 25 acres of property directly across from the beach. Recently opened in 2017, the RV park sports 195 any-size RV sites, all with 30- or 50-amp power hookups, concrete patios, umbrella holders, green space, landscaping, and water and sewer outlets stationed throughout. With best-in-class amenities that include the island's largest splash pad, swimming pool with in-pool lounging chairs, private lake and lakefront deck, playground, two dog parks, spacious bathroom and shower facilities, laundry, BBQ grills, free wi-fi and more.
The RV park is handicap accessible and also includes two fully furnished four-bedroom, three-bathroom stilt house vacation rentals with stocked kitchens, cable TV and more.
Visit stellamarervresort.com or call (409)632-7017 for more information
Another option is to enjoy the free ferry ride to Bolivar Peninsula where free camping is allowed anywhere on the 27 miles of beaches as long as you display a Galveston County issued Bolivar Beach Parking permit. Just drive along the beach and pick your piece of paradise to set up camp. Fires are allowed on this part of the beach. Conditions are primitive with only trash containers and occasional porta-potties provided. The parking permit stickers can be purchased for $10 at most stores and real estate agencies on the Peninsula, as well as the Crystal Beach Chamber Commerce office. Call (409)934-8100 for details.
If either a recreational vehicle or trailer camper is your idea of how to get close to nature, then you have six more island options: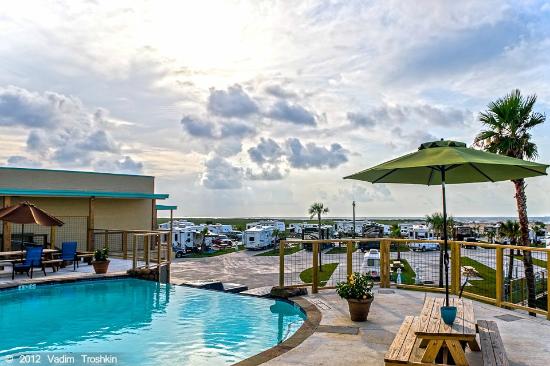 On the East End, Sandpiper RV Resort is the place to be. It opened in 2011 at the intersection of Seawall Boulevard and Ferry Road (Second Street) on the site of the Sandpiper Motel which was destroyed by Hurricane Ike.
The park has 43 pad sites with water, power, cable, and sewer connections. It's an easy stroll to the beach. On the partially gated premises, guests have access to an infinity edge pool and hot tub behind the office/lounge building, as well as restrooms, laundry room, and picnic tables.
The grounds are nicely landscaped with lawns and palms. Wifi internet access assures that netizens won't be too disconnected from the virtual world.
Visit sandpiperrvresort.com or call (409)765-9431.

On the bay side of the island, Bayou Shores RV Resort, 6310 Heards Ln., just off 61st Street, provides a great location on the shore of Offatts Bayou. A bonus for campers who bring their water toys is free use of an on-site boat launch ramp and pier. Other amenities include full utility hookups at the 84 pad lots, restrooms with showers, a playground, on-site fishing, crabbing and swimming along the shore of the bayou, a laundry room, and wifi. The on-site restaurant is currently closed.
The resort was built in the 1970's when RV's were smaller. The drive-through spots and some of the back-in spots can accommodate the larger vehicles that are popular these days, but owners should call ahead to see if they are available.
Visit bayoushoresrvresort.com or call (409)744-2837.
Moving to the island's West End, Dellanera RV Park, 10901 Termini-San Luis Pass Rd., is the first park directly on the beach off 7 Mile Road just beyond the end of the seawall. The primary amenity is a pair of boardwalks leading over the dune line directly onto 1,000 feet of sandy beachfront. The park opened in the 1970's with 100 campsites, but it was severely damaged by Hurricane Ike. Owners used the reconstruction project in 2011 as an opportunity to redesign the park to accommodate the larger campers that are popular today. Now there are 65 larger sites, all with full water, electric, and sewer hookups.
Amenities include a restroom with showers, laundry room, and playground. A pond separates the park from the main road, providing a small buffer from traffic noise.
Visit galveston.com/dellanera or call (409)797-5102.
Next up on the West End is Jamaica Beach RV Park at 17200 FM 3005. Being on the "skinny" part of the island, the park offers views of the beach and Gulf just across the road and Galveston Bay on the back side of the island.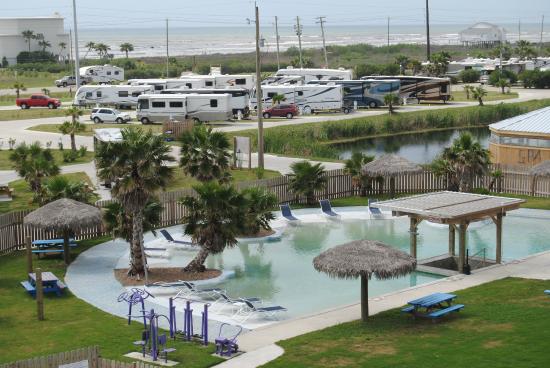 Ron and Dora Gustafson and their son Nathan moved to the island in 2006 with a dream of creating an RV park with five-star resort features. The result features 111 pull through sites with full hookups, including power, water, sewer and cable TV. They also have laundry and shower facilities and propane for those who need a top up. Besides being family owned, the park is family oriented with loads of activities for children including two pools, a hot tub, indoor infinity spa, playground, volleyball, organized water balloon fights, outdoor movie nights, a clubhouse with fitness room, Hunt Bro's pizza, and adjoining Pirates Treasure Adventure Gulf course ($3 discount for those staying at the park). Plus, there is beach access across the street and fishing in either the Gulf or bay.
Permits have been issued and work begun on a new addition to a lazy river tube ride, more bathrooms and showers, a pavilion and playground, bounce houses, and 70 more campsites.
Visit jbrv.net or call (409)632-0200.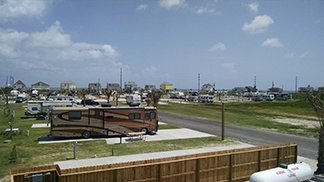 Galveston Island RV Resort, 23700 San Luis Pass Rd., is the final option heading west, nestled up to a nature preserve area for wildlife lovers. Opened in February 2015, the park is the newest on the island.
The palm-lined resort features 116 spacious, eco-friendly, pull-through sites with full hookups, including power, water, sewer, and cable TV, charcoal grills, wifi internet, restrooms with showers, a swimming pool with lounge, laundry room, propane, a clubhouse with wrap-around deck, a "bark park" for pets, on-site convenience store and gift shop, and access to 1,000 yards of beach a short stroll away.
Visit galvestonrv.com or call (409)200-2745.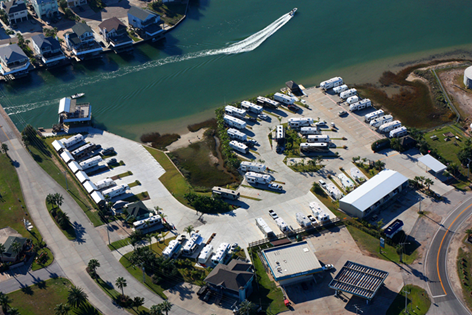 Finally, if you can't find a space on the island during busy times, the next closest option is just over the Causeway bridge at Tiki Tom's RV Park, 333 Jones Lake Rd. on Tiki Island. The park features a marina and four lighted piers stretching into Galveston Bay for fishing and boating enthusiasts. Cleaning stations are provided for lucky anglers to clean their catch.
Protected shoreline grassland areas along live oyster reefs provide bird watching opportunities. And the boathouse observation deck and palapa provide beautiful sunset and sunrise views. Other amenities include full electric, water and sewer connections, wifi internet, a clubhouse with workout room, and bathrooms with showers and laundry room.
Visit tikitomsrv.com or call (409)935-5599.
Although camping and RV sites stay full in the summer, it is quite easy to find spots during the offseason. So go camping, be a part of nature and enjoy our beautiful island paradise!