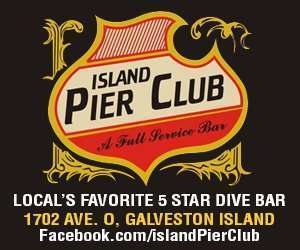 By Sissie Coomes
Ahh, breakfast, our favorite meal of the day. Something about it brings a sense of satisfaction and a great start to your day – especially a big, hearty breakfast loaded with tradition, flavor and more. That sense combined with our favorite style of food, Mexican, is a win-win combo in our book.
Here are a few of our favorite Mexican breakfast places and dishes.
El Jardin Restaurant
413 24th Street Rear, Galveston, (409)762-2864, eljardin-cafe.com
Have you driven by El Jardin lately? They painted the outside! After many, many years, the outside received a recent facelift last month and is now blue.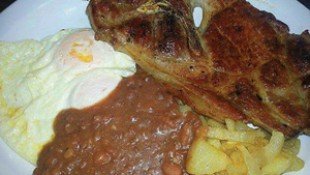 You're in luck if you are craving 'spicy' for breakfast at El Jardin. It's hard to name a favorite dish here but we love the "Tremonte," papas (potatoes) a la Mexicana on corn tortillas with two eggs on the side. The "Beef, Bacon Surprise Burrito," is a huge serving of egg, potato, bean, cheese, bacon, and beef, rolled up in a giant burrito for $4.95.
El Jardin's chorizo will satisfy your cravings and is available in a scrambled egg combo plate as well as in a burrito.
Galveston's finest – the men and women serving at the Galveston Police department – dine here often, as well as many local celebrities and thus, there are a few plates named after these regulars, such as the "Nick Plate," eggs Mexicana with carne Guisada, potatoes, refried beans and bacon; as well as the "Father Fabj Plate," chilaquiles mixed with chorizo topped with white cheese. Chilaquiles are fried tortilla chips mixed in with other ingredients, miga style.
El Jardin Restaurant was voted "Best Breakfast" and "Best Breakfast Burritos" in the area. Their flour tortillas are homemade, and made fresh daily at the restaurant. They have several breakfast plates that are all served with potatoes, beans and tortillas.
Breakfast begins at 6am and is served until 2pm Monday-Saturday. The family has been providing outstanding service to Galveston for 26 years.
The Original Mexican Restaurant
1401 Market St, Galveston, (409)762-6001, theoriginalgalveston.com
Cheese enchiladas with an over-easy egg on top along with a spicy bloody Mary make for heaven on earth for a lazy weekend morning! Served with potatoes and refried beans as well as a bottomless basket of thin, crispy, freshly fried tortilla chips, homemade spicy-and-roasty salsa and a black bean style dip, this breakfast dish is your next "favorite dish."
Another popular item on the breakfast menu is the Mexican Omelette – a light, fluffy omelette, served with bacon, cheese, sauteed onions and peppers. It comes with it's contents overflowing all over the plate. Breakfast Burritos start at $2.95 and are a good size. You can customize your perfect combination for the burrito for a little extra. Traditional menudo is also available.
The Original is open on Saturday and Sunday's only for breakfast and seven days a week for lunch and dinner. They are able to accommodate a large group quite easily. The margaritas are a favorite during happy hour with the locals and are they are "legendary."
A diner stated, "The Original can be summed up as simply as, 'super friendly service, reasonable prices, and some great Tex-Mex.'"
The Original is hidden on the harbor side of Galveston on 14th St. in a neighborhood area.
La Estacion Restaurant
2428 Ball St., downtown Galveston, (409)762-4262
A long-time locals' hangout, La Estacion is a popular, nothing-fancy, great little "hole in the wall" restaurant.
It's hard to choose which is our favorite between the Surprise Burrito (thick-cut bacon, scrambled egg, cheese, beans, fries) or the Chorizo Burrito (egg, chorizo, cheese). Both are excellent, huge and well-known around the island. The tortillas are incomparable to others and the best we've tasted; the filling is delicious, and the salsa has just enough spiciness to quench your desire for an authentic Mexican taste. The Surprise Burrito has french fries for the potatoes and is a brilliant combination of tastes.
And the best part – breakfast for less than $10 for two? Yes, please.
A side of guacamole only makes these burritos more perfect.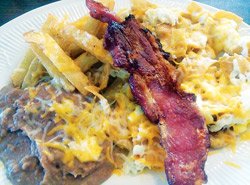 Other stand outs on the breakfast menu are the Huevos Con Chorizo, Barbacoa (Saturday and Sunday only), and the Migas with bacon a la Mexicana, which are served with perfectly crisped tortilla strips mixed with well done scrambled eggs, peppers and onions.
La Estacion offers large portions that are freshly prepared and are very delicious.
La Estacion is family owned and operated, so the service is second to none. The family is hugely passionate about their restaurant and makes sure you feel at home. They are open 6am-2pm daily, serving breakfast till 11am weekdays and all day on weekends. Most dishes are under $10.
If you go on the weekend during lunch, try the Barbacoa Torta – avocado, onion, and tomato. It's bursting at the seams, simple, and delicious – filled with savory, moist barbacoa and served on a buttery bun topped with the bare minimum of rich avocado, crunchy white onion and tomato. But we digressed into lunch, back to the topic – breakfast!
Mi Abuelitas Homestyle Mexican Restaurant (My Grandmother's)
1728 45th St., Galveston, (409)621-1616
Located in the middle of a neighborhood on 45th St., Mi Abuelitas reminds us of the food my grandma used to cook – good, down-home, authentic Mexican food. It is a great "find." Mi Abuelitas offers an array of homestyle Mexican favorites and caters to the breakfast and lunch crowd, with hours from 5am-3pm (2pm on weekends).
They offer a vast array of breakfast plates, ranging from pancakes and eggs, to Mexican specialties of chorizo and chicharróns, steak and pork chops. Weekend specials include barbacoa and menudo. Weekday specials are offered at very reasonable prices, and additional daily specials are posted on the front door.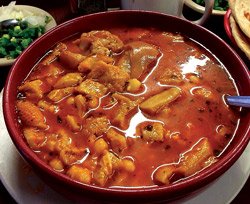 Our favorite is the Migas a la Mexicana style. This includes scrambled eggs with corn chips, tomatoes, and onion, accompanied by refried beans, potatoes, and bacon, plus delicious homemade flour tortillas. Tasty, flavorful salsa with just enough spice is served as well as a thick slice of savory, crisp bacon.
Mi Abuelita's breakfast tacos are huge and also very popular. They are available in different combinations, including barbacoa on weekends.
Menudo comes in all different versions and styles, depending on where you eat, and Mi Abuelitas is very tasty and tender with just the right spiciness. If you like menudo, you will fall in love with 'My Grandmother's."
Mi Abuelitas is a Galveston classic, serving good, fresh, handmade food with friendly and attentive service, and lots of local diners. Prices are reasonable. This family-owned and operated restaurant fills up quick and food is prepared fresh. This is definitely a "go to" restaurant when in Galveston.
Nopalera Grill Galveston
Nopalera's is known for their great lunch and dinner menu, but did you realize that they serve an awesome breakfast too? It is a breakfast hot spot for locals because the large breakfast menu offers everything from big burritos to migas to huevos ranchero and our favorite, barbacoa. The prices are great too and serving sizes are very generous. All dishes are prepared fresh and authentically, using recipes…passed down and perfected through the years.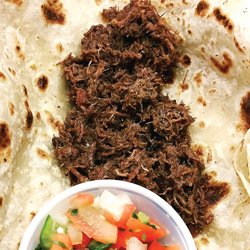 Many restaurants offer barbacoa on the island, but we have found that Nopalera's is prepared in the most authentic, traditional way – tender, shredded, juicy, and perfectly seasoned. This wonderful dish is served as a combo plate with a huge portion of barbacoa, a choice of refried or charro beans and huge handmade tortillas, which are usually served so hot that you can barely touch them. The barbacoa has a mild amount of heat and is served with enough juice for a tortilla to wipe up. Delicious!
Don't let the initial size of the restaurant surprise you when you walk in the door. There is an additional dining room in the back as well as a brand new bar. The staff is always friendly and helpful.
Henry's Mexican Restaurant
2823 Broadway St., Galveston, (409) 765-8400
Henry's place is the ultimate dive and not Mexican, but rather claims to be El Salvadoran food. That being said, it is a favorite restaurant for locals who are looking for a good deal and good food. The dining area is totally humble, you order at a counter, and the food is good with a definite multi-cultural feel.
Susie McMann stated, "The spicy green salsa is some of our favorite salsa around. It's so simple, but the spice level is so good. I always buy a quart of it to go when I'm in town. The 'Surprise Burrito' is one of the top five tastiest things on the island, in my opinion. Henry's tortillas are dense and doughy, but cooked perfectly. The eggs are fluffy, the beans creamy, the potatoes and bacon crisp, and the french fries! Oh my. Did I mention the Surprise Burrito is under $5? I can't be in Galveston and not get one."
We agree! Our second favorite meal is the Huevos Rancheros – eggs and salsa, you can't go wrong!
Suspend judgement if you usually like fancier places. Henry's is very local and has very affordable food, with a walk-up counter where you order by number and photo.
This unassuming restaurant packs a punch. This restaurant is one of Galveston's best kept secrets.
Los Compas Taqueria & Mexican Restaurant
2314 45th St., Galveston, (409)762-1140
Authentic breakfast tacos, homemade tortillas, and great salsa are all features of this small hole-in-the-wall restaurant (located in a small, converted brick home) offering breakfast and lunch daily.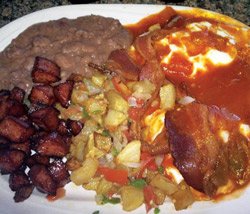 The Grande Burrito is our favorite and if you are a breakfast burrito connoisseur, you will find these at Los Compas Taqueria as big as your face and made with delicious, mouth watering, eggs, bacon, cheddar plus tons of other options.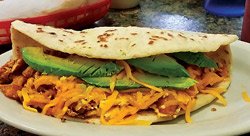 Jim Lowe stated, "Everything is served fresh and tasty. The owners are very sweet and sociable to everyone. This is a gathering spot for many regulars as it seemed every person who entered were greeted by name. I'm glad I found this restaurant, it's one of those hidden gems."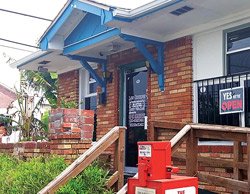 As well as the breakfast burritos, we recommend the Huevos Rancheros with bacon. If you are craving spicy for breakfast, the Chilaquiles with Green Chile Sauce are heavenly. Most breakfast plates come with refried beans, crispy potatoes, and giant hand-made flour tortillas.
On weekends, menudo and barbacoa are served.
This is a hidden gem. The parking is on the street and the building is easily missed if you're not paying attention.
Los Compas is open seven days a week, Monday-Saturday 7am-2pm and Sunday 8am-2pm.
The menu is simple but the food is outstanding.

---