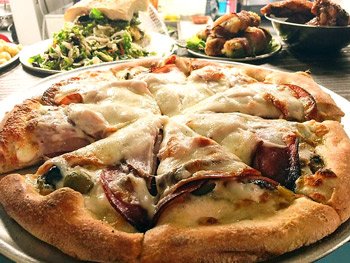 By Sissie Coomes
Recently downtown Galveston has had a huge growth spurt of new restaurants opening, and with this a nice variety of cuisines now offer diners a lot of choices. Here are a few of the recent additions.
The Gypsy Joynt Cafe
2711 Market St., downtown Galveston, (409)497-2069
"Off the beaten path but worth the detour" is a great way to describe the new addition to the west end of downtown. Located directly across the street from legendary Maceo's Spice & Import, The Gypsy Joynt hosts a huge menu – loaded with sandwiches, burgers, pizzas, wings and tons more.
"This new restaurant opened recently has all the locals talking. It has BOHO decor and a very laid back vibe. You seat yourself and order at the counter but the food is delivered to the table. We started with stuffed jalapenos, Sleazy Mac & Cheese (amazing), Jerk Burger, and a regular burger. The burgers are served with a type of flat bread roll. They are large, good, and messy with all the yummy ingredients falling off. The jerk has a slight bite to it, but was tempered with the pineapple. Dinner wouldn't be complete without dessert. We bought a sample: Willie Nelson cookie, Chocolate Chip cookie, and a huge cinnamon roll. The cinnamon roll was the best. The cookies were large and had lots of chocolate. I am guessing it would take me a least a week to work through the very lengthy menu," said diner Christy McLeon.
The funky decor and eclectic menu are very unique to the island. We recently tried the Burger with goat cheese, grilled onion and apple slices on focaccia with a side of the broccoli and kale slaw. The strawberry mint seltzer was very tasty.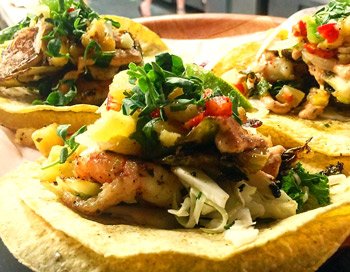 Be sure to try the Jerk Shrimp Tacos with roasted Brussel sprouts and pineapple salsa.
Gypsy Joynt is very reasonably priced, and we can't wait to go back. We are already planning what we are having on our next visit, the "Sleazy Mac & Cheese:" crawfish, bacon, asparagus, roasted red peppers, jalapenos, basil, bread crumbs all topped with avocado. Or maybe the "Mother Pluckin' Hashes:" sweet potato tots with brisket, bbq sauce, cheddar, spicy gypsy relish, bacon, two eggs, and avocado. Or the "Hey Jake in Jamdung:" sweet potato tots, chicken, onion, jalapenos, pineapple, roasted red peppers, homemade jerk sauce, muenster cheese, bacon, two eggs and grape salsa. It is so hard to decide!
Be sure to note that the owners say that, "We're looking for fun, lively bands that don't suck." For live music inquiries contact gypsyjoyntbooking@gmail.com.

DTO Galveston (Daiquiri Time Out)
2701 Market St., downtown Galveston, (409)497-2760
Brad Stringer and business partners Ian Ramirez and Robert Hollis are the magicians behind DTO (Daiquiri Time Out), an uber-cool bar in downtown Galveston, steps away from Maceo's Spice & Import and The Gypsy Joynt. The speakeasy serves up imaginative, craft cocktails using fresh-squeezed juice and house-made spirits. Whipping up endless versions of the classic rum cocktail, including frozen varieties, the trio also has a curated menu of craft cocktails. While DTO certainly creates a memorable daiquiri, patrons will also enjoy an array of other adult beverages.
This great new bar in Galveston offers an extensive menu of cocktails. On hot summer days, you will want to try DTO's perfect 1920's era cocktail, Queens Park Swizzle. Other drinks to check out include the Jungle Bird or the old-fashioned with Knob Creel.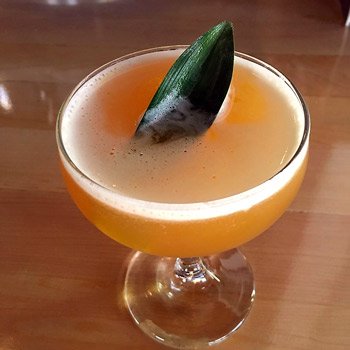 Houston's Thrillist.com named Brad Stringer as one of the Best Bartenders in the Houston area! "After honing his skills as a private bartender and at hot hangouts like Boheme and Johnny's Gold Brick, Brad's now the owner/operator at his new beach dive, Daiquiri Time Out (DTO). He's dead set on introducing Galveston to classic, island-style cocktails made with fresh juices and house-made syrups. His specialty cocktail? The Pineapple Daiquiri: Plantation Pineapple, pineapple, lime, and sugar; and Zombie on tap: Plantation 3 Star, Eldorado 8 year, Plantation overproof, lemon, lime, pineapple, passion fruit, bitters, turbinado."
DTO is open daily 4pm-2am.
Celebrate DTO in Galveston's official Grand Opening on Sunday, August 14th. "Johnny's Gold Brick" bartender will take over, and Fat Cat Creamery will be slinging handcrafted ice cream. "Wylie St. Tacos" will be joining the fun as well as Grease Trap Syndicate spinning old school hip hop on vinyl. The party starts at 4pm.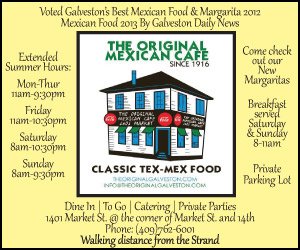 Harborside Mercantile
2121 Strand St., downtown Galveston, (409)770-0690
Harborside Mercantile is a quaint new restaurant brought to you by Ricky Craig, of Houston's Hubcap Grill, and Joshua Martinez, former Chicken Ranch owner. The new eatery features Southern coastal food, including homestyle Po' boys, muffuletta sandwiches, and seafood platters. Located across from the new Hendley Green, Harborside Mercantile is in the middle of the downtown Strand shopping district.
From Houston Press, "People are going to have to start thinking of Ricky Craig as a restaurateur, not just as Houston's famous burger man. Show up hungry, because chef Allen Duhon's Creole and Gulf seafood-focused menu is every bit equal to the drop-dead gorgeous setting."
And we agree. This restaurant features crystal chandeliers, solid wood cornices and tall, glass windows that let in a lot of light and a bright and cheerful personal tableside atmosphere.
From the luxurious Smoked Duck and Andouille Gumbo to the head-on barbecued Gulf shrimp in an addictive sauce with shrimp stock, garlic, shallots, butter, black pepper and some housemade Worcestershire sauce, the menu shows a love of both food and quality. Charred lemons and crusty garlic bread are served on the side. The bread is important, for diners will want to mop up every drop of sauce after the shrimp are gone!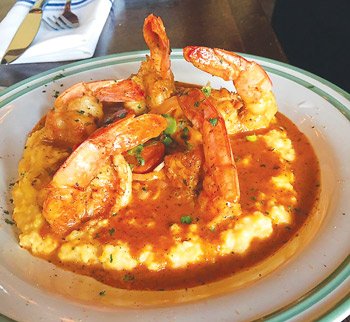 Traditional (and huge) muffulettas, with the toasty, lighter-than-air bread, filled with provolone, mortadella, and ham and lightly dressed with Duke's Mayonnaise, are also available. There's cornmeal-crusted catfish, oysters, dirty rice with smoked duck stock, ground chicken hearts, turkey neck meat and chicken livers too.
Be sure to try the Bourbon & Sugarcane Sticky Ribs for an appetizer. The Gulf Oyster Platter is a favorite, as well as the Harborside Surf and Turf. Fresh fish of the day is also excellent too. Daily specials are always good. Recently Harborside Mercantile's Summer Peach and Heirloom Tomato Burrata Salad hit the spot on a hot summer afternoon.
The Mercantile purchases only the freshest local seafood each day and lets the day's catch show up as specials. And the meats for the Po' boys are smoked on site. Fried soft crab, fried green tomatoes, Crab Mac 'n cheese with garlic butter loaf bread, Gulf snapper, and Texas ribeyes are also highlighted.
Prepare for some of the finest cuisines – and some of the most exceptional customer service – you'll find anywhere. Wine and beer are available.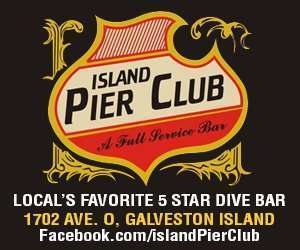 ZaZa Bar & Bites
2219 Postoffice St., downtown Galveston, (409)497-2740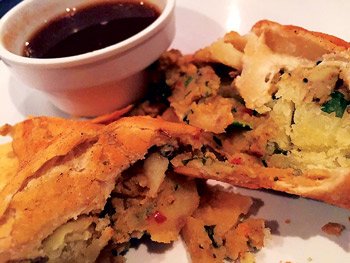 ZaZa Bar & Bites features "Indo-fusion," serving fine, contemporary Indian cuisine with locally-sourced meats and vegetables. ZaZa's is a small venue with a small menu boasting with flavor.
If you are not sure what to order, we can recommend a few things: number one would be the Butter Chicken, which was absolutely delicious. Our favorite is ZaZa's Trifecta Delight which is a great way to taste several things on the menu. It is available with any three menu items and served with naan bread and rice. You can choose from Potato Bhaji (potatoes in Indian spices), Daal (a delicious stew of lentils and spices), butter chicken, or Shrimp Curry Masala.
ZaZa's Tandoori Chicken Tacos are unique. The Naanzza (pizza on naan bread) is a good option too. It is topped with caramelized onions, dates, brie, and chicken.
From Susan Smithson, "Our appetizer for the evening was the Texas Mosas. Man, those things are packed with flavor paired with a delicious dipping sauce – this is a must go to dish. The owner was all around and an awesome host, explaining everything in detail about the selection of meats, spices, and preparation of each dish. Shrimp Curry Masala is a favorite. This dish flavors married together perfectly. The ginger left a lingering comfort from the heat on this absolutely perfect dish. We were also advised if the temperature was not enough that they can definitely turn up the heat."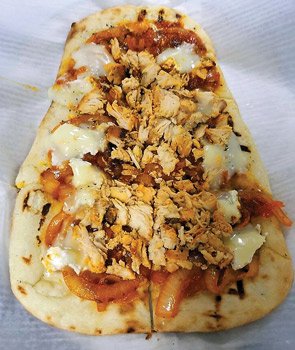 Along with meat entrees, ZaZa also offers a great selection of vegan – no meat, dairy, or animal byproducts recipes – as well popular Paleo-friendly offerings. A Kid's menu is available.
The owner is passionate about his food and truly cares that you have a good experience. The staff is very friendly and knowledgeable. The service is efficient and professional. ZaZa has a simple, friendly, decor that works well at the Postoffice location. Bartender Matt is a favorite among the locals and always makes sure that you have an excellent experience.
ZaZa is also quickly becoming famous for its happy hour, featuring a full bar and great daily specials.
There is inside and outside dining, both under a nice covered patio and on the sidewalk if you are looking for a more casual experience. ZaZa is open Wednesday-Friday starting at 4pm, and Saturday and Sunday starting at 11am.

Taquilo's Tex-Mex Cantina
2101 Postoffice St., downtown Galveston, (409)497-4279
Galveston Restaurant Group's newest addition is Taquilo's Tex-Mex Cantina, located in the heart of downtown Galveston at the corner of Postoffice Street and 21st.
Taquilo's traditional Tex-Mex menu promises you will not be disappointed if you are craving Tex-Mex. We highly recommend the Fiesta Ceviche Combo: a cup of each of Taquilo's ceviche (fish, shrimp, crab). If you want something a little spicier, try the Gulf Shrimp & Lump Crab Coctel which is marinated in a traditional habanero cocktail sauce.
T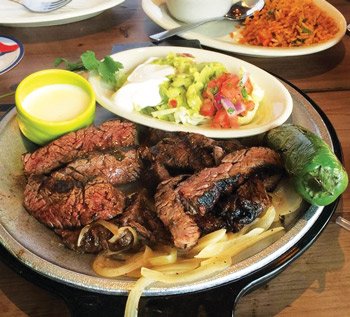 aquilo's chicken, beef or shrimp Fajitas and brisket tacos are a good choice as well as the chicken Tinga Enchiladas.
The Gulf Snapper Tacos are unique and very flavorful and well spiced; the Burrito Grande con Queso hosting your choice of ground beef, chicken Tinga, pork carnitas, or beef brisket come served up in a huge flour tortilla.
Frank Castillo said, "I was impressed with the attention to detail from the beautiful bright colorful decor, all the way down to the garnishes on the drinks. My server was fantastic and the fajitas were amazing. I opted for the beef and chicken fajita combo which was more than enough to feed two. The chili con queso was exceptional and the chips were served warm and crispy. Love the red sauce – it is addictive!"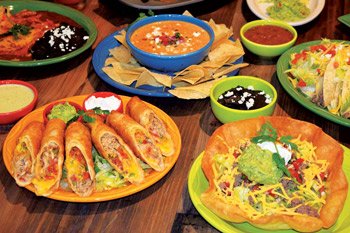 Portions are big and service is fast and attentive. There are tables inside and outside on the sidewalk, as well as a nice size bar area.
Specialty cocktails include a divine watermelon margarita and mojitos! Tequila flights are awesome. And if that is not enough, Jose Cuervo is the restaurant's house-level tequila.
Created by Johnny Smecca, Joey Smecca, and Danny Hart, they opened their first restaurant, Saltwater Grill, in 1998, located in the heart of the Galveston Arts & Entertainment District. Additional Galveston Restaurant Group properties include Nonno Tony's, Papa's Pizza, The Gumbo Diner, Mario's Seawall Italian Restaurant, Little Daddy's Gumbo Bar, and Sky Bar Steak & Sushi.

---