By Gini Rainey
Paradox
By  Catherine Coulter
This is one gripping, page-turning novel that brings a small town police chief and the FBI together to try and figure out who's been killing people and dumping their bodies into beautiful Lake Massey.  With a great job at character development and a palpable feeling of dread that oozes off the page, Coulter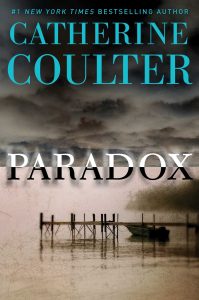 takes her readers on a chase through the back woods of Maryland all the way to Washington, D.C. and back again.
Beginning with the nearly successful kidnapping of FBI agents Sherwood and Savich's son and Police Ty Christie witnessing a murder and the dumping of the body across the lake from her cabin, the action is non-stop and spellbinding.
With great skill and some spine-tingling moments, Coulter has created yet another gripping and suspenseful novel that has not just one, but four murders wrapped around one another committed by the sick and twisted mind of a mental hospital escapee.
This is definitely a read well worth the time and one you should grab a cup of pumpkin-spiced mocha or a couple glasses of red wine and curl up in your comfy chair to enjoy.
5 of 5 – Copyright 2018 – Simon & Schuster
Big Wonderful Thing
by Stephen Harrigan
If you're looking for a light read, this book would probably not be the best choice for you.  However, if you are interested in learning about all the ins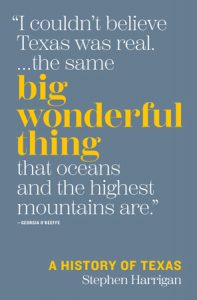 and outs that have made Texas the great state that it is, Harrigan's book will definitely give you all of that information and more.
With 944 pages, Harrigan tells the history of Texas from its earliest days to pretty much current times in his inimitable fashion.  Weaving facts together in an easy to read and understand fashion, this book is more like a novel, but pretty much based on the hard, cold facts of how this state has become a fine blend of all kinds of people doing all sorts of things.
With lots of photos and diagrams, this book is a virtual compendium of all that's out there about Texas between two covers.  Richly referenced and indexed, Big Wonderful Thing will be an historically resource book for many years to come.
Harrigan, a long-time writer for Texas Monthly has scored a direct hit with this book that was published by the University of Texas Press.  Researchers, students, history buffs, and folks who love anything Texas need to add this volume to their libraries.
5 of 5 – Copyright 2019 – University of Texas Press
---