AlbatrossBar  –   815 21st St.,Galveston   –   409-765-5778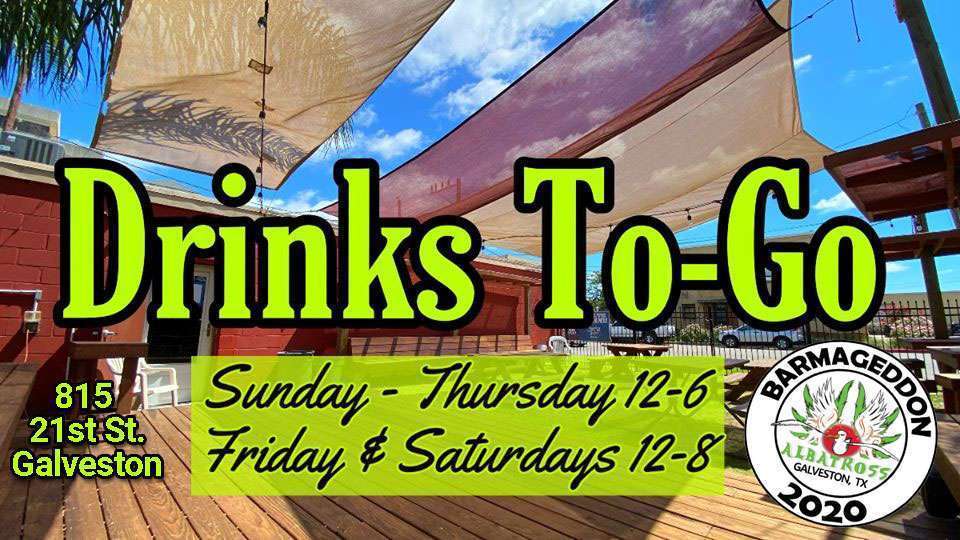 Galveston's 32 miles of beaches are wide open and a great way to beat the heat this summer. With a full line-up of special events and activities, a trip to Galveston Island is more than just a day at the beach.
Health and safety are the top priority of the Galveston Park Board and staff have adopted rigorous cleaning procedures at its parks. All park staff wear face masks and gloves, clean bathroom surfaces on an hourly basis and ensure they are fully stocked with soap and paper towels. Increased trash removal, plenty of hand sanitizer and daily sanitation of all park equipment are just a few of the heightened sanitation practices implemented at the beach. Beach Patrol will be on hand to enforce social distancing and provide lifeguarding services.
Family Fun Activities at Stewart Beach
Brand new this year, slide through summer at Stewart Beach on the giant 30-feet-tall waterslide. It is only $10 for unlimited rides all day long. As if the slide isn't enough of a thrill, visitors to Stewart Beach can take flight on a helicopter tour for a birds-eye view of the island operated by Oasis Services. Beach supplies can be purchased at Cristo's Cabana located inside the pavilion and beach chairs and umbrellas can be rented from John's Beach Service.
Visitors to Stewart Beach can also participate in Sandcastle Days. This free, family-friendly event series teaches beachgoers how to create spectacular sandcastles with building lessons instructed by professional sandcastle builders. The Stewart Beach lessons will take place on Saturdays at 11 a.m., 1 p.m. and 3 p.m. June 6 — Aug. 22 on the sand near the pavilion. Registration is not required for the lessons and equipment will be provided on a limited basis. Participants are encouraged to bring their own sand buckets and shovels.
Family Beach Challenge
Giant battleships, huge bean bags and limbo showdowns are all part of the Galveston Family Beach Challenge offered Sept. 6 at Stewart Beach. The challenges, which take place from 11 a.m. to 5 p.m., transform a portion of Stewart Beach into a gigantic obstacle course, allowing families to compete in life-size versions of classic favorites like giant Jenga and dominoes, sack races and sandcastle building. Participants will have the chance to win the grand prize of a $500 gift card plus tickets to popular Galveston attractions. For rules and to register in advance, visit www.galvestonchallenge.com.
Double Feature Drive-In Movie
On Aug. 29, drive down I-45 and drive-in to Stewart Beach to catch a double feature. Gates open at 7:30 p.m. and admission is $15 per vehicle. The first movie starts at 8 p.m. and the second begins at 10:30 p.m. Movie titles will be announced closer to the event date.
Bucket Brigade
Learn what is in the water, how seaweed helps beaches, and more with Artist Boat's Bucket Brigade. They offer free interpretive beach tours on Saturdays and Sundays through Aug. 30, 2020. Explore the creatures and features that make Galveston beaches unique with hands-on activities. Bucket Brigade beach tours are free for the public, last approximately 45 minutes, and are offered at three locations island-wide. Pre-registration is required and all equipment is sanitized before and after use. To register, visit www.artistboat.org/bucket-brigade/.
Tour locations:
Stewart Beach, 201 Seawall Blvd., Galveston TX 77550 @ 10a.m. & 11 a.m.
Midtown, 5600 Seawall Blvd., Galveston TX 77551 @ 1 p.m. & 2 p.m.
Pirate's Beach, 4245 13 Mile Road, Galveston TX 77554 @ 3:30 p.m. & 4:30 p.m.
East Beach
One of the most expansive beach layouts on the island. The park has all of the same services and amenities as Stewart Beach but is the only beach in Galveston that allows alcohol. Beachgoers can grab food and drinks at the top of the pavilion or order from the beach in their chair and umbrella all from East Beach Cantina and Rentals. For a unique beachside tour, guests can take a ride with Galveston Island Horse and Pony Rides operated out of the far east corner of the beach.
Seawall Urban Park
Stretching more than 10 miles it has plenty of beach and the nation's longest continuous sidewalk offering easy access to the island's many beachfront restaurants, resorts, and tourist attractions. There are several businesses operating right on the beach—eliminating the need to go anywhere else. Vacationers can drive down the Seawall and look for the rows of umbrellas and chairs. From stand-up paddleboard rentals at SUP Gulf Coast near 26th and Seawall, to jet-ski rentals at Beach Service near 39th and Seawall, there are plenty of thrill-seeking opportunities.
Fishing at Seawolf Park
Seawolf Park is an amazing spot to spread out and enjoy the bayside of Galveston. Located on Galveston's Pelican Island on a former immigration station site. The park offers one of the island's most popular fishing piers which will be first come first serve to adhere to social distancing standards. Bait is available for purchase at Seawolf Park Bait. With picnic sites and a playground, this is the perfect place for the family post-quarantine to soak up some island sun while surrounded by views of the historic ship channel.
Dellanera RV Park
It does not get more beachfront than Dellanera RV Park. The RV sites are properly spaced to allow for social distancing and promotes 1,000 feet of sandy beach. The sites provide service utilities, water, sewer and electrical service. Each site features its own picnic table and barbeque pit. The beach at Dellanera includes picnic sites and a pavilion with showers, laundry facilities and gift shop.
Beyond the Beach
Galveston Island is more than just a beach-town. It is a cultural experience teeming with history, flavor from all over the world. From restaurants, shops, galleries, and museums— a visit to Galveston Island is a trip back in time best explored over multiple-days. Large attractions such as Pleasure Pier, Moody Gardens and Schlitterbahn make for great family fun. Fishing charters and dolphin tours are an excellent way to experience Galveston's waters—bay to gulf.
About Galveston Island
Galveston Island is a historic beach town located on the Gulf of Mexico just 50 miles from Houston. The island is best known as a vacation destination, offering 32 miles of beaches, a variety of family attractions, Texas' premier cruise port and one of the largest and well-preserved concentrations of Victorian architecture in the country, including several National Historic Landmarks. Galveston Island is home to popular amusements such as, Moody Gardens and Schlitterbahn Galveston Island Waterpark, as well as a variety of museums and recreational activities from surfing to birding. For more information on Galveston Island visit www.galveston.com or call 1-888-GAL-ISLE.
---