By Kimber Fountain, Photos by Christa Schreckengost
Mardi Gras season is in full swing and in the spirit of celebrating everything Louisiana, there is no better way to gear up for (or recover from) the festivities than with authentic Cajun cooking. From Gumbo and Etouffee, to Beignets and Chickory Coffee, New Orleans specialties can be found all over the Island.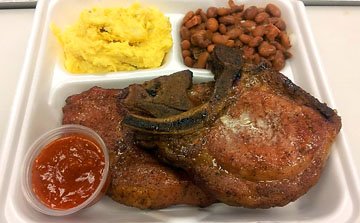 Leo's Cajun Corner
An Island favorite for nearly 25 years, Leo's Cajun Corner is the ultimate embodiment of Cajun cooking, from their authentic recipes that date back five generations, to their on-site smokehouse that produces mouthwatering jerkies and boudin, to the fact that the entire operation is truly a family affair. For this particular family, learning to properly execute meats in a smokehouse and the smell of Cajun cooking wafting through the Louisiana woods were distinct facets of their Louisiana origin. But they soon found that what was common fare to them was in high demand in their regular vacation spot, also known as Galveston Island. Thus when the opportunity presented itself, Leo & Susan Mercantel moved to the Island specifically to open a restaurant, and have been active in the daily operations, along with their son Jody, since it opened in 1991.
Leo's Cajun Corner is the home of what is unquestionably the best Crawfish Etoufee on the Island, and their signature Riblets are porky perfection. The entirety of their menu is both large and varied, but all of it is made with the freshest and finest ingredients available, and offered at prices that are insanely low compared to the quality. Fried Catfish and Shrimp, Brisket, and house-made sausages are served as plates or sandwiches and accompanied by authentic Cajun side dishes like smoky baked beans and tangy potato salad. For the complete Cajun experience, let Leo's put the finishing touch on your meal with their homemade bread pudding, banana pudding, and carrot cake.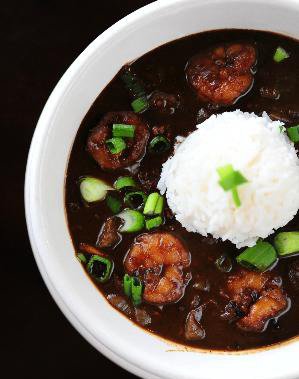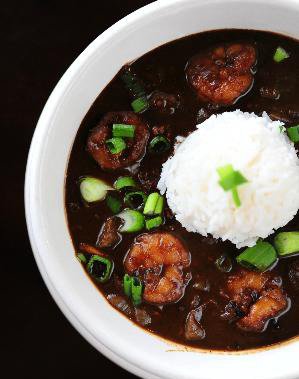 Boudin, crawfish tails, jerky, and sausages are made fresh daily and are readily available for bulk purchase, and are a fabulous way to add a little down home flare to your Mardi Gras parties. Leo's also carries a generous selection of hard-to-find hot sauces from Louisiana.
3201 Broadway, (409)765-5151, www.leoscajuncorner.com,
Open Monday-Saturday 7am-7pm, Sunday 10am-5pm
Little Daddy's Gumbo Bar
An original concept of Galveston Restaurant Group, Little Daddy's Gumbo Bar is known for their signature Steam Kettle cooking, a style of preparation predominantly associated with the Big Easy. Elevating it to a culinary art form, Gumbo Bar dishes up massive kettles of assorted seafood stews, ciopinno, and their award-winning gumbo, available with a variety of seafood, chicken, and sausage. Voted "Best Gumbo" in the 2014 Best of Galveston Awards, their impressively large bowl of gumbo does not just start the meal, they finish it, or better yet stands as a meal in itself.
For those who desire to be a little more "hands-on" with their meals, Gumbo Bar also puts together authentic po' boys, which are served on freshly baked baguettes slathered with a Tabasco® infused mayonnaise for that extra Cajun kick.
2101 Postoffice St., (409)744-8626, www.littledaddysgumbobar.com, Open Sunday-Thursday 11am-10pm, Friday-Saturday 11am-11pm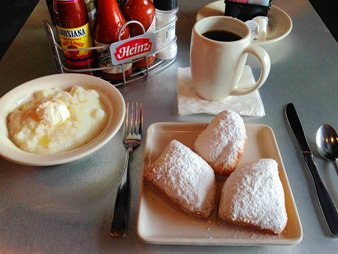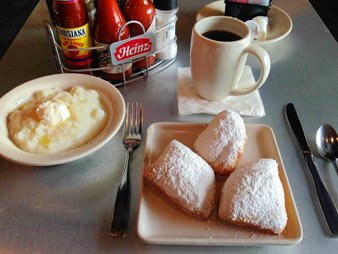 Gumbo Diner
An expansion of Gumbo Bar's concept, Gumbo Diner is the newest addition to Galveston Restaurant Group's family of concepts. Not only is it the only restaurant within the group that serves breakfast, they serve it all day. That is important, because their breakfast menu includes the illustrious Beignet, a delightful delicacy so intricately tied to New Orleans culture that no list of Cajun cuisine would be complete without it.
Café Du Monde in New Orleans is the most widely known for purveying these deep-fried, powdered-sugar-covered morsels of greasy goodness, but Gumbo Diner will undoubtedly remain uncontested as "the" place for beignets on the beach.
3602 Seawall Boulevard, (409)762-3232, thegumbodiner.com, Open every day 7am-11pm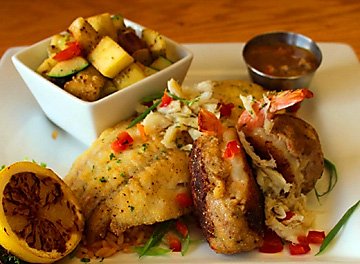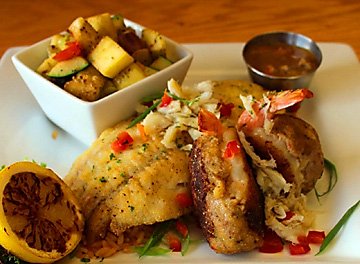 Cajun Greek
The eclectic mix known as Cajun Greek has been delighting Island diners for over two decades with its unlikely fusion of the best of Cajun, Greek, and American cuisine. Rich Mediterranean fare and Gyros share the menu with equally flavorful Cajun interpretations of fresh Gulf seafood, together with burgers and comfort food for the less adventurous.
House specialties include Boiled or Fried Crab, Boiled Crawfish, and their signature Seafood Gumbo, and unique offerings meld distinct Louisiana flavors with All-American comfort foods, like the Monday's lunch special of Cajun Chowder, or Tuesday's Cajun Mac & Cheese, a creamy combination of smoke Gouda, crawfish, and Andouille sausage. Po Boys are piled high with your choice of shrimp, oysters, catfish, chicken, or boudin, and the appetizer menu is just as appealing with inclusions like Spicy Peel-and-Eat Shrimp and the jalapeno-stuffed, bacon-wrapped Shrimp Diablo, served on a bed of Cajun rice. For dessert, Cajun Greek offers such Southern favorites as Red Velvet Cake, Key Lime Pie, and Carrot Cake.
2226 61st Street, (409)744-7041, www.cajun-greek-seafood.com, Open Sunday-Thursday 11am-9pm, Friday-Saturday 11am-10pm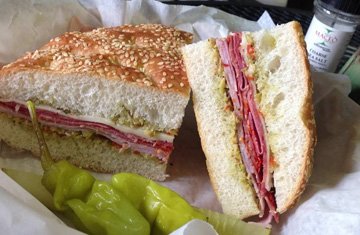 Maceo's Spice & Import Company
Perhaps it may seem strange to see an Italian eatery and spice shop on a list of Cajun delicacies, until you learn that Maceo's is the only restaurant in town to offer one of the most iconic New Orleans delights, the Muffuletta. Entirely Italian in its make-up, the Muffuletta is a sandwich served on a round loaf spread with a marinated olive salad, then layered with genoa salami and ham between mortadella, provolone, and Swiss cheeses. Interestingly, however, you will find no Muffulettas in Italy, and that is because it originated in New Orleans at the Central Grocery in the French Quarter. Spurred by an influx of Italian and Sicilian immigrants, local bakeries began to spring up that produced Muffuletta bread, a traditional round Italian loaf which they would often sell to local grocers. One of those grocers was Salvatore Lupo, the owner of Central Grocery. Lupo was frequented by immigrant farmers who would buy the bread, along with meats, cheeses, and pickled vegetables, then eat them separately, antipasto style, which was quite a difficult feat without tables and chairs. For convenience, he suggested splitting the bread open and layering all of the ingredients together to make it easier to eat, even though it was not traditional. Soon he began making the sandwiches himself, and eventually they came to be known by the name of the bread as more people began to walk in and simply order a "Muffuletta."
Maceo's serves up the Muffuletta as one of their signature dishes, and it is indeed the real deal. Made from authentic, imported meats and cheeses piled high on homemade bread, it can be served warm or cold as it is traditionally. The authentic olive tapenade is made in-house from lighter green olives, which are marinated in such a way that its use as a sandwich spread is enjoyable even for those who do not typically like olives.
For the Mardi Gras festival season, Maceo's will also have King Cakes available for special order, as well as party trays with your choice of Muffuletta, meat and cheese, or antipasto, or a mix-and-match of any or all of them.
2706 Market, (409)763.3331, www.maceospice.com,
Open Monday-Saturday 11am-5pm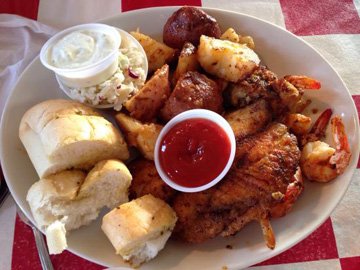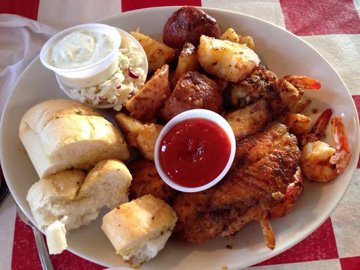 Benno's on the Beach
Galveston's oldest and longest-standing Cajun restaurant is a little gem on the Seawall called Benno's. Namesake Benno Deltz and his son Tracy have been in operation since 1983, infusing the Island with their purely original, yet purely Cajun, palate of spices. One or both of the two can still be found at the restaurant every day, overseeing the reproduction of Benno's recipes that the man himself formulated from his love of Cajun flavors, and perfected over the restaurant's 32 years.
Benno's is one of the top destinations in Galveston for Boiled Crawfish, a Cajun favorite whose popularity spread so quickly and was embraced so fully down the Gulf Coast that we cannot even imagine life without it. They are also lauded for their amazingly fresh and perfectly seasoned shrimp and flounder, with succulent local Galveston Bay and Gulf seafood providing a perfect canvas for Benno's house blends of Cajun spices. Benno's also boasts other Cajun favorites like Fried Crawfish Tails, Jambalaya, Crawfish Etouffee, and Red Beans and Rice.
Louisiana definitely provides the flavor, but it is no doubt further embellished by the ambiance of the Island. Benno's is perched upon the Seawall, providing diners with a stunning view of the Gulf. And assure yourself in advance that the beauty is real, this will lessen the likelihood of being tempted to rub your eyes while eating boiled crawfish.
1200 Seawall Boulevard, (409)762-4621, bennosofgalveston.com, Open Sunday-Thursday 11am-10pm, Friday-Saturday 11am-11pm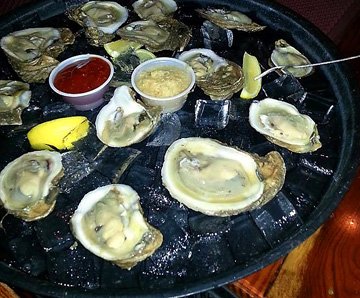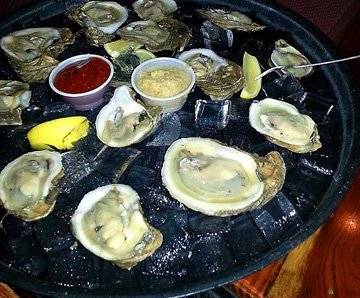 The Black Pearl Oyster Bar
Black Pearl is the creation of local restaurateur Rudy Betancourt, who is also responsible for the local Island hot spot, the Press Box. Although lauded as more of an oyster bar than a Cajun restaurant, the menu definitely resonates with a New Orleans vibe. All of the recipes were developed by Rudy himself, down to the spice rubs and sauces. One of their most notable favorites is The Bounty Mix, which piles a steaming, blackened mix of crab, shrimp, calamari, and crawfish onto a bed of fluffy white rice.
Black Pearl also ladles up an excellent Seafood Gumbo, and they are one of the few seafood restaurants to serve oysters on the half shell year-round. When the temperatures of local waters get too high for oysters to be harvested from Galveston Bay, they ship them in daily from other beds along the Louisiana Gulf Coast. When served raw the oysters are shucked to order, but the Rockefeller-esque creations that hail from the kitchen are another of the Pearl's stand out delicacies. The Oysters Haelen, named after Rudy's daughter, are baked and smothered with crabmeat, bacon, cheddar cheese, and a spicy, homemade tomato sauce.
327 23rd Street, (409)762-7299, Find them on Facebook,
Open Monday-Saturday 11am-10pm, Sunday 12pm-10pm
Star Drug Store
Star Drug Store is a one-stop sweet shop for everything ice cream, milkshake, and soda jerk related, and they also have incredible sandwiches and breakfast. But they round out our Cajun list with their service of another New Orleans specialty, Chickory Coffee, also known as the official Mardi Gras hangover cure. Chickory is the root of the lettuce plant endive, which was originally roasted and added to coffee for the sole purpose of stretching out the supply during lean times in the 19th century. The process began in Holland but was made incredibly popular in France during the French Civil War (1792) when coffee supplies were limited, and during the American Civil War, chicory became an important addition when federal blockades prevented foreign ships from docking in New Orleans.
However what started out as a means to overcome economic scarcity has developed into a full-blown New Orleans trademark, and its fame is also credited along with beignets to Café Du Monde in the French Quarter. Star Drug Store brews their chicory coffee to order and serves it in your own personal French press, along with a side of evaporated milk.
510 23rd Street, (409)766-7719, www.galvestonstardrug.com,
Open Daily 7am-3pm

---