With over 120 distinct resources to choose from, we have something that's sure to interest you!
Do you need live, online tutoring assistance, or does your homework essay need to be proofread?
Perhaps you have a vehicle you've been restoring, and you need to find a specific schematic about it?
Maybe you want to learn a brand new language and you aren't sure where to start?
What about looking up mutual fund ratings, financial analyses and investment reports?
Genealogy and ancestry, art appraisals and auction records, case laws and trial court orders… the list goes on!
Our most popular online resources, like Hoopla and Libby (formerly Overdrive), provide you with e-books, audiobooks, movies, and T.V. shows, but let's look at ones you may not have seen before: Newspaper Archives, FamilySearch, Ancestry, AskArt! and WestLaw.
Read current magazines online
There are more 60 popular titles to choose from at http://rosenberg.rpa.dynixasp.com/rparose/webauth.exe?rs=rbd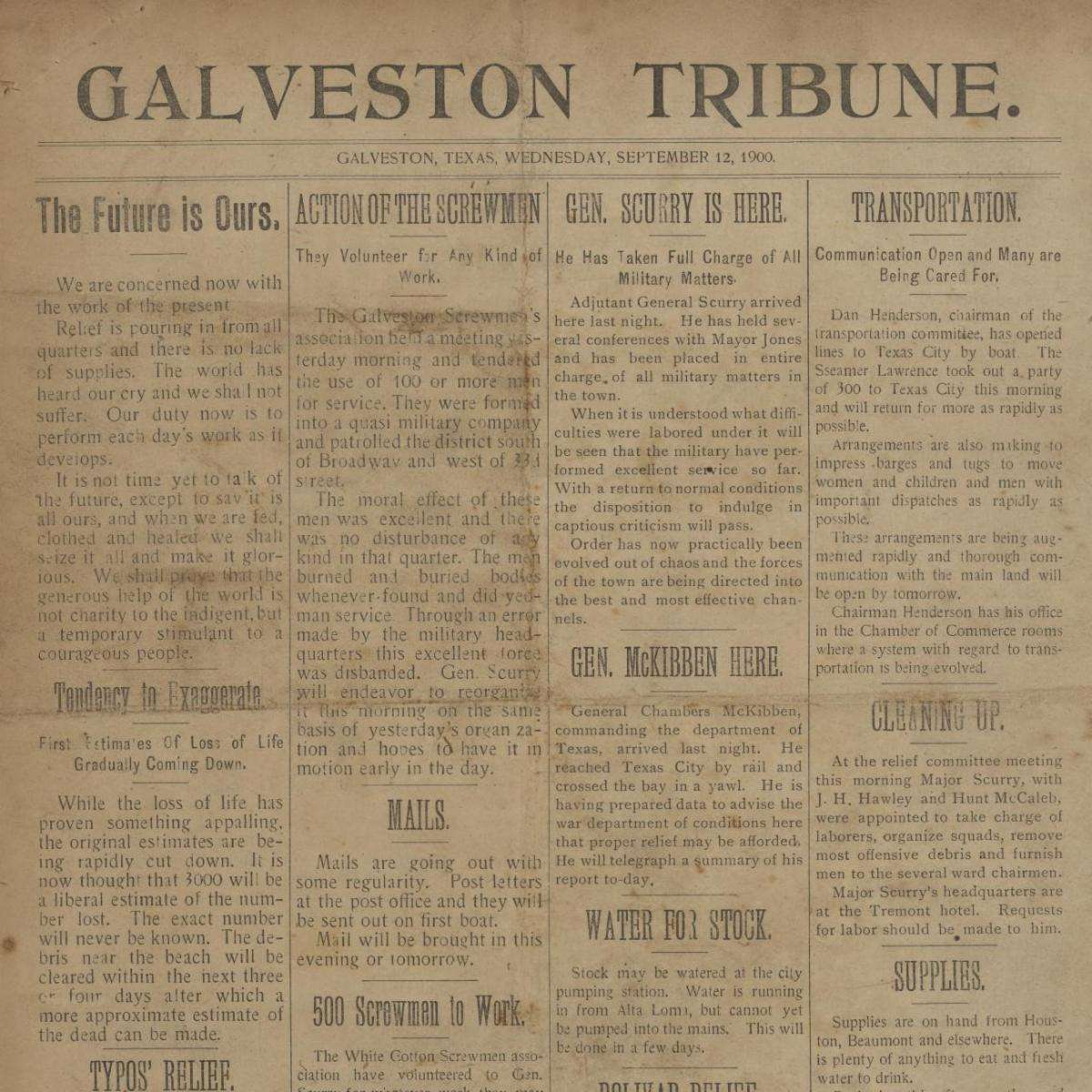 Searching the Galveston Tribune Newspaper – Workshop Now Online!
The Galveston and Texas History Center's latest workshop, Searching the Galveston Tribune, is now available on YouTube. Use the newly digitized Tribune to start your research on people, places, and events in Galveston from 1885 – 1904, including the 1900 Storm. This is a great resource for genealogy and house history!
The Rosenberg's copies of the Tribune are currently being digitized at the University of North Texas as part of a grant-funded project to preserve historical newspapers. This project is made possible by a grant from the U.S. Institute of Museum and Library Services (Texas State Library and Archives Commission, grant number TXT-20007). (2020) Call (409) 763 – 8854 ext. 126 or email gthc@rosenberg-library.org for more information.
The Newspaper Archives contain over 2 billion pages of historic newspapers, including 225 different papers within Texas. Some papers even date back to 1813! The newspapers are an excellent source of general historic information and genealogical information. Sometimes it's fun just to browse and look at how things used to be – especially advertisements! This free database is available in your home with your Rosenberg Library card.
FamilySearch and Ancestry are two of the resources you will need to consult if you want to do some genealogy research. FamilySearch is a free resource produced by the Church of the Latter Day Saints, the experts in genealogy. Ancestry is well known for the amount of records and tools that are available for use. Usually Ancestry is available for in-library use only; however, due to COVID-19, Ancestry has made their resource available outside of the library!
Two other databases that are in-library use only are AskArt! and WestLaw. AskArt! allows patrons to search for the value of a work of art, get biographical information on the artist, find out how much the piece of art sold for at auction, and more. WestLaw replaces dozens of legal books and makes them searchable in a comprehensive resource. If you need to use either of these resources, you can soon! The Rosenberg Library will be open on June 1st for limited services, including the Computer Lab. You can pay us a visit and check out all that we have to offer.
All of these incredible online resources, available for FREE to you as a patron of the Rosenberg Library with your library card! Check out detailed descriptions of every resource by clicking here: Learn about our resources here.
Don't have a library card?
Call our Circulation Desk at (409) 763 – 8854 ext. 111 to get yours for free at: Temporary Card

---