By Tena Jerger, Charles Toft
"Original minds are not distinguished by being the first to see a new thing, but instead by seeing the old, familiar thing that is overlooked as something new." – Friedrich Nietzsche
Can a singer-songwriter be an unsung hero? Gabe Wootton is one of the stalwart figures keeping the reach of Texas country-folk music alive, a familiar face in small rooms around the state and a man whose deceptively simple tunes always pack an emotional punch. 
"From the piney woods of East Texas to the flat lands outside Lubbock, from the rolling prairies of Central Texas to the sandy shores of the Virgin Islands, Gabe Wootton has covered more than a few miles. With an eye on the horizon and an ear in the wind, he has found melody in the mundane and rhyme in the hum of life. A sketch of scenes in passing, character studies of the broken and the jubilant, triumphant tales of ruin to joyful lamentations of woe, Gabe's songs run the gamut incorporating elements of all the music he has stumbled upon throughout his life." (Old Quarter Acoustic Cafe website)
Wootton is appreciated all over Texas, but Galveston is something of a home away from home due to his frequent appearances at Old Quarter Acoustic Cafe, where he hosts a monthly songwriters' gathering. It provides him the opportunity to not only get his own music out in front of an audience, but to put his personality to work as a host, colleague, and mentor. 
Wootton's next appearance at Old Quarter will be November 29th, at which time he will be making a live recording. Tickets are $15 in advance and $20 at the door. They include a Gabe Wooton t-shirt and a digital copy of the recording when it's released. 
Gabe Wootton spoke to Galveston Island Guide recently about his philosophy of music, songwriting, and work.
Island Guide: Where are you from?
Wootton: Ponta, Texas.
Island Guide: How long have you been playing music?
Wootton: Off and on, almost 20 years. I am a solo performer mostly.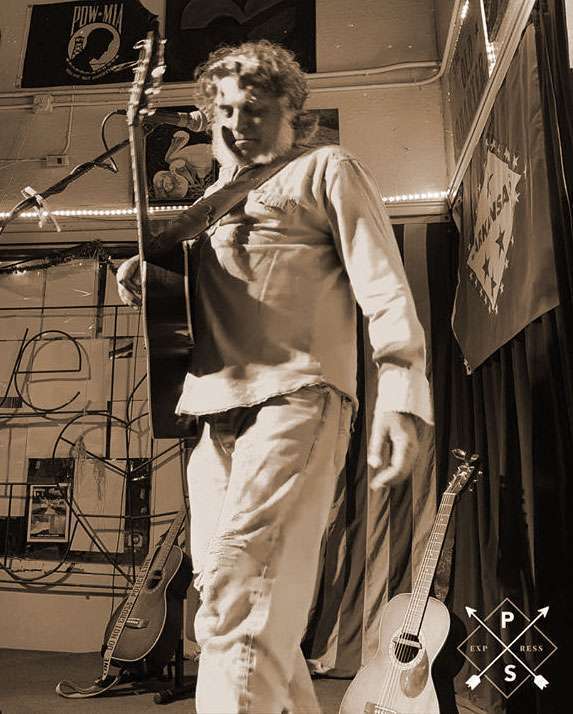 Island Guide: Describe your style of music, your sound, for someone who has never heard you.
Wootton: I am not into categorization but I am an Americana acoustic, singer/songwriter country/folk/blues all bundled up in one – a mix of country, blues and pop that leans heavy on the folk songwriting traditions.
Island Guide: Describe a live show for someone who hasn't had the honor of seeing you.
Wootton: My shows are very spontaneous and informal. I don't use setlists. Instead, I build a rapport with the audience by telling stories and reacting to their reactions to previous songs – sometimes sad, sometimes uplifting, most times humorous. 
Island Guide: Tell us about your Songwriter Swaps and such, plus this Live Recording at Old Quarter Acoustic Cafe.
Wootton: I host a monthly songwriter showcase at The Old Quarter where myself and guest(s) take turns playing songs and telling stories. It's always a unique show because we willingly follow whatever tangents arise. Some new song by one or the other spawns a whole change in course of conversation. It's a unique and intimate look at songs, and songwriting, without the rigors of a "show."
Island Guide: How old were you when you fell in love with music? How did you get started in music? And who were your influences, when, where, ages, etc… What got you started?
Wootton: I've always enjoyed music. It's one of the most powerful things that most take for granted. The ruthless use it to progress propaganda. The lonely use it for company. The exuberant use it as a soundtrack. The lonely use it as a friend. It is truly whatever you need it to be.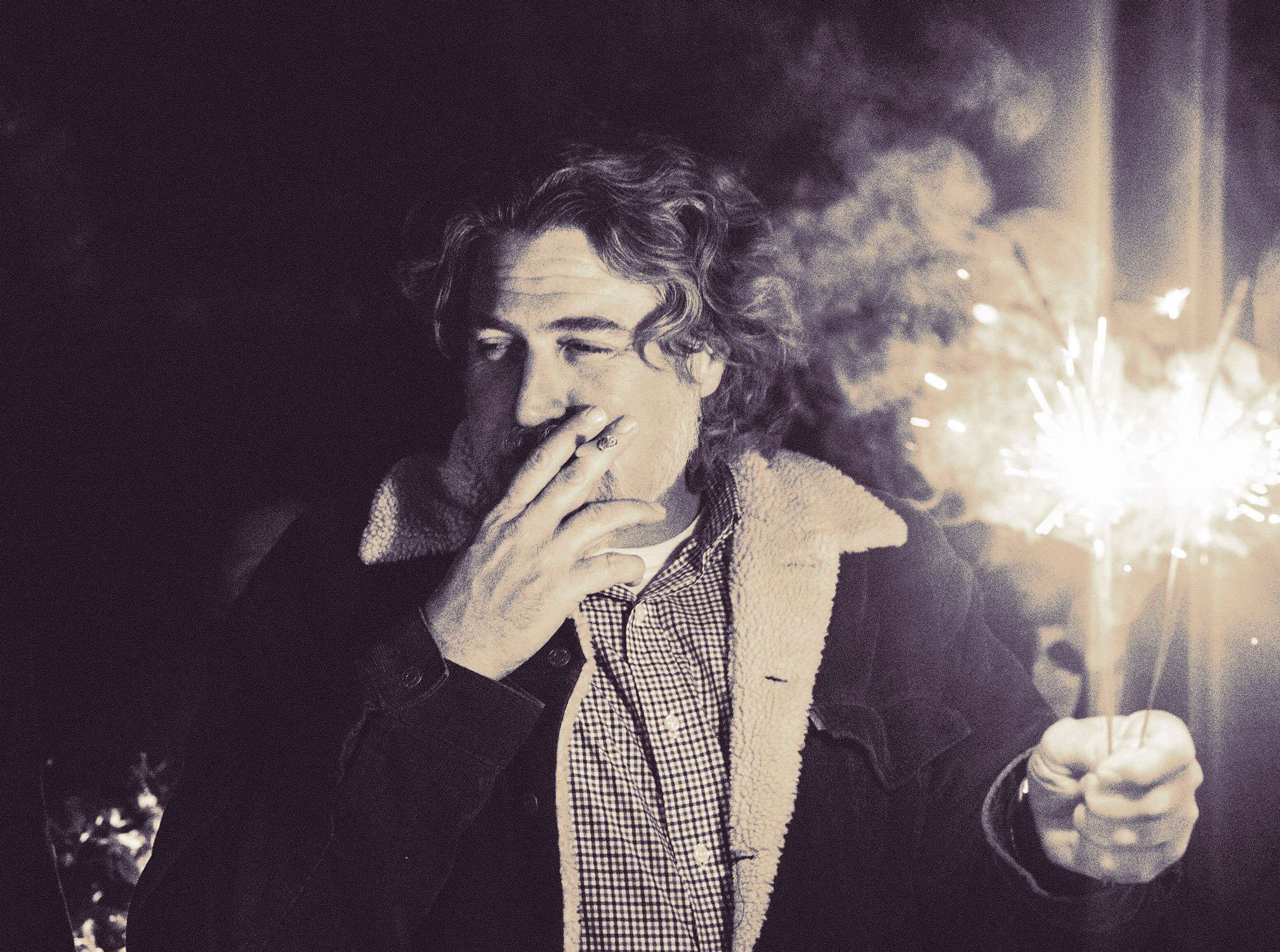 I use it as self-expression. When I stumbled upon writers like Kris Kristofferson and John Prine, it didn't feel like listening to music, more like having a conversation with someone. I gravitated to writers like Guy Clark, Townes Van Zandt, Blaze Foley, and Tom Waits. They taught me that not only was it okay to not care about categorization, it was actually the ONLY way to go. 
When I started playing guitar in college, I found it easier to write my own songs than it was to learn covers. Plus, nobody could tell when I messed up the lyrics. I used those guys as teachers and just tried to write good songs, regardless of the current trend or fashion. 
Island Guide: Was there a point in your life where you decided that playing music was going to be your career? Tell me the story of how that decision came about.
Wootton: Well, career implies a whole can of worms that I don't have the stomach to go into, but soon after I started playing shows I knew that I had ruined myself for proper employment. 
To chase the dream of being a "Star" requires bending the knee to the powers that be and becoming whatever Boo Ballou puppet they're trying to sell. That's not my gig. I try to write the best songs I can and choose not to play that Boo Ballou game. So, I'll work construction or whatever to pay rent.
Island Guide: Do you play covers and originals?
Wootton: I play 99% original songs in my shows. Any covers that I do play are paying homage to my influences and act only as an introduction to them for those who may have never heard their music. I'll leave learning the ever-changing Top 40 cover songs to those other guys. 
Island Guide: Tell us how the songwriting process happens for you.
Wootton: It depends. Sometimes it's very intentional – sit down with a pen and some paper and guitar and hammer one out. Most of the time, for me, it's very subconscious and comes and goes as it wants to. I try to always listen out the side of my head for songs to come slipping by and grab them before they're gone. 
Sometimes I'll kick a melody around for a long time before the words that go with it ever show up. I try not to force it because you can totally hear it when that happens. Lyrics should sound like lyrics, not just words that happen to fit the rhyme scheme and syllable count. 
Island Guide: What is your favorite song to perform and why?
Wootton: Currently, it's one called "Pretty As You Please," because it's just a really good song. 
Island Guide: What advice would you offer people who are just starting out? Everyone has a "first day."
Wootton: Learn who you are. Figure out what you sound like. Create and perform songs you enjoy playing. I believe we've hit our quota on cheap, knockoff, YouTube sensations. Do something original and true and it'll never be wrong. Also, tune your guitar!
Island Guide: If you could pick one band to see live, living or dead, who would it be?
Wootton: Miles Davis sitting in with Beethoven.
Island Guide: What was the first album you remember purchasing?
Wootton: "The Return of Bruno" by Bruce Willis.
Island Guide: What was the first concert you went to?
Wootton: The Bluegrass Festival at Salmon Lake.
Island Guide: What piece of music equipment can you simply not live without?
Wootton: My brain.
Island Guide: Years from now, what would you like to be doing?
Wootton: Sleeping.
Island Guide: If you could open up for any band right now, who would it be?
Wootton: Gary Cherone-era Van Halen. 
Island Guide: Any big announcements for the rest of 2019 and 2020, big gigs, etc?
Wootton: I will be recording a live record at The Old Quarter on the day after Thanksgiving. It will be my first commercial recording, so I guess I'll buy a tour bus or something, maybe an El Camino.
Island Guide: Where can people access your calendar, Facebook, website?
Wooton: They can log on at GabeWootton.com and facebook.com/gabewoottonmusic/.
Island Guide: Any last words?
Wootton: Trisha Yearwood.

---